7 Images
Sudden Wealth for the Chumash
New tables
The $157-million Chumash Casino opened last year with 2,000 slot machines. Gambling revenue is projected to exceed $200 million this year, a 40% increase.
(Spencer Weiner / LAT)
Good times
Card players rejoice after a winning hand at the newly opened Chumash Casino in August 2003. In July of this year, the casino raked in $1 million in a single day for the first time.
(Spencer Weiner / LAT)
Dismissed
Conrad Sabiron, who supervised security for nearly eight years, says "lawlessness" pervaded the casino.
(Spencer Weiner / LAT)
Overseer
Gilbert Cash is chairman of the gaming commission at Chumash Casino, despite filing for bankruptcy four times since 1994. He is also awaiting trial on felony spousal abuse charges.
(Spencer Weiner / LAT)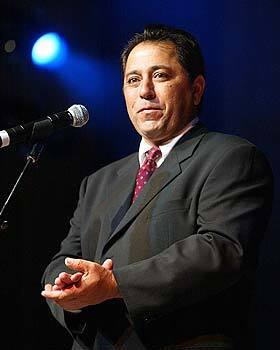 Tribal chairman
Tribal chairman Vincent Armenta says, "We run a tight operation."
(Spencer Weiner / LAT)
Former Chumash tribal chairman
David Dominguez stepped down from the gaming commission after his consulting was deemed a conflict of interest.
(Spencer Weiner / LAT)
Risk taker
Juan Villanueva plays the slots at the original Chumash Casino, which opened in May 1994. Proposition 70 would lift restrictions on the number of slot machines and allow tribes to offer unlimited craps, roulette and other high-stakes games.
(Spencer Weiner / LAT)