Some of the Key Events in Moammar Kadafi's Rule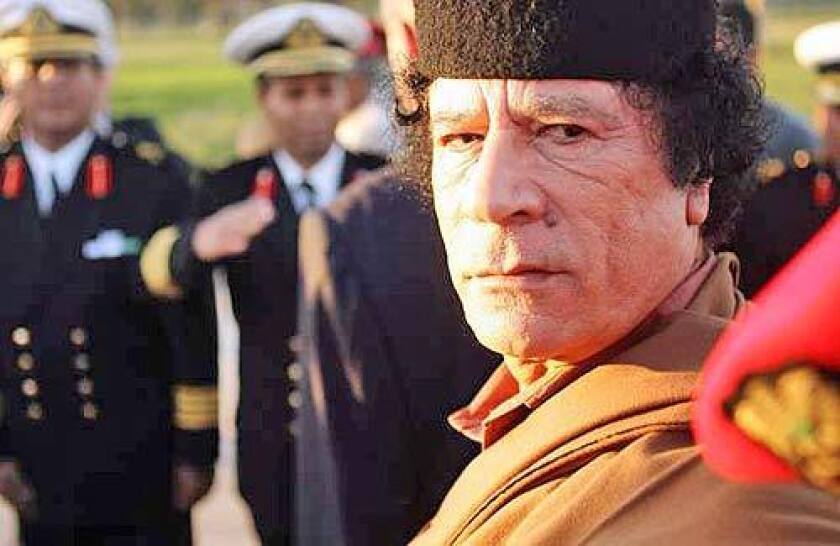 1969: Lt. Col. Moammar Kadafi comes to power at age 27, when he leads a coup against Libya's pro-Western monarchy.
1979: The Carter administration places Libya on a list of state sponsors of terrorism, where it remains.
1981: The U.S. closes down the Libyan Embassy in Washington and expels its diplomats. American F-14s shoot down Libyan fighters over the Gulf of Sidra.
1986: The Reagan administration accuses Libyan agents of placing a bomb in a Berlin disco that kills three people, including two American soldiers. In response, American planes bomb targets in Libya, killing dozens of civilians, including Kadafi's infant adopted daughter.
1988: Libya comes under suspicion in the bombing of Pan Am Flight 103 over Lockerbie, Scotland, which kills 270 people.
1992: The United Nations imposes sanctions after Libya refuses to hand over two suspects in the Lockerbie bombing.
1998: Libya becomes the first country to issue an international arrest warrant for Osama bin Laden.
1999: Kadafi surrenders the two suspects in the Pan Am attack, and the U.N. suspends economic sanctions.
2001: A court convicts Abdel Basset Ali Megrahi of murder in the Lockerbie case. The second Libyan defendant is acquitted. Kadafi strongly condemns the Sept. 11 attacks, urging Libyans to donate blood for the victims.
2003: The U.N. lifts its weapons and travel embargoes against Libya after the government accepts responsibility for the 1988 airliner bombing.
2003: Libya renounces its nuclear program and hands over documents that help the CIA and European authorities unmask suspects in a nuclear black market.
2004: President Bush lifts most U.S. trade sanctions against the country.
Compiled by Julie Sheer and John Jackson; sources: Times research, Associated Press
---
For reporting and exclusive analysis from bureau chief John Myers, get our California Politics newsletter.
You may occasionally receive promotional content from the Los Angeles Times.