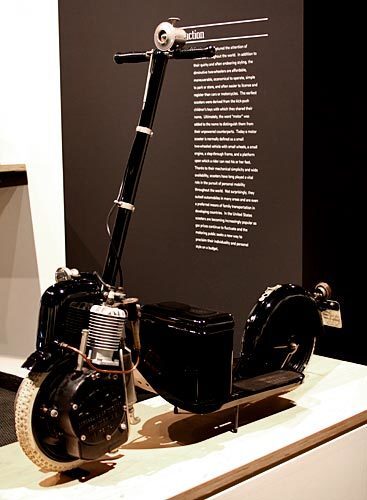 8 Images
The scooter | A look back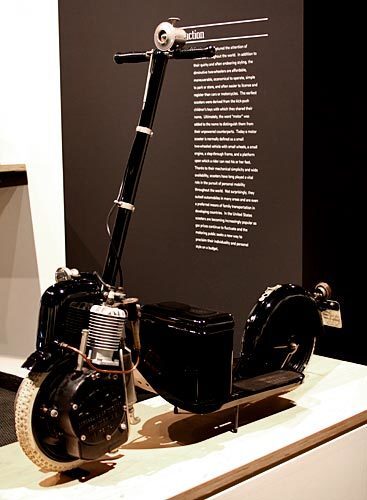 Built in New York from 1915 to 1921, the front-wheel drive Autoped is regarded as the world's first practical motor scooter. To move ahead, the operator simply pushed the handlebar forward to engage the clutch. Pulling back the handle disengaged the clutch and applied the brake. The hollow steering column served as a supplemental gasoline tank and could be folded down to facilitate storage when not in use. The 155cc engine over the front wheel could propel the scooter to a top speed of 18 mph.
(Petersen Automotive Museum / Collection of Jerry and Brenda Perkins)
The
World War II
-era Airborne was designed to be airdropped along with paratroopers, who would then use them for basic transportation when they landed. The model featured a hitch to pull a hand cart for carrying artillery. Fat, soft tires compensated for the lack of suspension, and the four-stroke, side-valve engine had a centrifugal automatic clutch. The military scooter could travel through a foot of water, had a range of about 100 miles, and could reach a top speed of 40 mph.
(Petersen Automotive Museum / Collection of Doug and Debbie Baldanzi)
At 13 feet long, the King O' the Road is the world's largest motor scooter. The one-of-a-kind vehicle was built by budding inventor/entrepreneur Bruce Baldwin Mohs when he was just 14 years old. It is powered by a supercharged, two-cylinder Onan generator engine estimated to deliver a remarkable 16 horsepower. Mohs reported that the scooter could reach a top speed of 60 mph. At age 15, he set a regional speed record with his machine, riding from Paducah, Ky., to Madison, Wis., a distance of almost 500 miles, in just 16½ hours. This is the first public showing of the giant vehicle in more than 40 years, an occasion made possible by the skill, dedication and generosity of the current owner.
(Petersen Automotive Museum / Collection of Fred Beyer)
The three-wheel Vespa Ape (pronounced ah-pay) was introduced in 1947 to fill a growing need for a small, inexpensive commercial vehicle. The Ape was available in a variety of body styles such as a pickup truck or van. Some were also configured to carry passengers for use as taxis in crowded cities. A woody version was briefly marketed in the United States, complete with seating for two in the back and a folding canvas top to protect people from the sun and rain.
(Petersen Automotive Museum / Collection of Gabrielle and Lee Herendeen)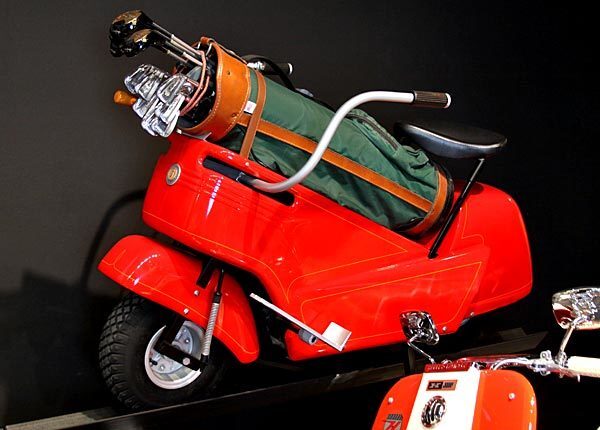 By the mid-1950s manufacturers and entrepreneurs were looking for new ways to weave scooters into the fabric of daily life. The ingeniously packaged Bobcat provided quick and easy transportation for a golfer and his bag around the golf course. Its most practical feature was the spring-loaded center kickstand, which automatically retracted when the rider sat down and lowered when the rider stood up. This is one of just five golf scooters known to survive.
(Petersen Automotive Museum / Collection of Jerry and Brenda Perkins)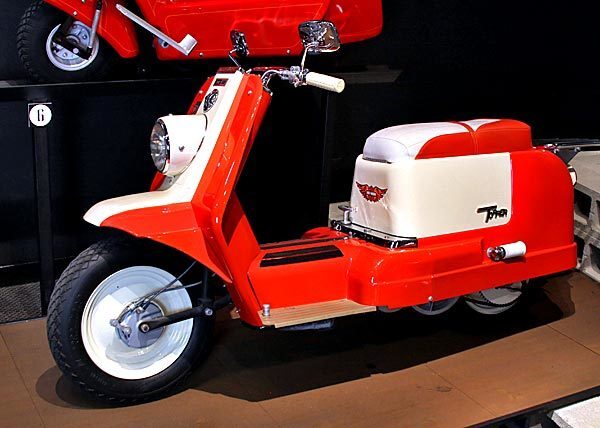 In 1960
Harley-Davidson
began making its only scooter model. The Topper featured a fiberglass body, pull-start cord and a horizontally mounted, two-stroke engine with reed-valve induction. Unfortunately, Harley-Davidson misread the market and entered production when demand for American-built scooters, including Cushman and Mustang, was beginning to wane. This contributed to a fairly short production run; Harley-Davidson stopped making Toppers in 1965.
(Petersen Automotive Museum)
In 1981 Honda became the first manufacturer to offer a vehicle as an optional extra for another vehicle. The Honda City microcar could be purchased with a scooter that was designed to fit in the small luggage area when folded. Dubbed the Motocompo, the scooter was equipped with a 50cc engine and light enough to be lifted by anyone of average strength. Safety and emissions standards prevented the City and Motocompo from being imported to the United States, and very few were seen outside of Europe, Asia and Australia.
(Lane Motor Museum)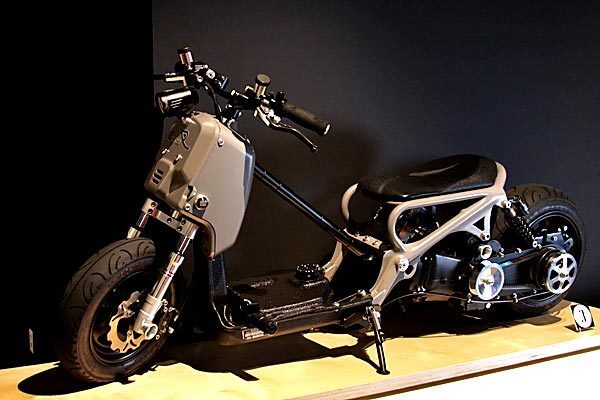 The Ruckus was imported to the U.S. beginning in 2003 and is intended for aficionados seeking a scooter with a rugged, purposeful look and performance to match. Rucksters Customs of Arcadia modifies Honda Ruckus and Zoomer scooters for private clients who desire top performance and individuality in a better handling and less intimidating package.
(Petersen Automotive Museum / Collection of Rucksters Customs)