10 Images
Hollywood Hills Blaze
Smoke floats above the Hollywood sign from a brush fire that started in the hills above the Oakwood Apartments.
(Bryan Chan / LAT)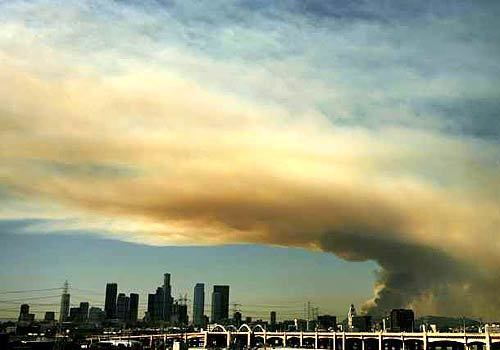 Thick plumes of smoke from the brush fire were visible through much of the city.
(Rick Loomis / LAT)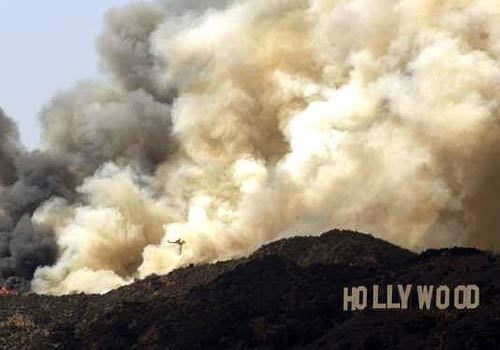 The fire had earlier also threatened the Warner Bros. studio and the remote brush roughly near Mt. Lee. The landmark Hollywood sign is nearby, and just to the south of that are heavily populated neighborhoods.
(Bryan Chan / LAT)
Smoke from a brush fire in Hollywood Hills looms over Los Angeles. There was no immediate cause of the fire, but the dry conditions and lack of rain were factors in the spread.
(Bryan Chan / LAT)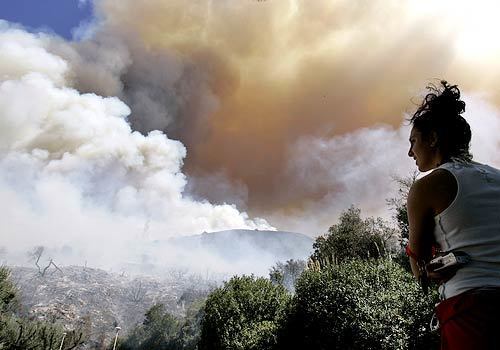 A resident of the Oakwood Apartments watches the fire move away from the complex.
(Carlos Chavez / LAT)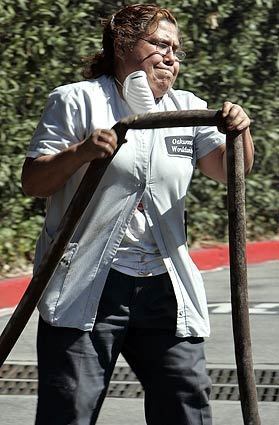 A maintenance worker from the Oakwood Apartments helps with the hoses as L.A. City firefighters continue to battle the 25-acre fblaze.
(Carlos Chavez / LAT)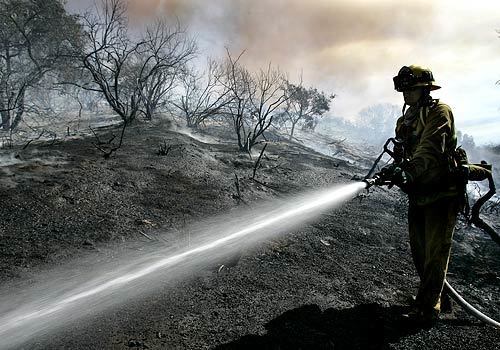 L.A. City firefighter Sinoea Esparza douses an area close to the Oakwood Apartments in Universal City. No injuries have been reported in the 25 acre fire that was heading towards the Griffith Park area.
(Carlos Chavez / LAT)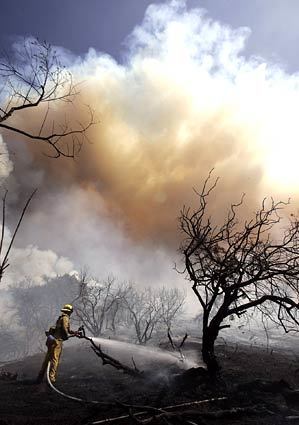 Firefighter Sinoea Esparza saturates a hot area near Universal City as a cloud of smoke wafts behind him.
(Carlos Chavez / LAT)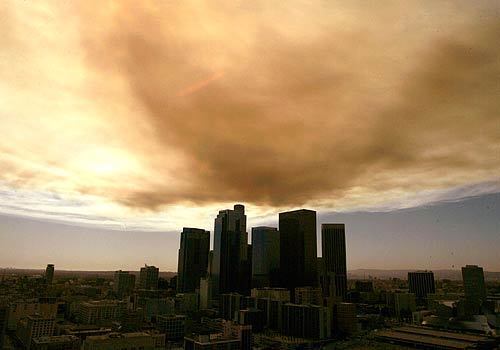 A giant cloud of smoke hovers over downtown Los Angeles from a fire burning in the hills near Universal City.
(Mark Boster / LAT)
A brush fire raged through an area west of Griffith Park, ripping through heavy vegetation, threatening an apartment building and sending a thick plume of smoke over the heart of the city and near the Hollywood sign. Reports estimated the fire was within a half-mile of the landmark.
(Gary Friedman / LAT)