5 Images
A Political Stanley
WELCOME:
President Bush poses with Flat Stanley. The character was also in the crowd attending his inaugural ball.
(Paul Morse / White House)
Flat Stanley visited the Press Briefing Room, where he helped White House Press Secretary Ari Fleischer with the daily briefing.
(White House)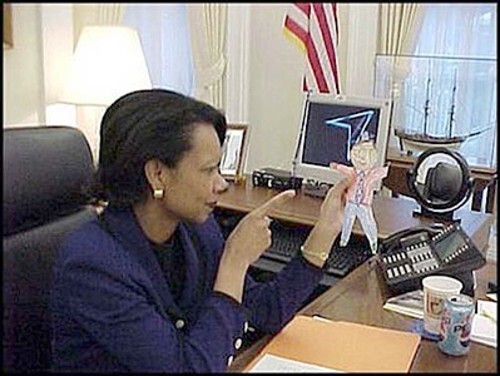 VISITING:
Stanley fills in then-National Security Advisor Condoleezza Rice after substituting for her at a staff meeting.
(White House)
California Gov. Arnold Schwarzenegger, right, and California State Treasurer Phil Angelides talk following a debate in Sacramento. In their hands is Flat Stanley, which belongs to the Governor's son, Christopher.
(Brian Baer / AP)
Flat Stanley
(Dale Hubert, xx)