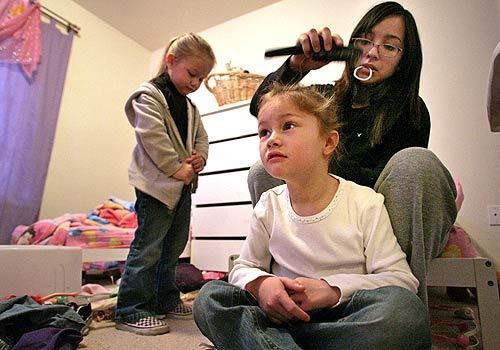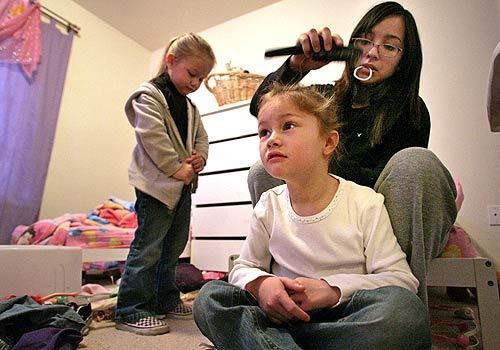 Audrey Delgadillo, 20, helps get her sisters Ashley, 4, right, and Emily 3, ready for day care. Delgadillo's mother and stepfather, Sgt. Claudia Hernandez-Smith and Sgt. Gary Smith, are serving in Iraq. Their departure nearly eight months ago left Delgadillo to look after her four sisters until they return.
(Irfan Khan / LAT)
Delgadillo wakes up with a migraine as Grace, 10, leaves for school. "This is something that I asked for and wanted to do," Delgadillo said. "But sometimes I feel like I grew up too fast. Sometimes I feel like I missed out."
(Irfan Khan / LAT)
At times, Delgadillo feels robbed of her youth. She spends little time with her fiance or going out with friends. Instead, it's a daily grind of cleaning, cooking and looking after her sisters.
(Irfan Khan / LAT)
The girls, with Delgadillo at a swing set in the backyard their Hesperia home, are, from left: Grace, 10, Emily, 3, Ashley, 4, and Stephanie, 17.
(Irfan Khan / LAT)
Since June, Sgt. Gary Smith and Sgt. Claudia Hernandez-Smith have been deployed with the Army's 131st Aviation Regiment, Black Hawk helicopter division, stationed at Balad Air Base, about 50 miles north of Baghdad.
()
For the first six months her parents were gone, Delgadillo — here taking the girls to day care — looked after Ashley and Emily the entire day while waiting for an opening at the day-care center. "Believe me, that was terrible," Delgadillo said, grinning.
(Irfan Khan / LAT)
Delgadillo gets a goodbye hug from Emily at the day-care center.
(Irfan Khan / LAT)
Family doctor S. David Ahn checks Stephanie as Delgadillo watches. Stephanie, a senior at Hesperia High, is worried her parents will miss crowning moments of her young life — checking out colleges, attending prom and graduation.
(Irfan Khan / LAT)
Delgadillo chats with her parents on the Internet. The girls say Delgadillo is more lenient than their mother. But if anyone messes up, Iraq is only an e-mail away. My mom is still the law in this house," Delgadillo said. "She's just far away. The only difference is that now she does her yelling in all caps."
(Irfan Khan / LAT)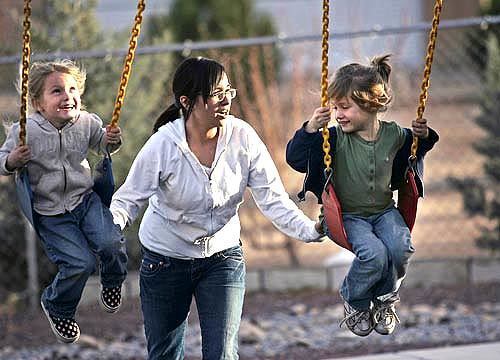 Delgadillo gives Emily and Ashley a push on their backyard swing. "I told my mom, "Don't ever feel like you put this on me,'" Delgadillo said. "It was my decision, and we knew since she joined the Army that one day she was going to be called."
(Irfan Khan / LAT)
Grace, left, cleans Ashley's face as the family gets ready for dinner. Afterward, Delgadillo will start the process of coaxing Emily and Ashley into bed, a nightly battle of wills that can last two hours.
(Irfan Khan / LAT)
Delgadillo helps Emily brush her teeth as she prepares the little ones for bed.
(Irfan Khan / LAT)
Emily is consoled as she cries, "I want mom." The younger girls each reacted differently when their parents first left. Grace turned inward, not talking much. Ashley had nightmares and would occasionally find her way in one of her sisters' beds. Emily's eyes frequently welled with tears when talking with her mother on the phone. "They ask for Mom and say, 'I miss Dad,'" Delgadillo said. "But all I can say is that I miss them too and they'll be back in a while."
(Irfan Khan / LAT)