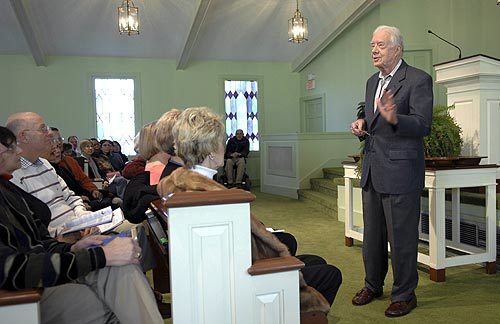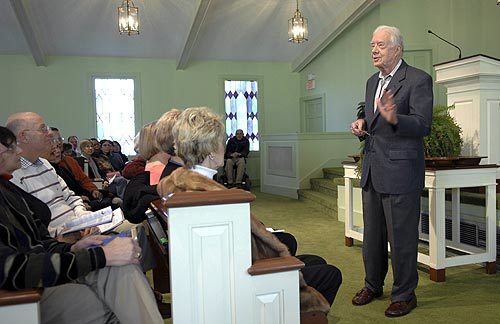 Former President Carter teaches Sunday School at Maranatha Baptist Church in his hometown of Plains, Ga. Thousands flock to Plains each year to hear Carter speak at Maranatha, which was formed when a liberal faction of the Plains Baptist Church broke off after he left office.
(Walter Petruska / For The Times)
Carter and his wife, Rosalynn, center with white scarves, pose for photos with 18 agriculture professors from China at Maranatha. Carter, who won a Nobel Peace Prize, has long sought to heal a rift between liberals and conservatives within the Baptist Church.
(Walter Petruska / For The Times)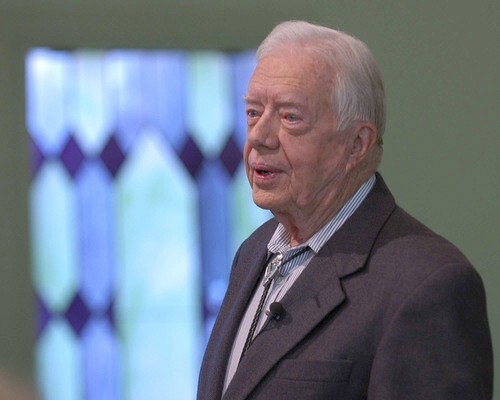 Carter's latest attempt at a rapprochement was an ambitious meeting of Baptists of all stripes this week in Atlanta. The meeting, which concludes Friday, is called the "Celebration of a New Baptist Covenant." It brought together strains of Baptists who went their separate ways years ago. But the Southern Baptist Convention leadership refused to attend.
(Walter Petruska / For The Times)
Carter, left, and Georgia Gov. Sonny Perdue pray during the opening session of his Baptists' meeting Wednesday in Atlanta. Southern Baptist Convention President Frank Page, whom Carter personally invited, denounced the meeting's "smoke-screen left-wing liberal agenda."
(John Bazemore / Associated Press)
Carter and Mercer University President Bill Underwood enjoy a light moment during the opening session. Bickering over "temporal" issues poses a threat to the health of the modern church, the same way it threatened the early church in the days of Peter and Paul, Carter said.
(John Bazemore / Associated Press)