7 Images
Jesse Helms, 1921-2008
Jesse Helms
Former Sen. Jesse Helms acknowledges the crowd after being after being saluted by President Bush during an event in Raleigh, N.C.
(Pablo Martinez Monsivais / Associated Press)
Jesse Helms, Andres Pastrana
Sen. Jesse Helms was a key member of the Senate Foreign Relations Committee for many years. Here, he stands with then-Colombian President Andres Pastrana at the U.S. Capitol in Washington.
(Luke Frazza / AFP/Getty Images)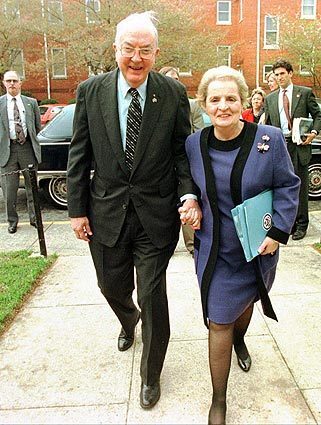 Jesse Helms, Madeleine Albright
Madeleine Albright, secretary of state for President Clinton, and Sen. Jesse Helms arrive at Wingate University in Wingate, N.C.
(Peter A. Harris / Associated Press)
1988
Helms made direct appeals to conservative white voters in his native North Carolina by taking strong stands against liberals. He was only U.S. senator to vote against making the Rev. Martin Luther King Jr.'s birthday a national holiday, and voted only after conducting a 16-day filibuster against the King holiday.
(Los Angeles Times)
Reagan
In this June 16, 1983 photo,
President Ronald Reagan
greets Sen.
Jesse Helms
, R-
N.C.
at a dinner honoring Helms in Washington.
(Ed Reinke / Associated Press)
Speech
In a Tuesday, Nov. 7, 1972 file photo,
North Carolina
's Republican Senator-Elect
Jesse Helms
, center, is surrounded by his family after his victory speech in Raleigh, N.C. From left is Helms' wife, Dorothy, son Charles, Jesse Helmsand his daughters Jane and Nancy. Former Sen. Jesse Helms, who served 30 years in Congress, died Friday, July 4, 2008, the Jesse Helms research center says. He was 86.
(Associated Press)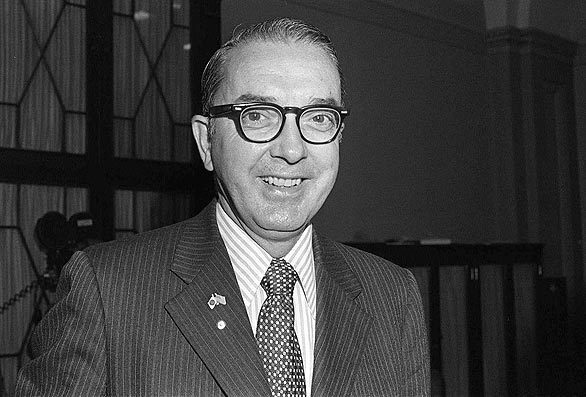 1972
Helms shortly after his election to the Senate in 1972.
(Associated Press)