5 Images
Ladies' Dept.: Miss Behavin
Miss Behavin ProStreet is a motorcycle designed for women with a chassis built around a smaller framed rider. The name is inspired from a World War Two bomber plane nose art.
(Big Bear Choppers)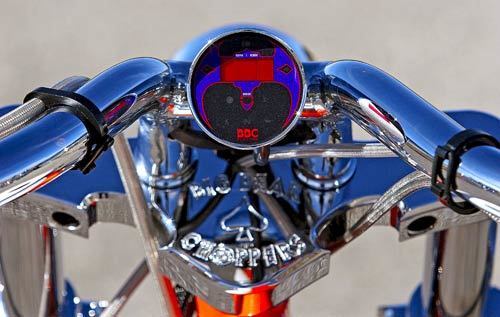 Big Bear Choppers has Miss Calculated with some of the controls. The pullback handlebars and closer foot controls take a woman's shorter arms and legs into account, but that thinking hasn't carried through to the grips and switches, which needed to be scaled down to fit a smaller hand. -- Sue Carpenter
(Big Bear Choppers)
It's the nature of a V-twin to vibrate, but the Miss Behavin uses an S&S "100 Smooth" motor. The 100-cubic-inch engine with the "square" 4-inch bore and stroke, which is proprietary to Big Bear Choppers, is designed to reduce vibration. -- Sue Carpenter
(Big Bear Choppers)
A stretched teardrop tank is part of the sexy makeover; controls scaled to feminine proportions would have been welcome. -- Sue Carpenter
(Big Bear Choppers)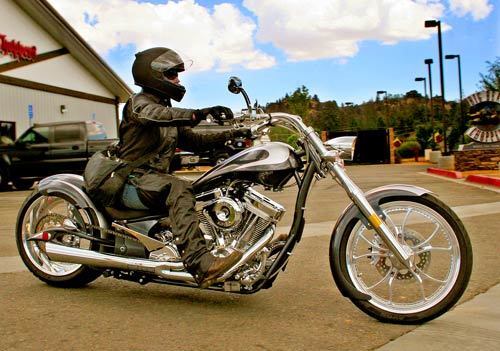 A woman riding a chopper tends to get three reactions: respect (for having the chutzpah to ride it), envy (for having the money to buy it) and confusion (because choppers aren't what most women ride). -- Sue Carpenter
LA Times motorcycle writer Susan Carpenter rides a Miss Behavin at the company offices.
(Big Bear Choppers)