Álvaro Colom, former president of Guatemala, dies at 71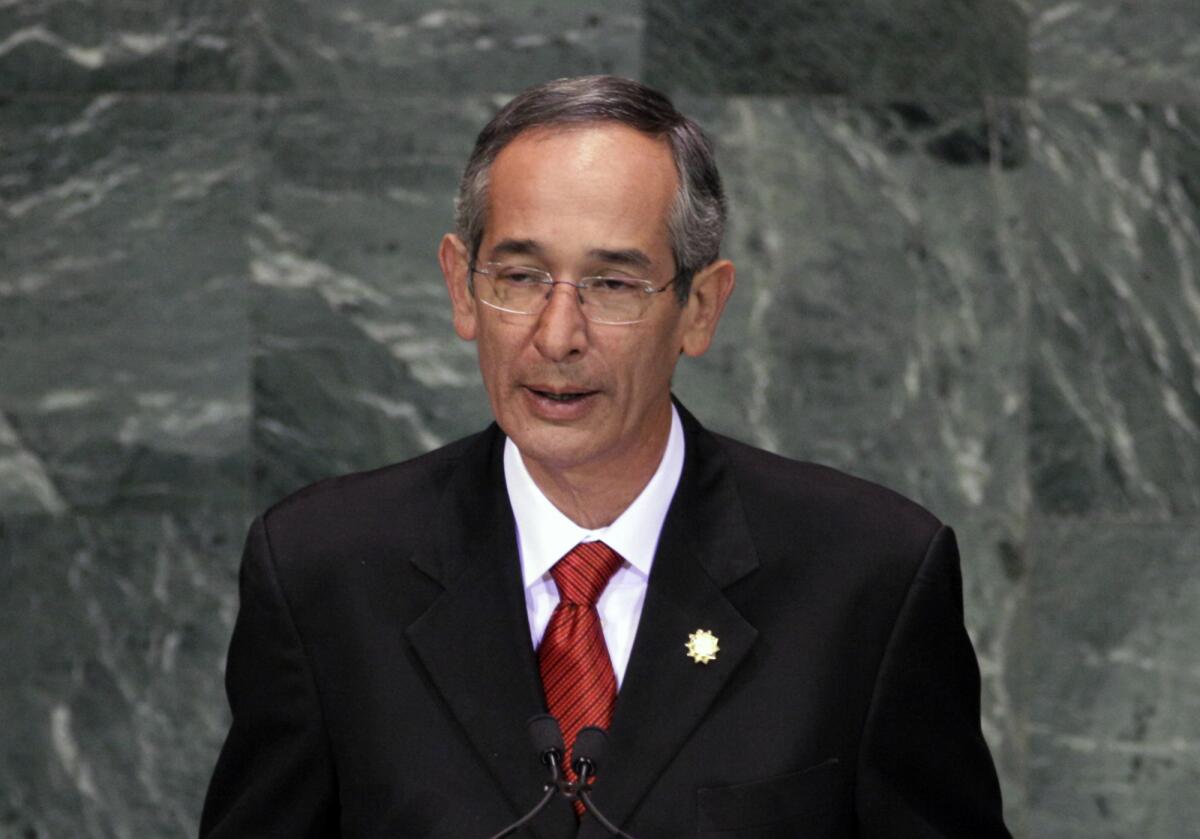 GUATEMALA CITY —
Former Guatemalan President Álvaro Colom, who governed from 2008 to 2012 and supported a United Nations anti-corruption mission that later investigated him, died Monday, lawmakers from his party announced. He was 71.
"I deeply lament the death of ex-President Colom, a man of profound democratic convictions and great social sensibility," said Guatemalan lawmaker Orlando Blanco, leader of the center-left National Unity of Hope Party in Congress.
Current President Alejandro Giammattei expressed his condolences to Colom's family and friends via Twitter. No cause of death was given.
Colom won office in a runoff election in 2007, defeating retired Gen. Otto Pérez Molina. It was his third attempt for the presidency.
An industrial engineer, Colom was Guatemala's first leftist president in more than 50 years when he took office in January 2008, but said he wanted Guatemala to chart its own path rather than falling in with established leftist leaders like Venezuela's Hugo Chavez at the time.
Colom had success in textiles and Guatemala's entry into large-scale production through assembly plants known as maquiladoras.
Recent attacks on Judge Miguel Ángel Gálvez are part of a broader campaign on Guatemala's courts that have forced nearly two dozen judges and prosecutors into exile.
He entered office promising to reduce poverty after having worked with civil war refugees in isolated highlands. Guatemala's civil war, which ran from 1960 to 1996, displaced hundreds of thousands. He was an ordained Mayan minister and said he would seek guidance from the Mayan Elders National Council, a group of spiritual leaders.
Just weeks before the end of his term, Colom took credit for hiring some 90,000 additional teachers and bringing more than 1 million children back into the country's schools. He said his administration had built more schools and health centers. He also applauded Guatemala's efforts to seize drug shipments moving through the country and arrest drug traffickers.
Colom also supported the U.N. International Commission Against Impunity in Guatemala, better known by its Spanish acronym CICIG. It had started work the year before he took office.
But in 2018, Colom was arrested, along with nearly his entire former Cabinet, in relation to a corruption investigation involving a bus concession.
After the arrest of its president, Guatemala's El Periodico newspaper lets all its reporters go and shuts down its print edition.
The case centered on a public bus company known as Transurbano. The government auctioned off 25-year concessions for Guatemala City bus routes, and the private companies that won the contracts were later exempted from taxes. The CICIG worked on the case with Guatemalan prosecutors.
Colom denied any wrongdoing, and the case had not gone to trial. In 2021, the U.S. State Department included him in a report to Congress on corrupt actors in the region because of the bus scandal.
Pérez Molina, who won office after Colom, was eventually forced from the presidency by another CICIG investigation and sentenced to prison for corruption in December.
Colom had been married to politician Sandra Torres, who plans to run for president in Guatemala's national elections June 25. They were divorced.
Late Monday, Torres wrote via Twitter: "May the noble man who always held Guatemala in his heart rest in peace."
Sign up for Essential California for the L.A. Times biggest news, features and recommendations in your inbox six days a week.
You may occasionally receive promotional content from the Los Angeles Times.