11 Images
Photos: Pets at work can ease stress
Even if your whole workplace is celebrating some type of Take Your Dog to Work Day or starting to allow canine companions in the office on a regular basis, it's vital to check with your nearby coworkers before bringing in your furry friend.
(Dreamstime)
If your office is just starting to allow furry friends, it's crucial to establish ground rules for everyone's safety and peace of mind.
(Dreamstime)
Before jumping at the chance to bring Max or Fido to your workplace, consider whether your dog is receptive to other dogs, strangers and new environments.
(Dreamstime)
Odds are your dog won't be the only pup on the premises, so it's important to ensure your dog doesn't get territorial and is comfortable with the other dogs in your workplace, especially since other dogs are the best way to keep your dog entertained while you're working.
(Dreamstime)
Co-workers Josh Mamroud (left), Josh Todd, Linda Fennessy, James Marshall and Jeanne Szwed, with dogs Muffy and Bandit, look at a new idea at Kitchen Magic Inc. in Lower Nazareth. It's one of five employers to have made the Top Workplaces list all five years The Morning Call has been involved in the program.
( APRIL BARTHOLOMEW/THE MORNING CALL )
The Squires Group CEO Nancy Squires with BeBe, her Italian greyhound. Squires allows employees to bring their dogs to work, which makes for a happier workforce, studies show.
(By Matthew Cole - Capital Gazette, Capital Gazette)
Arnold resident Lara Joy (left) tends to her Schitzu Lucy while Squires Group Inc. CEO Nancy Squires plays with Romeo, her Italian greyhound. The West Annapolis firm allows dogs in the workplace.
(By Matthew Cole - Capital Gazette, Capital Gazette)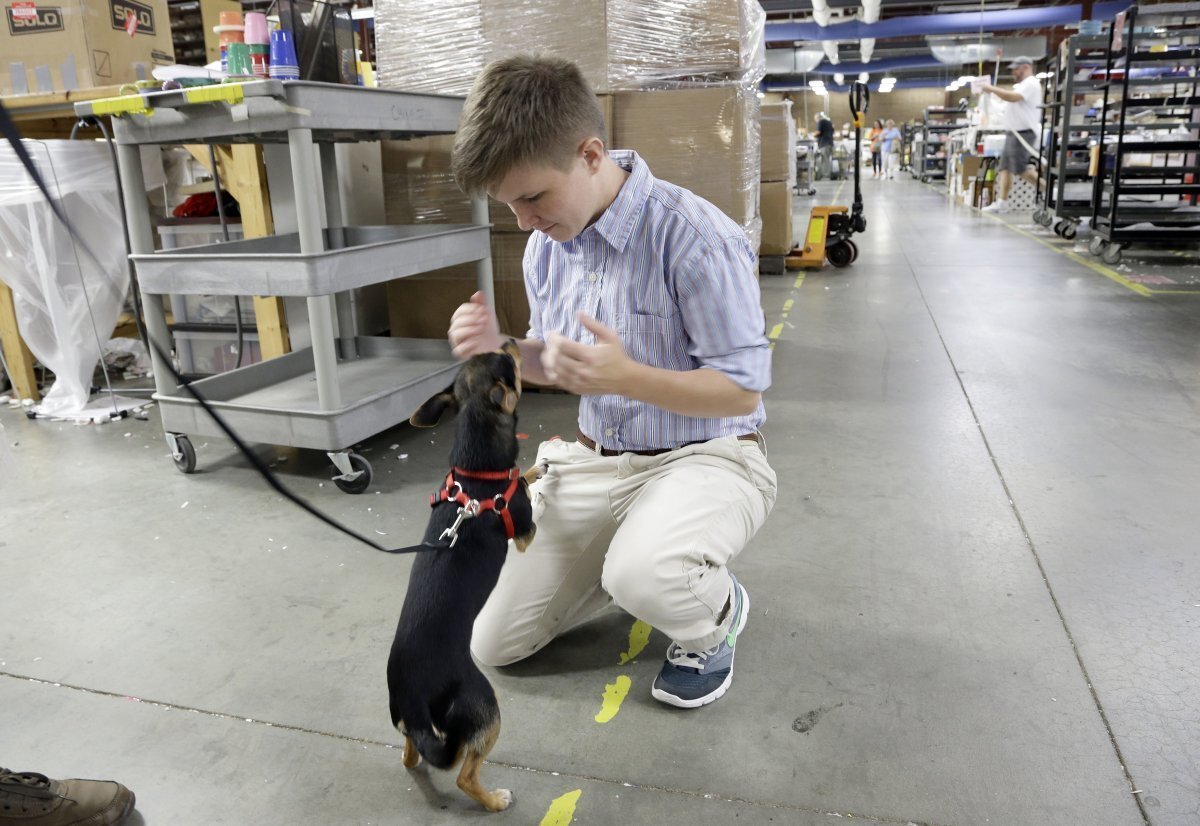 In this photo taken Thursday, May 5, 2016 Payton McGarry pets a dog at his workplace, Replacements Ltd. in McLeansville, N.C.
(Gerry Broome/Ap)
Edwin Gotico shares his home's basement work space with the family cat.
(Kenneth K. Lam, Baltimore Sun)
Business cat acts ruthless, but he's only like that on the outside. How else is an adorable cat in a tie going to be taken seriously in the workplace?
(Quickmeme.Com)
Blaney and Cale are two office cats that "work" at Harford County Transmissions Plus, greeting and playing with customers. Shop owner Chris Knopp, pictured with Blaney, rescued the cats about a year and a half ago and raised them in the shop.
(Kenneth K. Lam / Baltimore Sun)