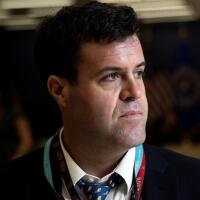 Del Quentin Wilber was the White House and breaking news editor in the Los Angeles Times' Washington bureau. Before moving into an editing role, he was an enterprise and investigative reporter, focused on criminal justice and national security matters. An award-winning reporter and author, he previously worked for the Baltimore Sun, the Washington Post, Bloomberg News and the Wall Street Journal. He is the author of "Rawhide Down: The Near Assassination of Ronald Reagan," a national bestseller, and "A Good Month for Murder: The Inside Story of a Homicide Squad."

Latest From This Author
How did California become the most populous, diverse, economically dynamic and confounding state in the union? A new book takes a stab at examining that question.

Times reporters explain how the world got here and assess the diplomatic path as the Biden administration responds to a Russian invasion of Ukraine.

Western officials say Russia has enough troops ready to launch a Ukraine attack using false claims of aggression to invade the country.

President Biden warns Russian leader Vladimir Putin of "swift and severe costs" if Moscow invades Ukraine, as U.S. orders embassy personnel to leave.

An appeals court heard arguments in a Times lawsuit seeking access to a search warrant used to obtain the cellphone of Sen. Richard M. Burr (R-N.C.).

Authorities are seeking the public's help to identify 16 women murdered by serial killer Sam Little in the L.A. area in the 1980s and '90s.

Sam Little confessed to killing 93 women across the U.S. Nearly a third of those admissions are uncorroborated, and most of those are in L.A.

Stephen K. Bannon is charged with one count of contempt for refusing to appear for a deposition and another for refusing to supply documents pertaining to Jan. 6.

The estranged wife of Oath Keepers founder Stewart Rhodes talks about her role in the group accused of playing a part in the Jan. 6 Capitol riot.