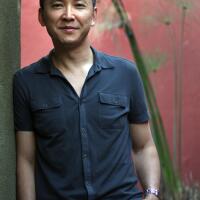 Viet Thanh Nguyen
Nguyen is the author of the 2015 novel "The Sympathizer," winner of the First Novel Prize from the Center for Fiction, the Carnegie Medal for Excellence in Fiction from the American Library Association, and the 2016 Pulitzer Prize. A writer and academic, Vietnamese-born Nguyen is also the author of the 2016 critical work, "Nothing Ever Dies: Vietnam and the Memory of War," and 2002's "Race and Resistance: Literature and Politics in Asian America." Nguyen is an associate professor of English and American Studies and Ethnicity at USC.
Latest From This Author
Among critic at large Viet Thanh Nguyen's many accomplishments is his acclaimed short story collection "The Refugees."

For the second time in a matter of weeks, a white student at Cal Poly San Luis Obispo wore blackface.

I was late to reading Paul Beatty's "The Sellout" but loved it as I knew I would, having been a fan since his 2001 novel "The White Boy Shuffle."

Almost exactly 20 years ago, I arrived in Los Angeles in the month of June.

Donald Trump has triumphed, an accomplishment that many, except his most ardent supporters, deemed to be impossible.

College students in blackface. A white chef telling people how to eat Vietnamese pho.

No one can claim in absolute seriousness to be writing the Great American Novel, not without risking the polite smiles and muted derision of others.

Writers tend to be solitary creatures, and yet more than 12,000 will congregate in Los Angeles this week.

Asian Americans are the fastest-growing minority population in the United States.