'President Trump did not fail to act ... He chose not to act,' Jan. 6 panel says
WASHINGTON —
Then-President Trump's refusal for more than three hours to call off the mob attacking the Capitol on Jan. 6 constituted a dereliction of duty, the House committee investigating the insurrection said in its prime-time hearing Thursday.
"The mob was accomplishing President Trump's purpose, so of course he didn't intervene," said Rep. Adam Kinzinger (R-Ill.).
"President Trump did not fail to act during the 187 minutes between leaving the Ellipse and telling the mob to go home," Kinzinger continued. "He chose not to act."
For nearly three hours, as a violent mob raged at the U.S. Capitol, Trump did not leave his private dining room at the White House, where he watched the events of the day play out on television and chose not to intervene.
He did not speak to national security leaders, law enforcement, congressional leaders or Vice President Mike Pence. He had to be pressured by family and staff into sending tweets urging rioters not to harm police and to be peaceful, committee members said.
And it was only once lawmakers were in safe rooms and law enforcement had begun regaining control of the Capitol that Trump agreed to shoot a video urging his supporters to withdraw and go home.
"Whatever your politics, whatever you think about the outcome of the election, we as Americans must all agree on this: Donald Trump's conduct on Jan. 6 was a supreme violation of his oath of office and a complete dereliction of his duty to our nation," Kinzinger said. "It is a stain on our history. It is a dishonor to all those who have sacrificed and died in service of our democracy."
Focusing on Trump's inaction, the panel provided a moment-by-moment accounting of the 187 minutes between the beginning of the attack on the Capitol and his release of a video on Twitter urging his supporters to withdraw.
Trump became aware of the mob's violence immediately after his speech at the Ellipse near the White House, said Rep. Elaine Luria (D-Va.), who led the hearing with Kinzinger.
"Within 15 minutes of leaving the stage, President Trump knew that the Capitol was besieged and under attack," Luria said.
Instead of taking action, Trump spent hours in the White House making calls to senators, asking them to block then-President-elect Joe Biden from taking office, and spoke with his attorney Rudolph W. Giuliani.
Records of the president's daily movements and phone logs from that day show no entries between the time Trump returned to the White House and his release at 4:17 p.m. of the video telling supporters to go home.
"There is no official record of what President Trump did while in the dining room.… The chief White House photographer wanted to take pictures because it was, in her words, 'Very important for his archives and for history.' But she was told, quote, 'No photographs,'" Luria said.
White House Counsel Pat Cipollone said in a clip from his deposition with the committee that soon after the violence began, he, Chief of Staff Mark Meadows, Trump's daughter Ivanka Trump and White House lawyer Eric Herschmann all pleaded with Trump to issue a statement telling the mob to leave.
Other staff from the West Wing came into the dining room to plead with Trump, and members of Congress called his family and staff when they couldn't get through to him.
"The president didn't want anything done," said a former White House employee granted anonymity by the committee.
The panel showed other video of top-ranking national security and White House officials saying one by one that Trump did not speak to leaders of the Defense Department, National Guard, FBI, Homeland Security or the Secret Service. Nor did Trump communicate with Washington, D.C., Mayor Muriel Bowser or U.S. Capitol Police officials.
In a clip from his deposition, Chairman of the Joint Chiefs of Staff Mark A. Milley questioned why Trump didn't act.
"You're the commander in chief," Milley said. "You've got an assault going on on the Capitol of the United States of America, and there's nothing? No call? Nothing? Zero?"
Former White House press aide Sarah Matthews and former deputy national security advisor Matthew Pottinger, who were at the White House on Jan. 6 and resigned over Trump's actions that day, were witnesses at Thursday's hearing.
Pottinger had served on the National Security Council throughout Trump's presidency and was one of the highest-ranking officials to resign that day. The former Marine intelligence officer was in the vicinity of the Oval Office at various points throughout the day.
The committee investigating the insurrection will focus on what Trump was doing on Jan. 6, 2021. This is the story of what happened without him.
Matthews had worked in Congress and for the Trump campaign before serving as his deputy press secretary. She stressed that Trump could have walked from the dining room, where he stayed for most of the attack, to the White House press room in just 60 seconds, and noted that staff could have quickly assembled the White House press corps in the Oval Office so he could make a public statement.
She said a 2:24 p.m. tweet, in which Trump attacked Pence for not agreeing to reject the electors of certain states that voted for Biden, was pouring gasoline on a fire. "It was essentially him giving the green light to these people, telling them that what they were doing at the steps of the Capitol, and entering the Capitol, was OK, that they were justified in their anger," she said.
The tweet was sent while the Secret Service was trying to move the vice president out of his ceremonial office outside the Senate chamber to an underground garage, where Pence's motorcade was waiting.
A former White House official with national security responsibility, who was granted anonymity by the committee, gave chilling details of what was coming over the Secret Service radio as Pence and his family were evacuated, passing within 40 feet of the mob at one point.
"Members of the VP detail at this time were starting to fear for their own lives" and there were calls to "say goodbye to loved ones" because the security team thought things were "about to get very ugly," the person said.
Matthews said she found the video Trump released at 4:17 p.m. "indefensible." In the video, he told supporters, "We love you. You're very special. You've seen what happens; you see the way others are treated that are so bad and so evil. I know how you feel, but go home and go home in peace."
The committee said Trump refused to read from the script he was given by his staff, and instead ad-libbed his remarks.
"As a spokesperson for him, I knew that I would be asked to defend that, and to me, his refusal to act and call off the mob that day, and his refusal to condemn the violence, was indefensible," Matthews said. "And so I knew that I would be resigning that evening."
The committee also showed outtakes from a speech Trump gave the evening of Jan. 7. His staff had prepared the text for him that morning, but Trump resisted making the speech until threats to remove him from office under the 25th Amendment were raised.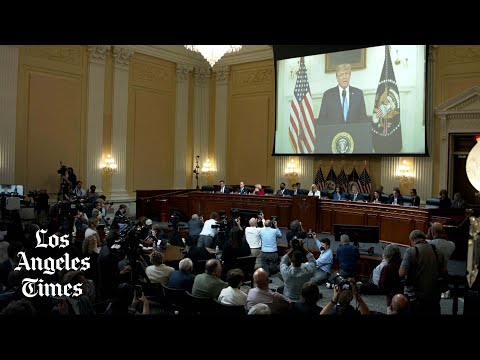 The House committee investigating the Capitol riot has shown never-before-seen video outtakes of a speech prepared for then-President Trump on Jan. 7, 2021, in which he was supposed to say that the election he lost to Joe Biden was over.
In the video, Ivanka Trump can be heard helping her father work through what he was willing to say. At one point, the president appeared to smack the lectern in anger.
"I don't want to say, 'the election is over.' I just want to say 'Congress has certified the results' without saying 'the election is over.' OK?" Trump said in one of the outtakes.
In her opening statement, Vice Chair Liz Cheney (R-Wyo.) said that the hearings had brought forward new tips, witnesses and evidence, and that the investigation would continue.
"Doors have opened, new subpoenas have been issued and the dam has begun to break," she said.
In her closing, Cheney praised the young former White House staffers, including Cassidy Hutchinson, who have given damning testimony and have been attacked for it by Trump supporters. Cheney reminded those criticizing the committee that nearly all of the testimony had come from Republicans.
"The case against Donald Trump in these hearings is not made by witnesses who were his political enemies. It is instead a series of confessions by Donald Trump's own appointees, his own friends, his own campaign officials, people who worked for him for years and his own family. They have come forward and they have told the American people the truth," Cheney said.
Over the previous seven hearings this summer, the committee made the case that Trump knew he had fairly lost his bid for a second term but chose to churn up accusations of a stolen election anyway, and that he pressured state legislatures and Pence to break the law to keep him in power.
The panel has also focused on how Trump nearly replaced the acting attorney general with a supporter when the Justice Department wouldn't back up his false claims of election fraud.
Committee Chair Bennie Thompson (D-Miss.), who tested positive for COVID-19 earlier this week, participated remotely via video. He said the committee hearings would resume in September.
Committee members have wrestled with whether their final recommendations should include a criminal referral to the Justice Department, or should instead leave the decision to the department, which is conducting its own investigation.
"I think the president certainly has criminal exposure," Kinzinger said after the hearing. "I'm not a prosecutor, not [Department of Justice]. But I certainly think if you look at what we presented tonight and all these hearings, that cannot be acceptable from the president of the United States.
"The worst thing we can do is put out something that says, 'The president is above the law and can do this again,'" he added. "Because I guarantee you, it will happen again."
Times staff writer Anumita Kaur contributed to this report.

Get our Essential Politics newsletter
The latest news, analysis and insights from our politics team.
You may occasionally receive promotional content from the Los Angeles Times.