Great Read: After leaving the political blogging fray, he now covers desert's quiet weirdness
Ken Layne is driving past Wonder Valley — an unincorporated community he calls the "weird cousin" of Joshua Tree. He is uneasy. Years ago he got a speeding ticket on this road and it cost him $600. Now he sets the cruise control on his car to 59 mph every time he drives out here.
"This is prime bighorn sheep territory," he says, looking beyond the plastic coyote on his dashboard toward the wide-open vistas. "There are no signs of people except for us."
He points out the dust devils spinning off in the distance. This is his life now.
For six years he ran the absurdist — and vicious — political blog Wonkette. Keith Olbermann called him the worst person in the world, Cindy McCain yelled at him on Twitter, and Sarah Palin tried to put him out of business.
"I spent hours each day deleting death threats from the comments section," he says. "I honestly don't know how people deal with that for their whole working lives."
And so, a few years ago, he bailed out of the political blogging business. He didn't know what he wanted to do, exactly, but he did know one thing.
"I wanted my work to be about the desert," he says.
Former political blogger Ken Layne left Wonkette in his rearview mirror to return to his beloved Southwest and start the Desert Oracle.
(Rick Loomis / Los Angeles Times)
The Desert Oracle's founder, editor, chief writer and deliveryman Ken Layne discusses aliens with Lisa O'Toole as he drops off copies in Twentynine Palms, Calif.
(Rick Loomis / Los Angeles Times)
Jane Smith, owner of the 29 Palms Inn, bought 192 copies of Layne's quarterly to give to her guests.
(Rick Loomis / Los Angeles Times)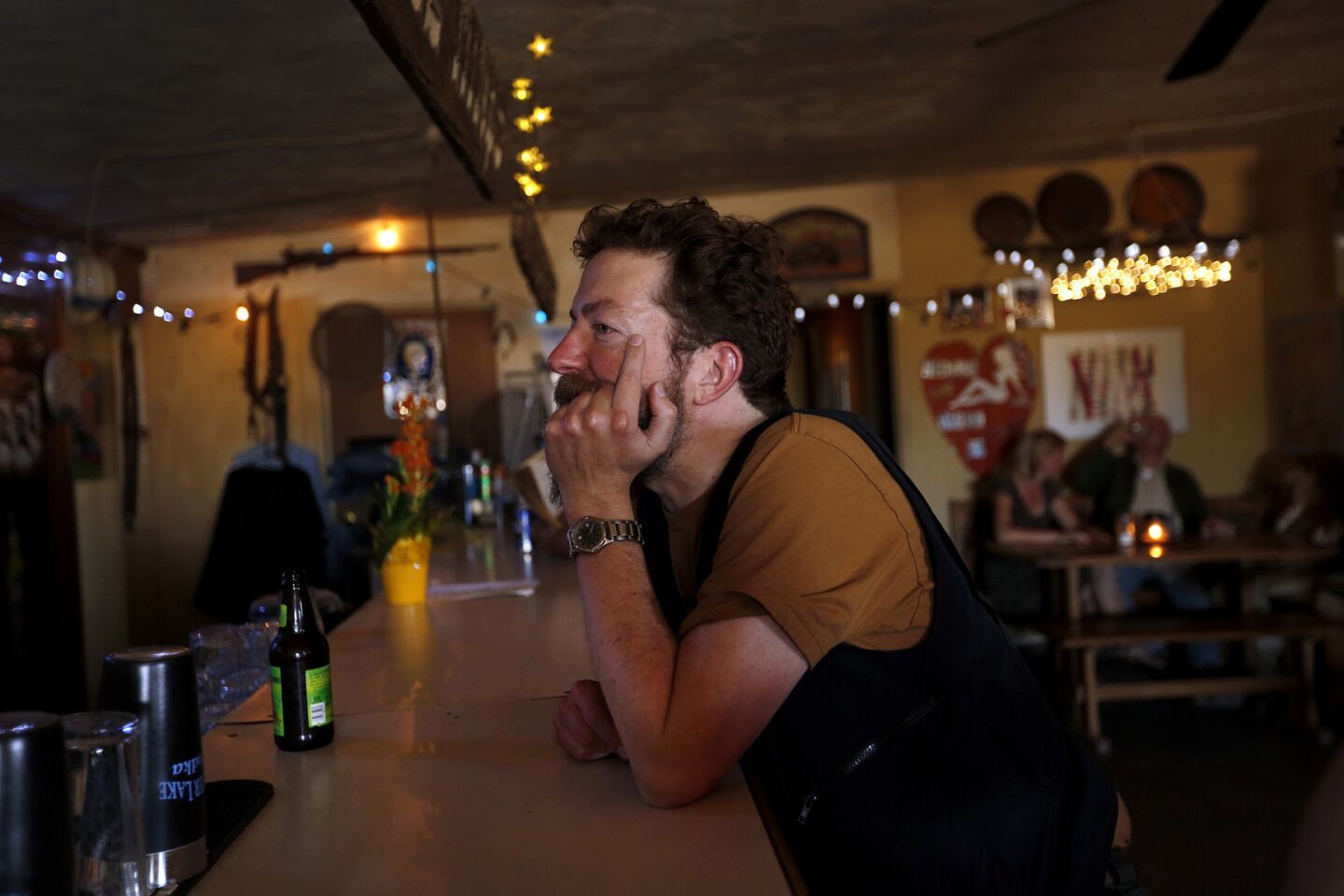 Layne takes a break in Wonder Valley, Calif. He covered more than 100 miles that day while visiting desert communities and delivering his quarterly.
(Rick Loomis / Los Angeles Times)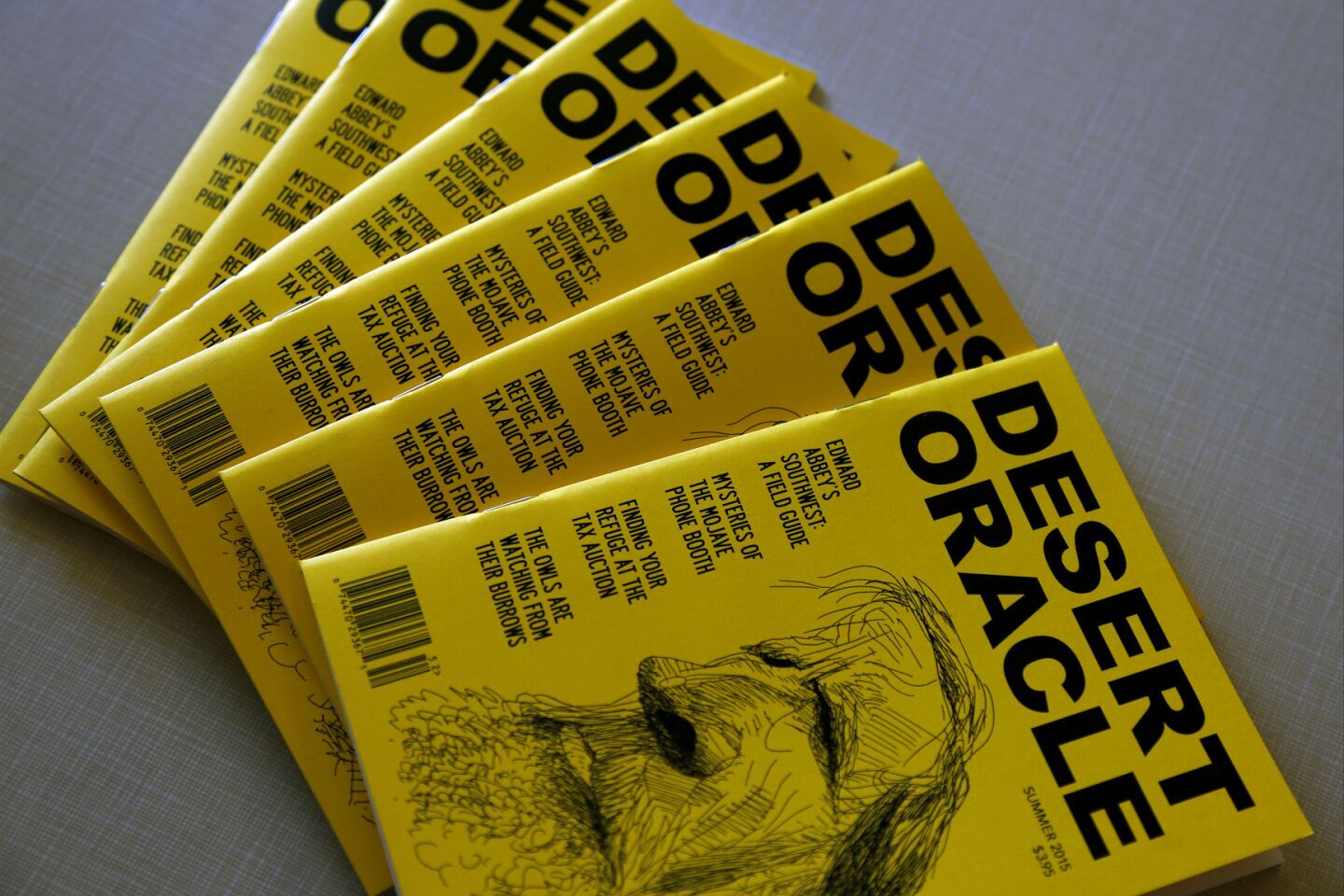 Desert Oracle's second issue, with a likeness of Edward Abbey, author of "Desert Solitaire: A Season in the Wilderness," on the cover.
(Rick Loomis / Los Angeles Times)
He considered doing a radio show like "A Prairie Home Companion" that focused on the American Southwest. Then, last summer, his new off-line venture appeared to him almost fully formed in the midst of a solo four-week drive through Death Valley and the Eastern Sierra. ("It's what I do instead of go to a psychiatrist," he says.)
It would be a quarterly regional magazine about the Southwest. The look would be inspired by old desert guides from the '60s and '70s like "Owens Valley Jeep Trails" and "Mines of the Mojave," but it would pay homage to the weirdness of the desert with stories about strange desert animals and even stranger desert characters. He called it the Desert Oracle.
"I saw it pretty clearly," he says. "It was going to be small, it was going to be yellow, and inside it was going to be all black and white. No color, no GIFs, no apps, no content on the Internet."
::
You find a chunk of wild and quiet desert and you're in an old, magical land.
— Ken Layne
Layne doesn't have the best coloring for a desert rat. There are touches of red in his thick beard, and he burns easily. But when he grabs a long, sturdy walking stick and sun hat out of the car, he looks at home among the boulders and cholla cactuses near Joshua Tree National Park.
"You find a chunk of wild and quiet desert and you're in an old, magical land," he says.
There are half a dozen boxes of freshly printed Desert Oracles in his new Subaru Forester and he plans to spend the rest of the day distributing them in shops, diners and art spaces between Yucca Valley and the time-capsule town of Amboy.
"I'm trying to do at least one partial desert drive per issue, because that's where I gather stuff that I'm going to write about," he says. "And I find new places and try to talk people into carrying it."
The quarterly is a one-man production. Layne is the writer, editor, designer, publisher, ad salesman, circulation manager and distributor. The only part he outsources is the printing.
The Desert Oracle is a leap of faith — or, as he calls it, "a dumb leap of faith" — for the 49-year-old. He started his career as a reporter writing for small newspapers in and around Southern California in the mid-'80s, and by the late '90s he had made the transition to writing for the Internet full time. He liked it at first, but says now that it would be hard to go back.
"The Internet has ruined our collective mind for being able to rationally deal with news and issues," he says. "You need to come up with ever more vile headlines to get a few more clicks from the other 400 news outlets and sites that are doing the exact same story based on the same tiny bit of information."
"That is one reason there is no news in the Oracle," he adds. "I thought everyone could use less news."
::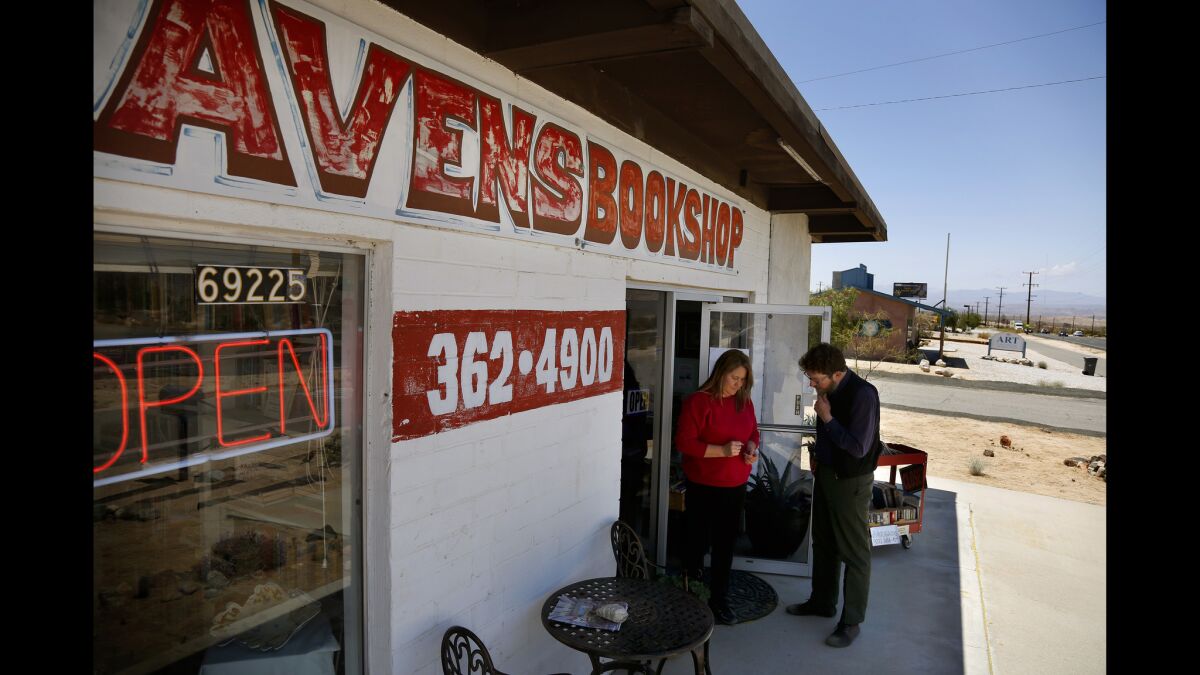 The door to Sagebrush Press Books in Yucca Valley is open, but the shop appears to be deserted except for the thousands of books stacked in tottering piles on every available surface and the boxes of old magazines lining the narrow aisles.
Layne hollers "Hello!" in a loud baritone. For a long time, there is no other sound.
Eventually, and in no great hurry, Dan Cronkhite emerges from a backroom. His long hair and beard are white; his bright-red T-shirt reads "Cinco de Mile."
"I still have your books here," Cronkhite says, gesturing to a crowded window ledge.
"We sold a few," he adds, his voice as dry as the desert air. "But nothing moves fast around here."
Layne laughs loudly.
Sure, he could sell the Oracle in places with more foot traffic, like Skylight Books in Los Feliz or Book Soup in West Hollywood, but he thinks it belongs in the overstuffed bookshops, dusty bars and out-of-the-way inns of the American Southwest.
"I think you need to find it in the desert," he says. "That's its natural environment."
::
Layne was born in Louisiana, but he has roots in the desert: His dad grew up outside Phoenix in a time before air conditioning was common, and Layne spent his middle school years there as well. By the time he got his driver's permit in the early '80s, his family had moved to San Diego and he was making regular pilgrimages out to the Mojave.
He bought his first cabin, near Anza-Borrego Desert State Park, when he was 22, and over the last three decades he has lived in four American deserts — the Mojave, the Sonoran, the Colorado and the Great Basin.
Up until two years ago, he was living with his wife and two kids in Joshua Tree. Then his wife was transferred to Northern California for work.
"Two months after we left the desert, we started plotting how to come back," he says.
He bought some remote land east of Mono Lake, where he's about to build a cabin. In the meantime the family has decided to move back to Joshua Tree in June.
"I have never experienced a better way to live than getting up and walking up the road behind your house with a dog who is so thrilled, again, that he gets to do this," he says.
There are some people who love the desert, and some people who need the desert. Layne is in the second category.
"Ancient dramas are happening," he says. "Predator and prey; ridiculous and beautiful plants full of spikes and needles; erosion; thirst; raw mountains pushed up by the Earth. And it's all different, all the time."
::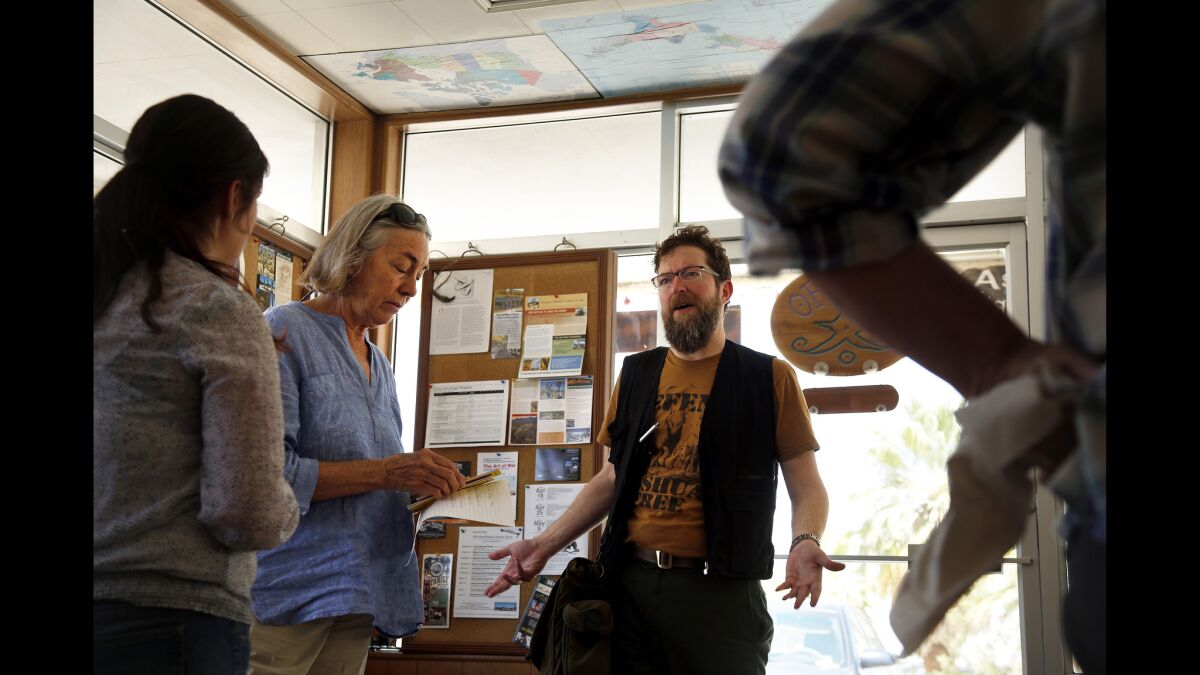 Layne parks his car along a trendy stretch of Highway 62 in Joshua Tree and taps on the window of a modern ceramics shop run by his friend Brian Bosworth.
The store is closed, and Layne curses under his breath.
"He sells more copies than anyone else," Layne says. "It's usually 30 or 40 every month. Most places, if they sell five or 10 I'm happy."
He has better luck finding someone at Raven's bookstore, where he drops off 10 copies and chats with Lisa O'Toole, a massage therapist who takes turns watching the store with her mom. Talk turns to George Van Tassel, an infamous desert character who believed he'd been contacted by aliens.
"He swore to the end that they picked him up," Layne says.
"I had an alien dream when I was a kid," O'Toole says. "It was so realistic."
The big sale of the day is at the 29 Palms Inn, where longtime owner Jane Smith buys an entire carton — 192 copies — to distribute free to her guests.
"We'll put them in the room and they will disappear," she says. "Keep up the good work."
::
Layne pulls the car into the parking lot in Amboy, a town that sold for $425,000 on EBay back in 2005.
It has a hotel that has been boarded up for decades and a diner called Roy's that sells chips, soda and candy but doesn't have a working kitchen. Still, a steady stream of tourists, many of them German, stop here to admire the '50s architecture and take pictures with the Route 66 sign painted on the road.
Layne puts a new batch of Oracles on the counter and buys a Mexican Coke — his Amboy ritual.
He still isn't sure what the Desert Oracle's financial future might be, but by the time the second issue came out in May, he had 700 subscribers.
"It's not bad," he says. "If it keeps up at that rate, I'll be able to take a paycheck two years from the date of inception."
It costs $15 for a year subscription, and an individual magazine goes for $3.95 — in part because the 395 is Layne's favorite road in America.
"I've loved it since I was a kid," he says. "It always seemed like the way out to where everything was good."
Get our free Coronavirus Today newsletter
Sign up for the latest news, best stories and what they mean for you, plus answers to your questions.
You may occasionally receive promotional content from the Los Angeles Times.