10 Images
James Stewart's wonderful life and enduring legacy
James Stewart, film's Everyman, would have turned 100 this week. Both the UCLA Film & Television Archive and the Academy of Motion Picture Arts and Sciences are celebrating his centenary this month. Here are some of his memorable screen roles.
Stewart gives one of his best performances as the San Francisco detective John "Scottie" Ferguson who becomes obsessed with a woman (Kim Novak) he's hired to follow in Alfred Hitchcock's 1958 psychological masterwork, "Vertigo."
(UCLA Film & Television Archive)
Stewart plays a San Francisco detective who suffers from "Vertigo" in Alfred Hitchcock's 1958 romantic classic.
(UCLA Film & Television Archive)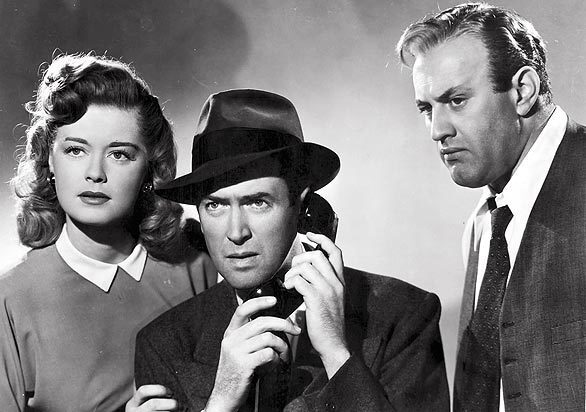 Stewart (center) plays a Chicago newspaper reporter who proves that a man was unjustly convicted of murder in the gripping semi-documentary-style 1948 "Call Northside 777." Helen Walker plays his wife; Lee J. Cobb is his editor in this film directed by Henry Hathaway.
(UCLA Film & Television Archive)
Stewart and director Anthony Mann teamed up for several gritty adult westerns during the 1950s, including 1955's "The Man From Laramie," in which he plays Will Lockhart, a man who becomes involved in the machinations of a small western town after he delivers supplies to the isolated area.
(UCLA Film & Television Archive)
Besides making westerns, Stewart and Mann also collaborated on the lovely, sentimental 1954 bio-pic, "The Glenn Miller Story." Stewart brought his lanky charm to the role as the famous orchestra leader; June Allyson also starred as his loving wife Helen.
(UCLA Film & Television Archive)
Romantic comedies don't get more romantic or funnier than 1940's enchanting "The Shop Around the Corner," which casts Stewart as a shop sales' clerk who doesn't realize that the store's new employee (Margaret Sullavan) is actually his secret romantic pen pal. Ernst Lubitsch directed this flawless farce that was later remade as "You've Got Mail."
(LACMA)
One of director John Ford's last and best westerns, 1962's "The Man Who Shot Liberty Valance," features Stewart as attorney Rance Stoddard who becomes a hero when he "shoots" the famed outlaw Liberty Valance. John Wayne (right) is on hand as Tom Doniphon, a rancher who comes to Stoddard's aid.
(UCLA Film & Television Archive)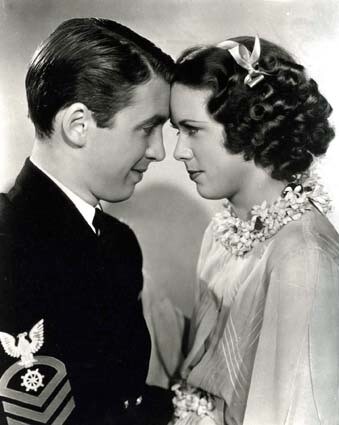 Stewart sings and dances -- or let's say tries to sing and dance -- in the enjoyable 1936 musical comedy "Born to Dance." Legendary tap dancer Eleanor Powell plays his love interest. And Stewart even gets to croon Cole Porter's "Easy to Love."
(UCLA Film & Television Archive)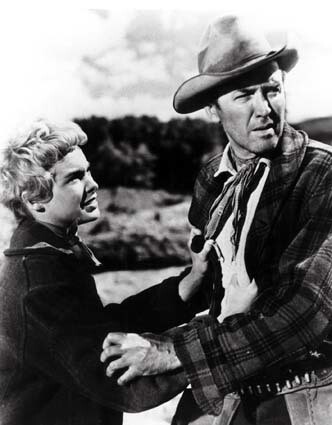 The uncompromising "The Naked Spur," released in 1953, is the best of the Stewart-Mann westerns. Stewart plays a bounty hunter determined to bring in an outlaw (Robert Ryan). Janet Leigh (left) plays the outlaw's companion.
(File photo)
Though it wasn't a big hit when it was released in 1946, Frank Capra's "It's a Wonderful Life" has become Stewart's best-loved film and a Christmas perennial. Stewart received his third lead actor Oscar nomination for his role as George Bailey, a man on the verge of committing suicide who learns from an angel named Clarence what life would have been like if he had not been born.
(UCLA Film & Television Archive)