Law expanding HOV access to plug-in cars drives higher sales, UCLA study says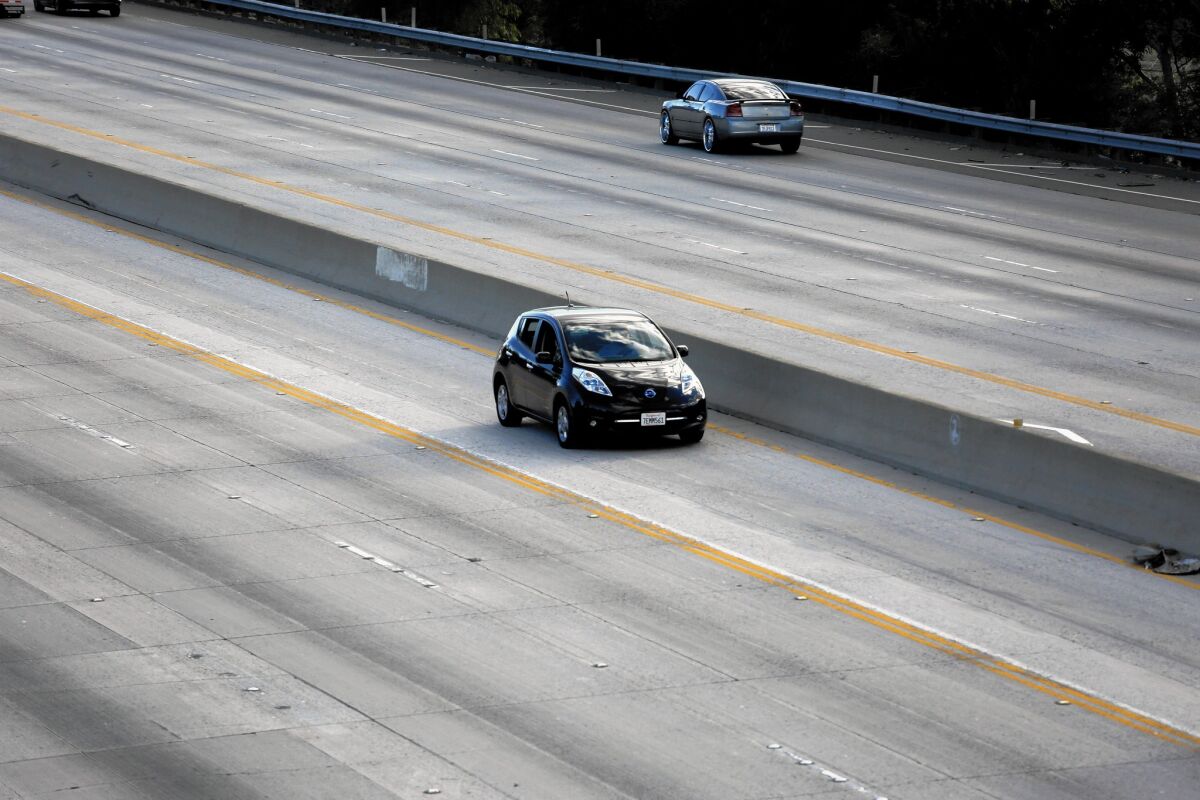 Smaller carbon footprints, generous tax rebates and lowering or eliminating fuel costs aren't the only reasons people buy the plug-in versions of electric and hybrid cars in California.
In the first study of its type, UCLA's Luskin Center for Innovation has found another major incentive: state legislation that opened up hundreds of miles of carpool lanes to solo motorists who drive plug-in vehicles.
The research linking automobile sales and thousands of census tracts in Los Angeles, Sacramento, San Diego and San Francisco concluded that the ability to use potentially time-saving HOV lanes prompted the purchase of more than 24,000 plug-in electric cars and hybrids in the four urban areas from 2010 to 2013, or about 40% of the total of such vehicles.
"The key finding is that access to HOV lanes has a significant impact on sales," said professor J.R. DeShazo, director of the Luskin Center and co-author of the study.
The conclusion is important because the Legislature granted HOV access on the condition it would motivate people to buy electric cars and hybrids that can be recharged at home or at public charging stations.
When the access law comes up for review in 2019, such research could encourage lawmakers to renew and perhaps expand the permit program.
DeShazo said the findings also are a positive sign for a 2012 executive order Gov. Jerry Brown issued that calls for 1.5 million zero-emission vehicles to be on California's roadways by 2025. Without the policy giving plug-in vehicles access to HOV lanes, researchers concluded, total plug-in sales in the same study areas would have been only 36,692 for the three-year period.
Cheryl Downey, a public relations consultant in Long Beach, said carpool lane access significantly influenced her family's decision to buy a Chevrolet Volt, a plug-in hybrid, in December 2013.
"We had a Prius and had lost our HOV privileges," Downey said. "We liked the Volt and realized it would get my husband back into the carpool lanes. It has cut his commute time in half."
Of course, not all electric vehicles are created and priced the same — or chosen by buyers for similar reasons. Jason Fudenberg, president of the Los Angeles Tesla Owners Club, downplayed the significance of HOV access in the decision to buy the premium electric vehicle, which can cost more than $100,000 depending on the model.
"If you were to talk to a Tesla owner, access is a plus but it goes along with many other things — the technology, the styling, the quality and fuel savings," he said. "It might be a bigger factor for those who buy a [Nissan] Leaf or a Volt."
The state is offering an unlimited number of white access stickers for zero-emission vehicles, which include plug-in electric vehicles with rechargeable batteries and cars powered by hydrogen fuel cells or compressed natural gas.
By contrast, a maximum of 85,000 green HOV access stickers can be issued for plug-in cars that can run in zero-emission mode but have small internal combustion engines to recharge batteries and power the car when needed. As of last month, about 76,000 vehicles had received green permits.
"The recent Luskin Center study confirms that access to HOV lanes has encouraged consumers across the state to prefer low-emission vehicles," said Assemblyman Richard Bloom (D-Santa Monica), an author of carpool lane measures for alternative vehicles. "Public policy like this continues to help California lower its greenhouse gas emissions and encourage green innovation."
A watershed moment for hybrids came in July 2011, when single-occupant hybrid vehicles without plug-in capabilities were generally banned from carpool lanes. Under the most current access legislation, motorists with plug-in vehicles must pay to use high-occupancy toll lanes, or so-called HOT lanes, such as those on the 10 and 110 freeways.
For the UCLA study, researchers sampled more than 7,000 of the 8,057 census tracts in California. They looked at the number of plug-in car sales and the miles of carpool lanes within a 30-mile radius of each census tract.
Los Angeles County averaged 229 miles of HOV lanes per census tract that was studied. San Francisco had an average of 98 miles, Sacramento 38 and San Diego 10.
The study, funded by the California Air Resources Board, concluded that granting access to 20, 40 and 140 miles of HOV lanes accounted for two, four and 10 additional sales of plug-in vehicles per census tract, respectively.
Researchers also found that a 20% reduction in HOV lanes was associated with a 3.8% decrease in sales on average across the state, while an increase of 20% triggered a 2.6% increase in sales.
The study cautioned that future sales of plug-in hybrids and electric cars could fluctuate. That's because carpool lane congestion, as well as prices of fuel, electricity, plug-in cars and conventional vehicles could change.
DeShazo said the findings might help local lawmakers and transportation planners decide where to build new carpool lanes. But because Los Angeles has the majority of HOV lanes in the state and a large number of plug-in car sales already, he also predicted the addition of more carpool lanes might not boost sales of such vehicles as much as in other areas of the state.
"Adding HOV lanes in Los Angeles may have a smaller impact compared to San Diego or Sacramento, where 10 extra miles would be really helpful," he said.
Follow @LADeadline16 for transportation and aviation news.
MORE SCIENCE NEWS
Team of sleuths stalks cancer in L.A. County
Surprise! Scientists discover that sperm cells can slither [VIDEO]
MWD will try to buy delta islands for water storage, habitat purposes
---
Get our free Coronavirus Today newsletter
Sign up for the latest news, best stories and what they mean for you, plus answers to your questions.
You may occasionally receive promotional content from the Los Angeles Times.