J. Lamar Worzel dies at 89; Columbia University physicist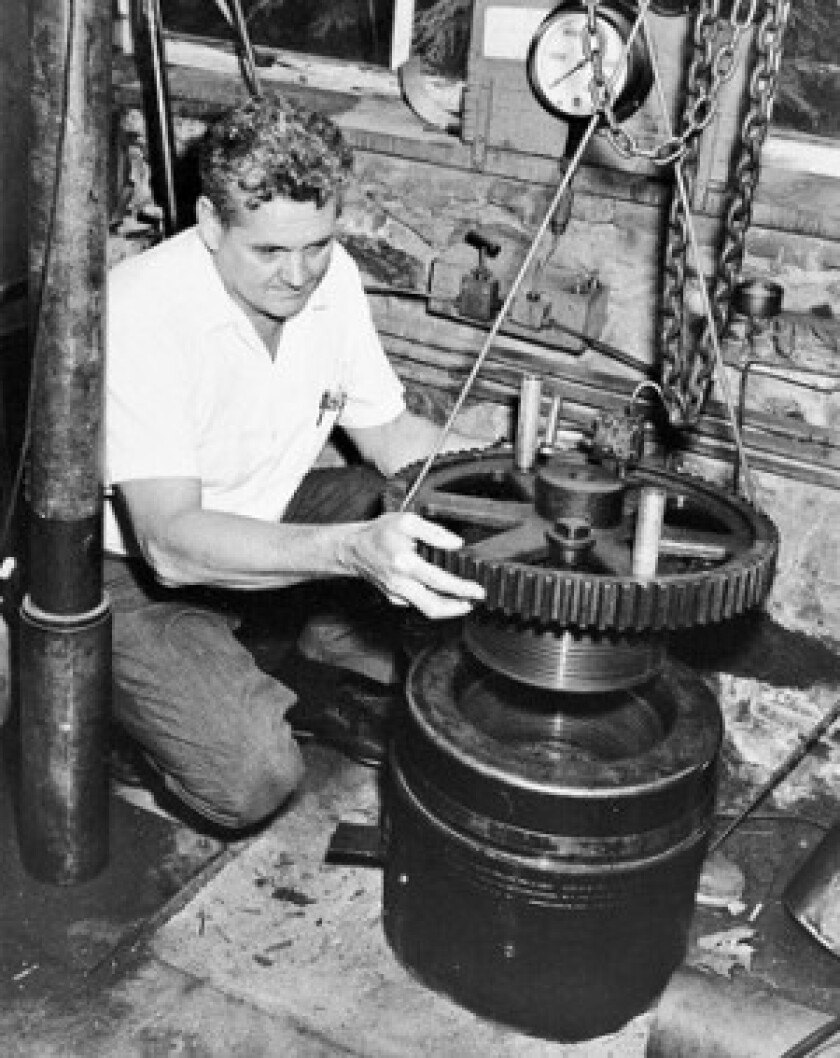 J. Lamar Worzel, the Columbia University physicist who used the emerging science of acoustics to explore the ocean floor, help American submarines evade their enemies and track Russian submarines during the Cold War, died of a heart attack Dec. 26 at his home in Wilmington, N.C. He was 89.
A talented improviser, Worzel used objects from the home and laboratory to piece together instruments that did not yet exist, demonstrating their value and paving the way for the development of far more sophisticated tools.
With his longtime boss and colleague, William Maurice Ewing, he helped found Columbia's Lamont-Doherty Earth Observatory, a preeminent geophysical research center, and began assembling its fleet of oceanographic vessels.
In his later years, Worzel helped the U.S. Navy locate the sunken nuclear submarine Thresher.
Worzel met Ewing in the 1930s while he was an undergraduate physics student at Lehigh University. Ewing took a group of students sailing on marine expeditions out of the Woods Hole Oceanographic Institution, and Worzel quickly became his prize pupil.
Working with other students, Worzel built the first camera for taking pictures thousands of feet below the ocean's surface. The first model used a coffee can lid for a flash reflector and a thick drinking glass for a casing, but subsequent models used aluminum canisters and plate glass viewing ports.
His first deep-water seismograph incorporated a modified Hamilton railroad watch. An oscillograph was powered by the motor from a toy electric train.
To detonate explosions at oceanic depths -- a feat viewed as impossible by many -- he packed explosives into rubber inner tubes, figuring out how to detonate them with paper caps from toy pistols.
"We never allowed ourselves to think that anything we decided to do was impossible," he wrote in 2001 in an unpublished autobiography.
Pictures from those early cameras taken by Worzel and his colleagues overturned the prevailing notion that deep-water abysses were lifeless. Their magnetic and gravitational measurements charted the continental margins, supporting the theory of plate tectonics.
Among the early discoveries was the existence of what they called shadow zones, areas of temperature and pressure that reflected sounds to the surface rather than permitting them to pass through. Worzel co-authored a manual listing these zones that allowed many U.S. submarine commanders during World War II to hide from enemy ships on the surface.
They also identified the "deep sound channel," a narrow zone about 3,000 feet below the surface that transmitted sounds with unusual clarity. They demonstrated that they could set off a small explosion off the coast of South America and not only hear it but also pinpoint its location from thousands of miles away in West Africa.
This discovery became the basis of the Navy's vast sound fixing and ranging (SOFAR) program and its successors, in which sensitive microphones were installed at key locations around the globe to identify and track Soviet submarines.
Worzel also used his seismic expertise to help the Navy locate the Thresher after it sank in 8,400 feet of water in 1963 during a deep-diving trial. For his efforts, he received a Navy Meritorious Public Service award.
In 1948, lured by Columbia's then-president, Dwight D. Eisenhower, Ewing and Worzel established what was then called the Lamont Geological Observatory in a Hudson River estate donated by the Lamont family. Worzel and his wife, Dorothy, lived on the grounds of the spacious estate and raised four children there.
Because of his inveterate tinkering, Worzel was usually covered with grease, and visitors often assumed he was the maintenance man.
Soon after arriving at Columbia, Worzel acquired a modest schooner powered partly by sail to use for the observatory's ocean research -- the first of a series of vessels in which he crisscrossed the world's oceans in the name of science. He initiated the use of satellite navigation in ships for more accurate positioning of experiments.
When student protests against the Vietnam War in the late 1960s forced many universities to abandon military contracts, Worzel and his colleagues founded the nonprofit Palisades Geophysical Institute to continue their classified research while maintaining their academic posts.
The group disbanded the institute in 2002 when they concluded that its findings were being applied directly to weapons development. Their cash surplus of at least $10 million was used to endow a variety of professorships and grants.
John Lamar Worzel was born Feb. 21, 1919, in West New Brighton on Staten Island, N.Y., where his father was a real estate lawyer.
Although he went by Lamar, his friends often called him Joe in honor of a 1937 pop song whose lyrics went "What do you know, Joe? We don't know nothing."
He received his bachelor's degree from Lehigh in 1940 and his doctorate from Columbia in 1949.
In 1972, Worzel and Ewing left Columbia for the University of Texas. When Ewing died two years later, Worzel became president of the Texas Institute of Geophysics.
Worzel is survived by his wife of 67 years, the former Dorothy Crary; a daughter, Sandra Lee Browne of Toronto; sons Howard of Phoenix, Richard of Toronto and William of Ann Arbor, Mich.; eight grandchildren; and two great-grandchildren.
---
Get our free Coronavirus Today newsletter
Sign up for the latest news, best stories and what they mean for you, plus answers to your questions.
You may occasionally receive promotional content from the Los Angeles Times.