6 Images
Paul B. MacCready | 1925-2007
Paul MacCready in 1979, holding a photograph of the Gossamer Albatross, a human-powered craft that he helped design and build, which won $300,000 in prize money along with a similar craft, the Condor.
(LAT)
The Gossamer Albatross, a MacCready creation, was the first human-powered plane to cross the English Channel, making the trip in about three hours on June 12, 1979.
(AeroVironment Inc.)
MacCready is shown in 1986 examining his latest flight of fancy, a radio-controlled half-scale replica of a pterodactyl. "If you can make something that moves around but gives you the feeling of a prehistoric creature, then people experience it; they feel it much better," he said in a magazine interview.
(LAT)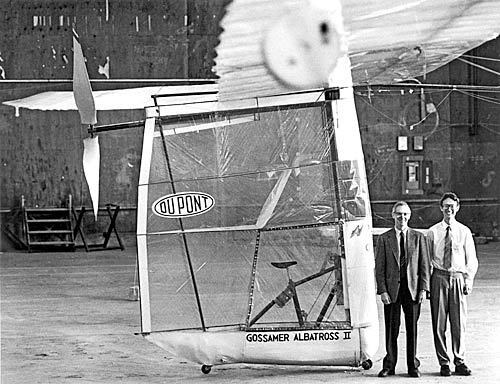 MacCready, left, is shown alongside the Gossamer Albatross and its pilot Bryan Allen in 1989. Allen flew MacCready's invention across the English Channel in 1979 to win $213,000 in prize money.
(LAT)
MacCready's radio-controlled pterodactyl was a signature mark of his imaginative mindset. "When I began getting into model airplanes, and getting into contests and creating new things, I probably got more psychological benefit from that than I would have from some of the other typical school things," he said. "Nobody seemed to be quite as motivated for the new and strange as I was."
(LAT)
MacCready displays a model of one of his creations, Helios. The solar-powered plane, with a 200-foot wingspan, shattered the world altitude record in 2001, climbing to 96,863 feet.
(LAT)