Two-year project will study air pollution in San Ysidro from cars idling at the border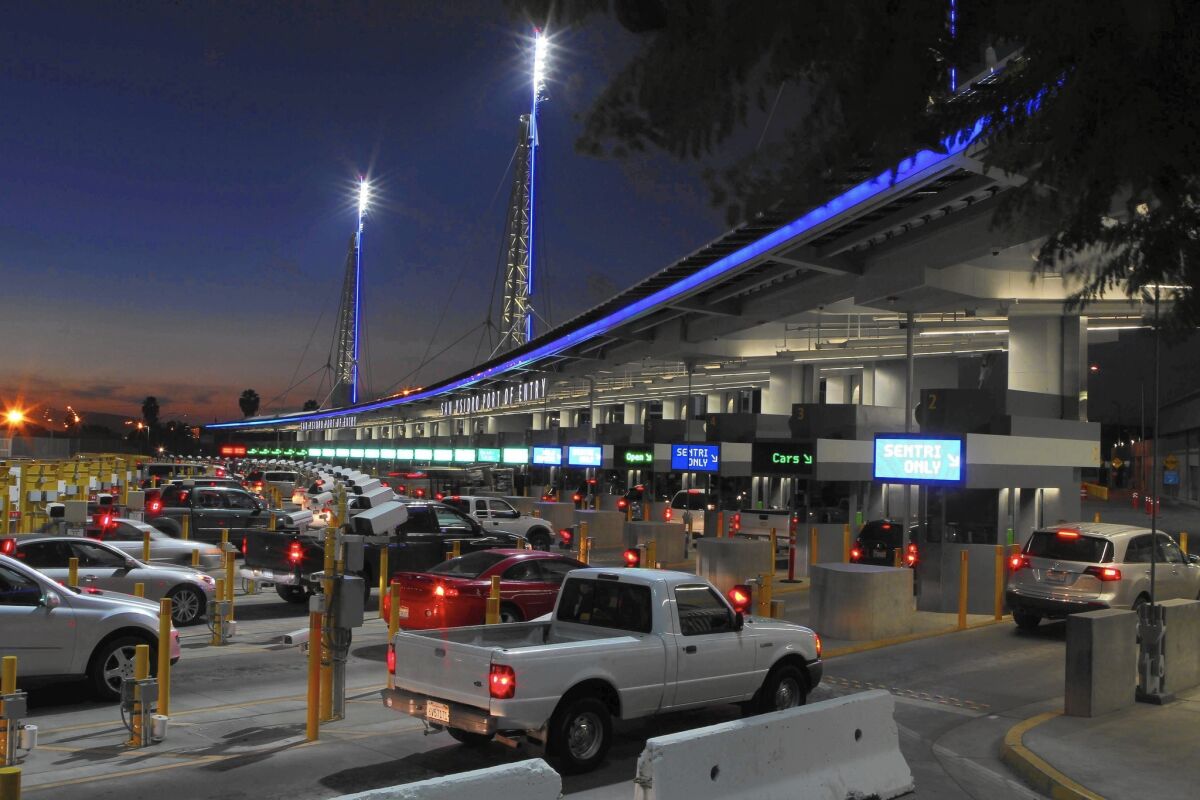 SAN DIEGO —
Long lines of idling cars waiting to cross the U.S.-Mexico border are a part of life in San Ysidro.
Concerned about the neighborhood's proximity to the world's busiest land port of entry, a local community development agency has launched a study to analyze the health risks associated with air pollution at the border.
Casa Familiar, which provides services and programs for residents of south San Diego County, has begun a two-year project funded by the California Office of Environmental Health Hazard Assessment. It aims to examine the effects of exposure to pollution from idling vehicles at the port of entry and the migration of pollutants from Tijuana.
The agency will deploy data sensors in 12 locations across San Ysidro to measure how air pollution changes over time and space and determine the areas that are most affected.
"A lot of people have of course placed their concern on the actual port of entry, the border crossing, simply because they equate vehicle idling to a lot of exhaust emission," said David Flores, community development officer for Casa Familiar.
The state has allotted $225,000 for the project, which will be divided among the partnering agencies. Casa Familiar was given $49,000 for community outreach and participation. Scientists with San Diego State and the University of Washington are assisting in the effort.
"We feel that being on the border results in the community being exposed to some pollutant concentrations that would not be faced by communities away from the border," said Penelope Quintana, a professor at San Diego State's Graduate School of Public Health and a principal investigator.
In a 2014 study published in the journal Atmospheric Environment, Quintana and other scientists sampled pollutants related to traffic — black carbon and ultrafine particulate matter — at four rooftop locations in San Ysidro. Results showed higher daytime pollutant concentrations near the point of entry. Pollution concentrations were higher during low wind speeds or when the wind was blowing from the port of entry toward San Ysidro.
As part of the new project, Quintana and her team also will analyze the utility and accuracy of the monitors being used.
Casa Familiar hosted two community workshops in recent weeks, in which residents were asked about the city's air quality. With that feedback, a committee of residents will determine where to place the monitors. The organization expects to have the monitors up by the summer, Flores said.
Bertha Ruiz attended both workshops. She said she notices smog building up each morning, particularly between the hillside and freeways.
"Our environment is extremely important, especially knowing that we have so much contamination on our community," she said.
tatiana.sanchez@sduniontribune.com
Sanchez writes for the San Diego Union-Tribune.
ALSO
The breakthrough that's leading to a new golden age of space travel
Coachella promoters look to book Dylan, Stones, McCartney and Young for mega-concert
California minimum wage hike hits L.A. apparel industry: 'The exodus has begun'
---
Get our free Coronavirus Today newsletter
Sign up for the latest news, best stories and what they mean for you, plus answers to your questions.
You may occasionally receive promotional content from the Los Angeles Times.