Desert tortoise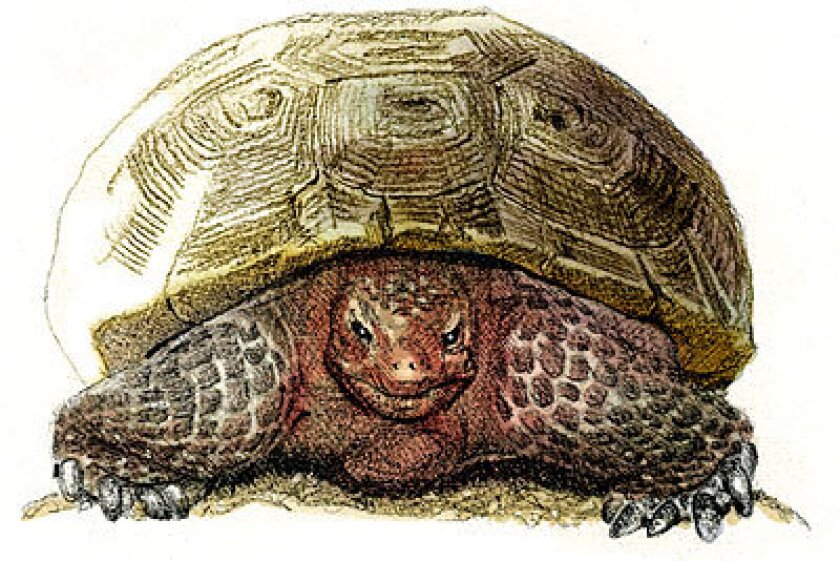 [GOPHERUS AGASSIZII]
One sunny day in California's Mojave Desert, as insect buzzing fills the air and tender grasses send up their ephemeral shoots, a prehistoric head pokes from its winter burrow and gravely contemplates the coming of another spring. Eyes slowly blink, mouth opens in toothless yawn, and a desert tortoise stumps forth. Tan and domed like a soccer ball half-buried in the sand, the tortoise moves deliberately but becomes rather peevish if a neighbor wanders by. Males will charge into each other like slow-motion battering rams, while pairs clump along in amorous chase. By early May females dig nesting burrows and deposit three to 14 eggs that resemble pingpong balls. Hardly any of the fragile hatchlings survive the 15 years it takes to reach reproductive age, but the ones that do may live half a century or more.
*
NATURAL HISTORY
Listed as a threatened species in 1990, the desert tortoise is dwindling. Many are killed by vehicles and military activities, and others succumb to diseases introduced by pets released in the desert or to starvation in areas where cows eat much of the green vegetation. Human encroachment on tortoise habitat is also a major cause of the decline.
*
KEY CHARACTERISTICS
Growing up to 15 inches long, this is the only native land turtle in California.
---
Get our free Coronavirus Today newsletter
Sign up for the latest news, best stories and what they mean for you, plus answers to your questions.
You may occasionally receive promotional content from the Los Angeles Times.