Measles outbreak surges again, with 90 new cases in the U.S. in one week
U.S. measles cases have surged again, and are on pace to set a record for the most illnesses in 25 years.
Health officials on Monday said 555 measles cases have been confirmed so far this year, up from 465 as of a week ago.
"This is the second-greatest number of cases reported in the U.S. since measles was eliminated in 2000," according to the outbreak update from the Centers for Disease Control and Prevention.
A typical case of measles begins with a cough, runny nose, watery eyes and a high fever. Over the next three to five days, those cold-like symptoms are followed by a rash that spreads from the face to the torso and limbs. Patients may also develop small white spots in their mouth, diarrhea and ear infections.
Children under age 5 and adults over age 20 are more vulnerable to complications, the CDC says. The most serious of these are encephalitis, a swelling of the brain that can result in hearing loss or intellectual disability, and pneumonia, which can be fatal.
"For every 1,000 children who get measles, one or two will die from it," the CDC warns.
While 20 states have reported cases, New York has been the epicenter. Nearly two-thirds of all cases have been in New York, and 85% of the latest week's cases came from the state.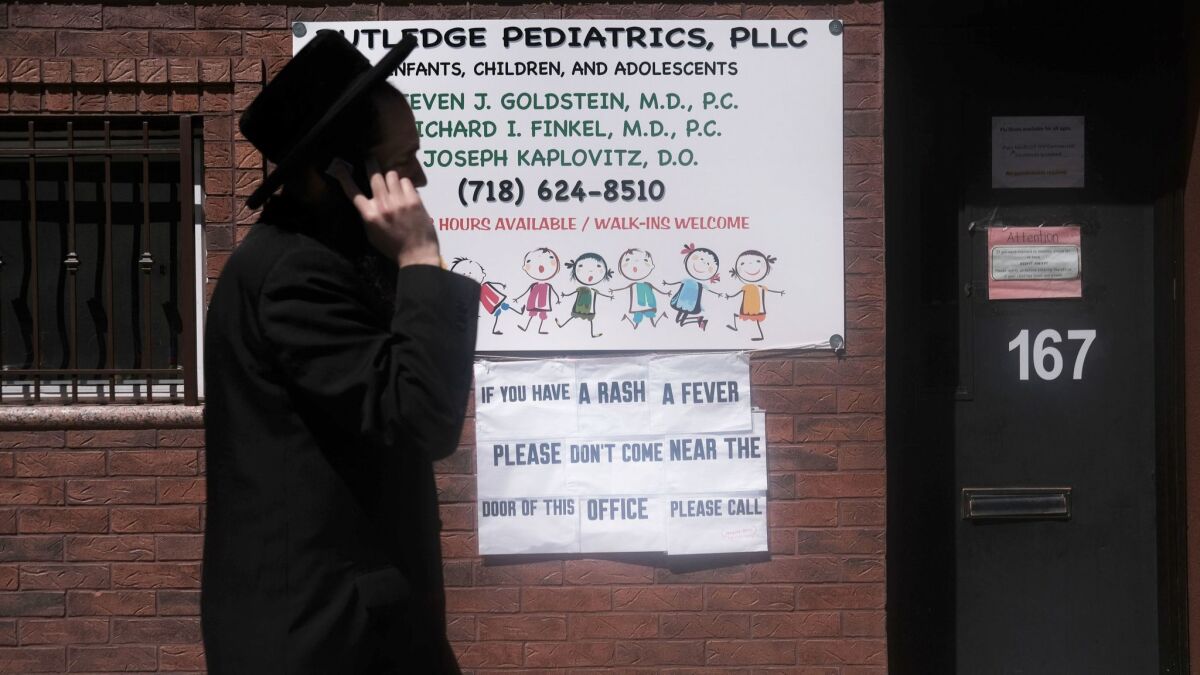 Most of the New York cases have involved unvaccinated people in Orthodox Jewish communities.
The other states that reported cases to the CDC are Arizona, California, Colorado, Connecticut, Florida, Georgia, Illinois, Indiana, Kentucky, Maryland, Massachusetts, Michigan, Missouri, Nevada, New Hampshire, New Jersey, Oregon, Texas, and Washington.
The 2019 tally is already the highest since 2014, when 667 were reported. The most before that was 963 cases in 1994.
The CDC recommends that all children get two doses of measles vaccine, the first between the ages of 12 to 15 months, and the second between the ages of 4 and 6 years.
The Associated Press contributed to this report.
Get our free Coronavirus Today newsletter
Sign up for the latest news, best stories and what they mean for you, plus answers to your questions.
You may occasionally receive promotional content from the Los Angeles Times.