Teen use of e-cigarettes continues to soar, alarming many experts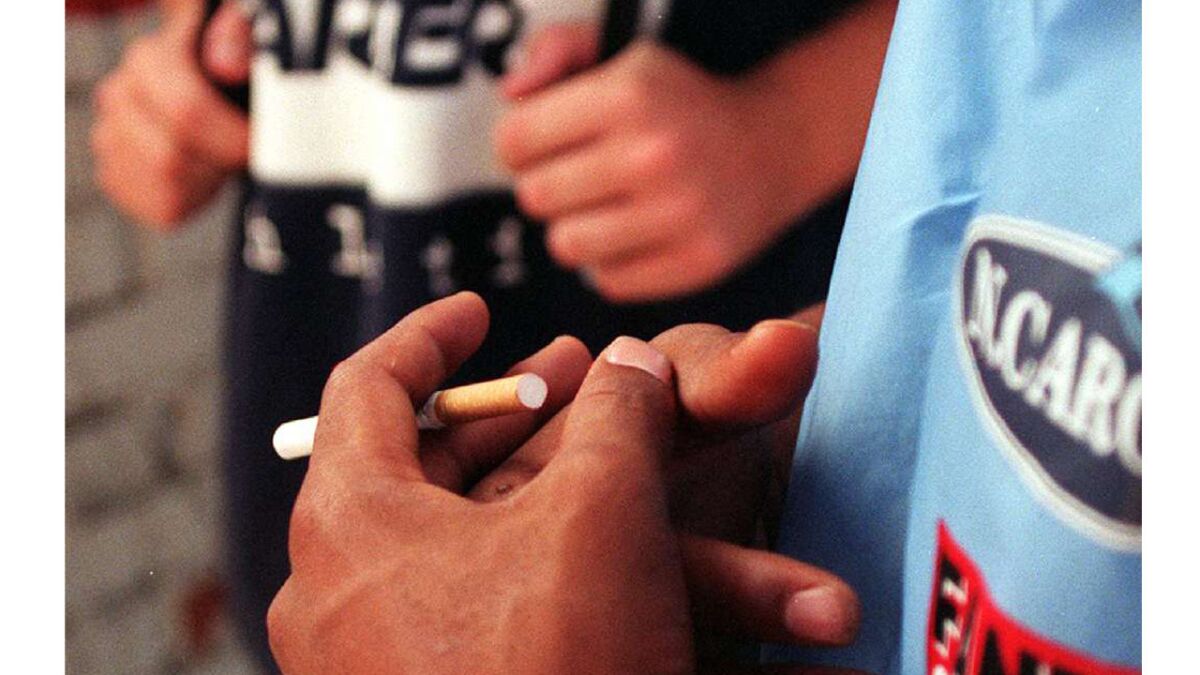 The use of electronic cigarettes by high school students tripled from 2013 to 2014 — a surprising boom that threatens to wipe out hard-won gains in the fight against teen smoking, a new government report says.
The percentage of American high school students who smoked traditional cigarettes on a regular basis dropped from 15.8% in 2011 to 9.2% in 2014, according to a study by a team from the Centers for Disease Control and Prevention.
But that drop has been more than offset by increases in e-cigarette use, which increased from 1.5% of high school students in 2011 to 13.4% in 2014, the study says.
E-cigarettes are now the most popular tobacco product used by both high school and middle school students, the federal data show.
As a result, overall tobacco use by high school students — including the use of cigars, pipes, hookahs, bidis, snus and other smokeless tobacco — has remained essentially flat, with nearly 1 in 4 students using some kind of tobacco product.
Among them is Dean Wilson, an 18-year-old who attends Polytechnic High School in Long Beach. Though he has tried regular cigarettes, he said he prefers "vaping" with e-cigarettes because they are new and trendy, and because they come in a variety of appealing flavors.
He also believes they are less dangerous than traditional cigarettes. "They supposedly have less nicotine," he said.
Fellow student Jose Sanchez said he wouldn't use any type of cigarette because he has asthma and smoking would interfere with his ability to play soccer. But he has certainly noticed his classmates using the electronic devices.
"They're a lot more popular now," he said. "People want to fit in."
With their colorful designs and candy-store flavors, e-cigarettes — battery-powered devices that heat a nicotine solution into a vapor — seem perfectly designed to get kids and teens hooked on nicotine, many public health experts say. The Food and Drug Administration defines e-cigarettes as a tobacco product because they use nicotine.
Some experts fear e-cigarettes are becoming a "gateway drug" that makes young people more inclined to try traditional cigarettes, cigars or other dangerous products.
"They're like cigarettes on training wheels," said UC San Francisco tobacco researcher Stanton Glantz.
The new study, based on data from the National Youth Tobacco Survey and released Thursday in the CDC's Morbidity and Mortality Weekly Report, doesn't prove that hypothesis. But it isn't exactly reassuring either.
The CDC study backs up a Monitoring the Future report released in December by the University of Michigan, which found that twice as many eighth- and 10th-graders had used e-cigarettes in the previous month than had smoked traditional cigarettes. E-cigarettes were also more popular among 12th-graders, 17% to 14%.
The Michigan report was the first to show that e-cigarettes had become teens' tobacco product of choice.
Their appeal extends to students in middle schools, the new CDC study shows. In 2014, 3.9% of students in grades six through eight were using e-cigarettes. That was well above the 2.5% rate for traditional cigarettes and for hookahs.
Among the high school crowd, hookahs were the second most popular form of tobacco, with 9.4% of students reporting current use. Regular cigarettes came in third, with a 9.2% use rate, followed by cigars at 8.2%.
Altogether, 24.6% of ninth- through 12th-graders were regularly using some kind of tobacco product in 2014.
That equates to more than 3.7 million teens. An additional 910,000 middle school students were regular tobacco users in 2014, or 7.7% of kids in this age group.
The speed with which electronic cigarettes have swept through schools has alarmed the nation's health experts. In 2011, when the CDC first tracked their use, only 1.5% of high school students said they had used the devices in the previous 30 days. That rate tripled to 4.5% by 2013 before tripling again last year.
Glantz said he was particularly troubled because "the epidemic was building from the bottom up."
Unlike traditional smoking, a habit that has trickled down from adults to kids, e-cigarettes seem to be gaining the strongest foothold with the youngest users and expanding upward, he said.
He added that psychology studies suggest that many kids who pick up e-cigarettes would never have tried traditional cigarettes.
"This is explosive growth," he said. "If we were talking about the spread of any other toxic chemical it would be a public health crisis."
Michael Siegel, a professor of community health sciences at Boston University's School of Public Health, said that public health advocates were drawing the wrong conclusion from the study.
"The CDC should be celebrating that we're seeing a decline in youth smoking," he said.
If vaping is a gateway to smoking regular cigarettes, he added, the data would have revealed an increase in their use.
"We're getting kids off tobacco," he said. "That's the goal."
The FDA has been trying to regulate e-cigarettes since 2009, first as medical devices and later as tobacco products. But legal challenges, a lack of clear-cut data on their health effects and other hurdles have slowed the effort.
"These staggering increases in such a short time underscore why FDA intends to regulate these additional products to protect public health," said Mitch Zeller, director of the Food and Drug Administration's Center for Tobacco Products.
Last year, the federal agency said it intended to ban e-cigarette sales to minors and require manufacturers to put health warnings on the devices, as is required for traditional cigarettes. These rules have not yet been implemented because the FDA is still reviewing public comments.
The FDA's proposal did not include other restrictions that might limit e-cigarettes' appeal to young people, such as restrictions on advertising and flavorings.
A study published last year in the journal Pediatrics found that TV commercials for e-cigarettes had become so ubiquitous that by 2013, 80% of kids ages 12 to 17 had seen 13 such ads over the course of a year.
Another study published last year in the journal Tobacco Control tallied 7,700 flavors used in e-cigarettes, including graham cracker and Swedish fish.
Public health experts are particularly concerned about nicotine's effect on teens. When an adolescent brain is exposed to nicotine, it alters the development of the prefrontal cortex, which is involved in planning and decision-making.
As a result, teen users of traditional or e-cigarettes may suffer from attention problems, and when they get older they'll face a heightened risk of cognitive impairments and psychiatric disorders, scientists say.
Aruni Bhatnagar, a tobacco researcher at the University of Louisville and lead author of the American Heart Assn.'s statement on e-cigarettes, said that he worried about cardiovascular damage as well.
"We're concerned that there might be long-term cardiovascular consequences if someone starts [using nicotine] early in life," he said. "It may have effects we don't know. It may be just trading one problem for another."
@LATkarenkaplan
@LATerynbrown
Times staff writer Ruben Vives contributed to this report.
For more medical news, follow me on Twitter @LATkarenkaplan and "like" Los Angeles Times Science & Health on Facebook.
---
Get our free Coronavirus Today newsletter
Sign up for the latest news, best stories and what they mean for you, plus answers to your questions.
You may occasionally receive promotional content from the Los Angeles Times.