6 Images
Venus in a hot spot
Venus
The Venus Express spacecraft launched in November 2005 and took this visible light and ultraviolet image of Venus in 2006 from a distance of 118,000 miles. The craft is the first to tour Earth's sister planet in a decade.
(European Space Agency)
Venus
An artist's rendition released by the European Space Agency shows the main bodies of the solar system, the sun, Mercury, Venus, Earth, from left in foreground, Uranus, Neptune, Saturn, Jupiter and Mars, from left in background. According to findings from the Venus Express spacecraft, Venus shares similarities with Earth but its proximity to the sun doomed it to a scorching existence.
(European Space Agency)
Venus
An artist's rendition depicts lightning striking Venus' surface. The space probe has found telltale evidence of such activity, which astronomers for nearly three decades have suspected but were unsure of because of signal interference. Venus' clouds are too thin to produce lightning, at least by Earth's model.
(European Space Agency)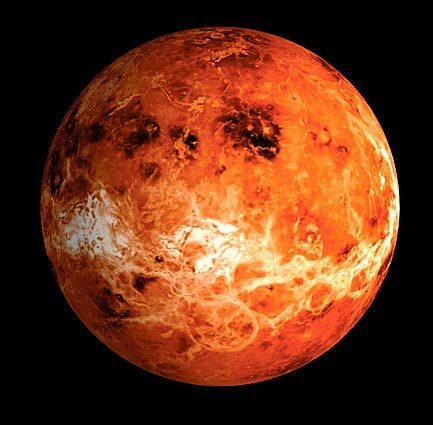 Venus
A mosaic of the Venusian surface, obtained through radar images from NASA's Magellan spacecraft. Venus Express is the 30th spacecraft to visit the solar system's second planet, but its powerful instruments are probing the planet's poisonous atmosphere in unprecedented detail.
(European Space Agency)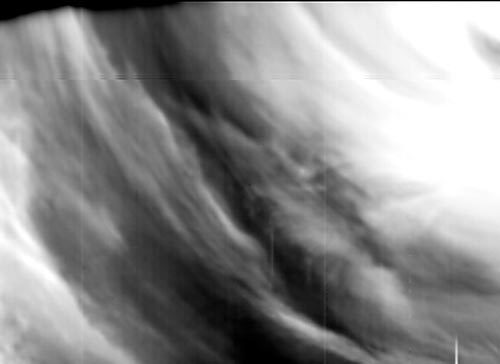 Venus
The planet's atmosphere and cloud structure is seen in a negative of a night-side infrared image acquired by the spacecraft's Visible and Infrared Thermal Imaging Spectrometer. The image was taken July 29, 2006, from a distance of about 40,398 miles from the surface. The peculiar, elongated shape of the clouds is due to high-speed winds.
(European Space Agency / Paris Observatory)
Venus
Lightning strikes the planet in an artist's rendition. The surface, at about 870 degrees Fahrenheit, is hotter than the innermost planet, Mercury.
(European Space Agency)