Sierra Club targets Puget Sound Energy in Beyond Coal campaign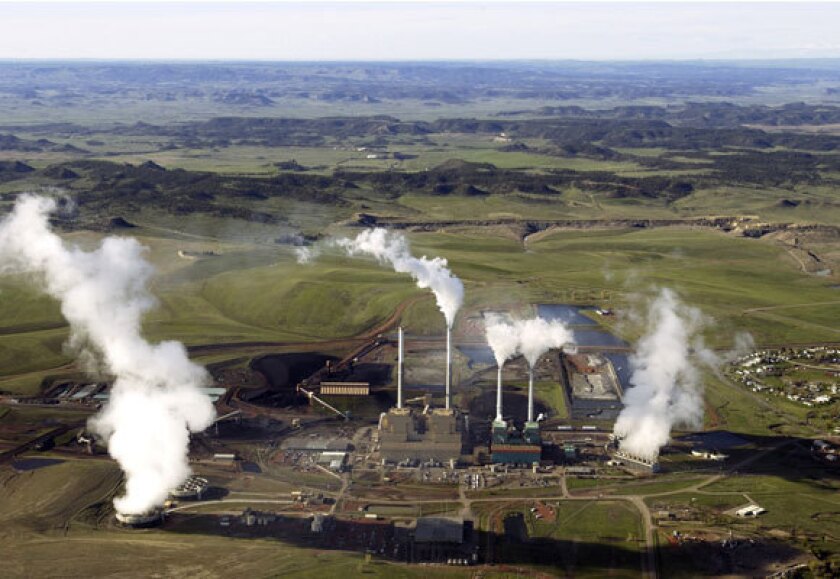 The Sierra Club's Beyond Coal campaign, working in concert with a number of environmental and energy activists and researchers in Washington and Montana, announced Thursday a new push to get Puget Sound Energy to stop buying power from coal-fired Colstrip Generating Station in Montana. According to EPA rankings, the facility is the eighth most egregious emitter of greenhouse gases among power plants in the U.S.
The campaign announced this as a "bold move" in their nationwide push to negotiate closure dates for coal-fired plants, or to get them switched to cleaner-burning natural gas, since PSE is also a leader among utilities in developing wind farms and pushing for greener forms of electrical generation. However, campaigners, point out, PSE still buys 30% of their power from Colstrip.
Los Angeles, which buys almost 40% of its power from two coal-fired plants out of state, the Navajo Generating Station in Nevada and the Intermountain plant in Utah, announced in 2009 that the L.A. Department of Water and Power would end contracts with those sources by 2020. The LADWP already generates 20% of its power portfolio from renewables, and projects that to be 40% by 2010.
"We're targeting Puget Sound Energy, which most people in Washington have little to no idea that they are still relying on as much as 30% of all of their power being generated from coal, the dirtiest fuel of all," said Bruce Nilles, co-director of the National Beyond Coal Campaign at the Sierra Club, in a conference call Thursday.
"Nationwide, this is part of a campaign seeking to move the country beyond coal and we've been having enormous success. Since January of 2010, 106 existing coal plants have either retired or announced to retire," Nilles added. The campaign was instrumental in the promised shutdowns of Washington State's biggest coal plant, the TransAlta Centralia plant, and Oregon's big coal plant, Boardman, which were negotiated in the last couple of years. The Beyond Coal website notes that the campaign still seeks to retire 416 more plants.
Coal is kept in the mix at many utilities because the power is cheaper to purchase than that produced from renewable sources.
"Balance is critical, and that is really where our focus is. And that's to produce as clean a power as we can, and to keep our customer bills affordable," said Grant Ringel, spokesperson for PSE. "And Colstrip is a key component of the affordability side."
Ringel also touted PSE's green record, which was acknowledged by all of the commenters on the Thursday call.
"Just six weeks ago, we opened our third major wind project. We now have more wind-generating capacity than we do coal capacity. We have 773 megawatts of wind capacity and 677 of coal capacity," added Ringel.
Melissa Ahearn, a professor at Washington State University, worked on a recent study that looked at the true cost of coal when health and environmental expenses were figured in. "There has been a very robust body of research about these costs," she noted, saying hers was just one of several recent studies, "because many of these costs are external to the coal industry and just haven't been quantified."
Those would include the costs of dealing with toxins including mercury, lead, cadmium, arsenic and other chemicals released by coal-fired plants, particulate matter released when coal is processed, the dangers of transporting and mining coal, and the greenhouse gas emissions that include CO2, nitrous oxide, sulfur dioxide and other gases, plus particulate matter and haze -- all of which have costs associated with them.
"When we account for all of these costs, it actually, conservatively, doubles but more probably triples the price of coal-based electricity," Ahern added. "Wind, solar and other forms of non-fossil fuels are economically competitive when we understand the true costs of coal."
With the recent explosion of natural gas supplies and its relatively low cost, many coal plants are converted to cleaner-burning natural gas. Nilles points out that that is not their goal with Colstrip or other plants.
"Our vision is that we are transitioning from coal to clean energy, and we think of clean energy as pollution-free options such as wind, solar, energy efficiency and in many places, geothermal," he said.
"The state of Washington has enormous clean energy potential," Nilles noted. "Puget itself knows that well: it has got the beginnings of a large wind farm in southeastern Washington, the Lower Snake River Project, but it's only done a small piece of it. What we're saying is: take that investment and that money you're right now sending over to Montana, and invest it in Washington."
Ringel rebuts, "773 megawatts isn't small. We're the second largest utility operator of wind in the nation. In Washington, there is a renewable portfolio standard: all utilities above 25,000 customers must produce 15% of their energy from renewable resources like wind by 2020. We are ahead of pace to achieve that. We have room to grow the Lower Snake facility."
RELATED:
GM pulls support for Heartland Institute
Hunters, anglers report warming winters bad for wildlife
Activists sue Obama, others over National Defense Authorization Act
---
Get our free Coronavirus Today newsletter
Sign up for the latest news, best stories and what they mean for you, plus answers to your questions.
You may occasionally receive promotional content from the Los Angeles Times.