Brain trauma seems to increase risk of ischemic stroke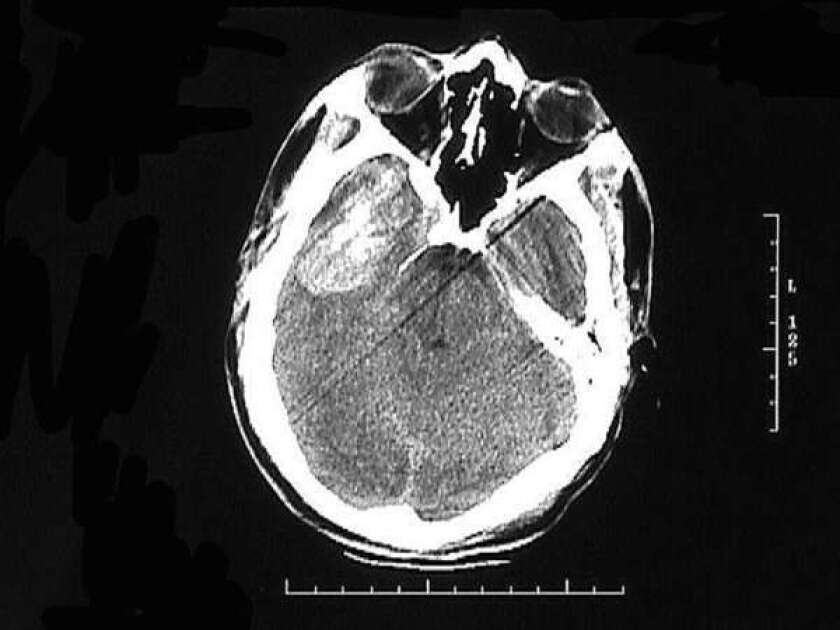 In the wake of a traumatic brain injury, a victim may have more to worry about than lingering headaches, dizziness or inability to concentrate: A new study finds that the risk of ischemic stroke -- in which blood flow to the brain is blocked or reduced -- rises in the years that follow.
That finding, published this week in the journal Neurology, may help explain the incidence of stroke in patients under 65 and in patients without some of stroke's known risk factors, such as hypertension, Type 2 diabetes or atrial fibrillation.
Researchers from the University of Michigan scoured the discharge records of all California trauma patients seen in an emergency room and either admitted or discharged between 2005 and 2009. Of the more than 1.37 million patients they tracked, 37% had suffered traumatic brain injury. A portion of the trauma patients without trauma -- those with broken bones below the neck for instance -- served as the comparison group.
Then researchers looked for subsequent hospital visits by the same patients for symptoms of ischemic stroke, tracking patients for an average of 28 months from the time of their traumatic brain injury. About 87% of the 795,000 strokes that occur each year in the United States are ischemic events; the remainder are hemorrhagic, involving bleeding into the brain.
The difference would not appear earth-shaking: Among the group with traumatic brain injury, whose average age was about 49, 1.1% returned to a hospital during the study period with ischemic stroke. In the slightly older comparison group -- average age 50 -- the rate of stroke during the subsequent study period was 0.9%.
Translated into the subtle statistics of risk, however, that difference was not at all negligible: Suffering a traumatic brain injury raised the stroke risk of those victims 31% over that of the comparison group. And that makes a recent history of traumatic brain injury a predictor of stroke risk roughly as powerful as hypertension, the best-known risk factor for stroke.
And traumatic brain injury is common, too: Every year, Americans suffer 1.7 million traumatic brain injuries, according to the Centers for Disease Control and Prevention.
The researchers suggested that concussions may cause abnormal clotting in the brain, or damage to the brain's blood vessels -- not just the carotid artery but any of the smaller ones that supply oxygen to the brain's deepest recesses. That, in turn, may disrupt blood flow to a traumatic brain injury victim's brain long after the dizziness or cognitive symptoms have subsided.
---
Get our free Coronavirus Today newsletter
Sign up for the latest news, best stories and what they mean for you, plus answers to your questions.
You may occasionally receive promotional content from the Los Angeles Times.