Scant abortion-related ER visits suggest there's no medical basis for restrictive laws, study says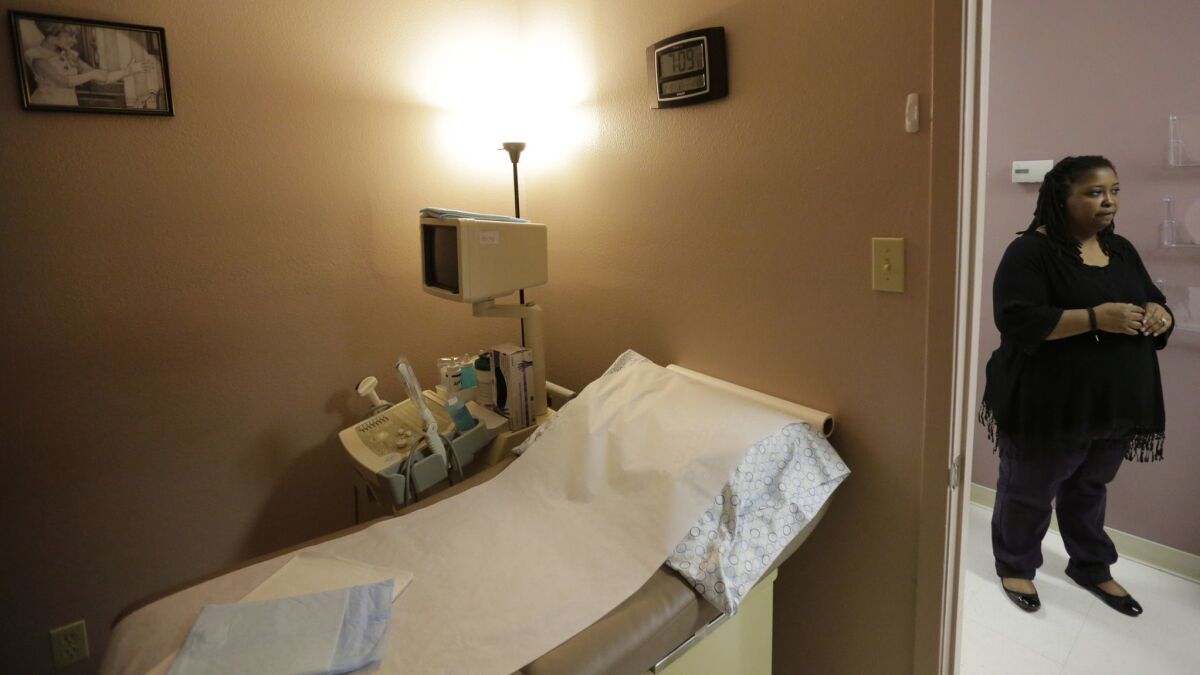 Abortions send women to hospital emergency rooms at lower rates than such routine procedures as colonoscopies and surgeries to have wisdom teeth removed, new research has found.
In fact, for every 100,000 abortions provided, about 108 women sought out emergency care for what they thought was a complication of the procedure.
That's less than one-tenth the rate of post-procedure emergency department visits by patients who have recently had their tonsils removed. It's also less than one-tenth the rate of severe pregnancy-related complications (1,400 per 100,000 for in both cases).
The new study, published this week in the journal BMC Medicine, undergirds an argument made by providers of women's reproductive healthcare: that the termination of most pregnancies, whether by an aspiration procedure or by medication, is as safe as many medical services that have not drawn the scrutiny of state legislators.
The results prompted the authors to suggest that a spate of new regulations pressed by abortion foes and adopted by states is not needed to make them safer.
"This study adds to the abundant scientific data that abortion is safe," said Ushma D. Upadhyay, a UC San Francisco public health professor who led the study's team of authors.
The new research may, in fact, overstate the rate at which abortions result in post-procedure complications, Upadhyay added: Roughly half of the 27,941 abortion-related emergency department visits documented during the study's five-year period resulted in "observation care" only, and three-quarters of patients were released directly from the ER.
Nearly one-third of the ER visits resulted in another aspiration, or repeat abortion procedure, the researchers found. Five percent of patients required a blood transfusion, 1% required surgery, and 19% were admitted to the hospital.
A total of 926,190 abortions were performed in the United States in 2014 — a historically low rate that is attributed to the broader use of long-acting contraceptives such as intrauterine devices and implantable hormonal therapies.
Meanwhile, the safety of abortion has been on the rise as women undergo the procedure earlier in pregnancy and with the increasing use of medication abortions, which can be carried out with pills.
The new study captured data from a nationally representative group of hospital emergency departments between 2009 and 2013. During those years, several state legislatures escalated their adoption of regulations that were purportedly aimed at fixing safety problems at U.S. abortion clinics.
The laws and policies, backed almost exclusively by opponents of abortion rights, ratcheted up the credentials required of abortion providers and imposed facility requirements on a par with surgical centers that perform far more complex medical services.
The regulations have led to the shuttering of many clinics where abortion services were provided. Between 2011 and 2014, the total number of facilities providing abortion services in the United States declined 3%, from 1,720 to 1,671, according to the Guttmacher Institute, which tracks trends in reproductive health. The toll on clinics — smaller facilities that have been most directly affected by the stricter regulations — was greater, with 6% shutting down in the same period.
In a 2016 decision striking down abortion clinic regulations adopted in Texas, Supreme Court Justice Stephen G. Breyer wrote that the state's law "provides few, if any, health benefits for women, poses a substantial obstacle to women seeking abortions, and constitutes an 'undue burden' on their constitutional right to do so."
In a report released in March, the National Academies of Sciences, Engineering and Medicine concluded that the regulations adopted by states in recent years "often prohibit qualified providers from providing services, misinform women of the risks of the procedures they are considering, overrule women's and clinician's medical decision making, or require medically unnecessary services and delays in care."
Tasked with assessing the quality and safety of abortion care in the U.S., the National Academies panel concluded that "the vast majority of abortions can be provided safely in office-based settings."
The committee found no evidence that medical professionals who perform abortions require hospital privileges to ensure a safe outcome — a requirement in place in 11 states. And it found that medication abortions — the use of two prescription drugs that will end a pregnancy in the first trimester — require "no special equipment or emergency arrangements" for patient safety.
As medication abortions have become more common, they have become a target of abortion opponents who have backed a range of restrictions on the credentials of medical professionals who prescribe the two drugs, where and how the medications may be administered, and which patients may receive them.
UCLA professor of psychiatry and public health Jeanne Miranda, who served on the National Academies panel, denounced assertions that abortion care needs a safety overhaul as "just untrue."
Rigorous studies have failed to support many claims made by abortion foes, such as that women who terminate a pregnancy suffer long-term mental health problems and increased rates of breast cancer, she said. To the extent that new regulations have prompted women to delay seeking abortions, she added, they have made the procedure less safe.
The researchers identified 390 emergency department visits that appeared to be prompted by self-induced abortions. These accounted for about 1.4% of the visits they tallied during the study period.
They also documented 15 deaths between 2009 and 2013.
The average age of women who sought abortion-related care at an emergency department was 26. Women over 30 who had terminated a pregnancy were more likely than those in their early 20s to experience a "major incident."
Women using Medicaid, who accounted for 45% of the ER visits documented, were more likely to have a major complication than self-paid patients or those with private insurance. The average cost of these visits was $4,719, with 8.6% costing $10,000 or more.
Upadhyay, who specializes in studying women's reproductive health issues, said the new study should reassure the public that women who seek abortions were getting good care from abortion providers before most of these stringent regulations were adopted. That's an important message for citizens inclined to support the imposition of stricter regulations because they believe it's in the interests of women's health and safety, she said.
Those who drafted these regulations should know better, she said.
"The people who are supporting these laws must know that abortion is safe," Upadhyay said. "They've seen the research — studies like this one — which only adds to the abundant scientific data that abortion is safe."
MORE IN SCIENCE
U.S. teens are taking fewer risks with their health, though drinking and unsafe sex are still common
NASA engineers hope the Opportunity rover will sleep through a continent-sized dust storm on Mars
Antarctica's ice is shrinking at an unprecedented rate that could imperil coastal regions worldwide
---
Get our free Coronavirus Today newsletter
Sign up for the latest news, best stories and what they mean for you, plus answers to your questions.
You may occasionally receive promotional content from the Los Angeles Times.