3 days after rain, beach water can still make swimmers ill, study says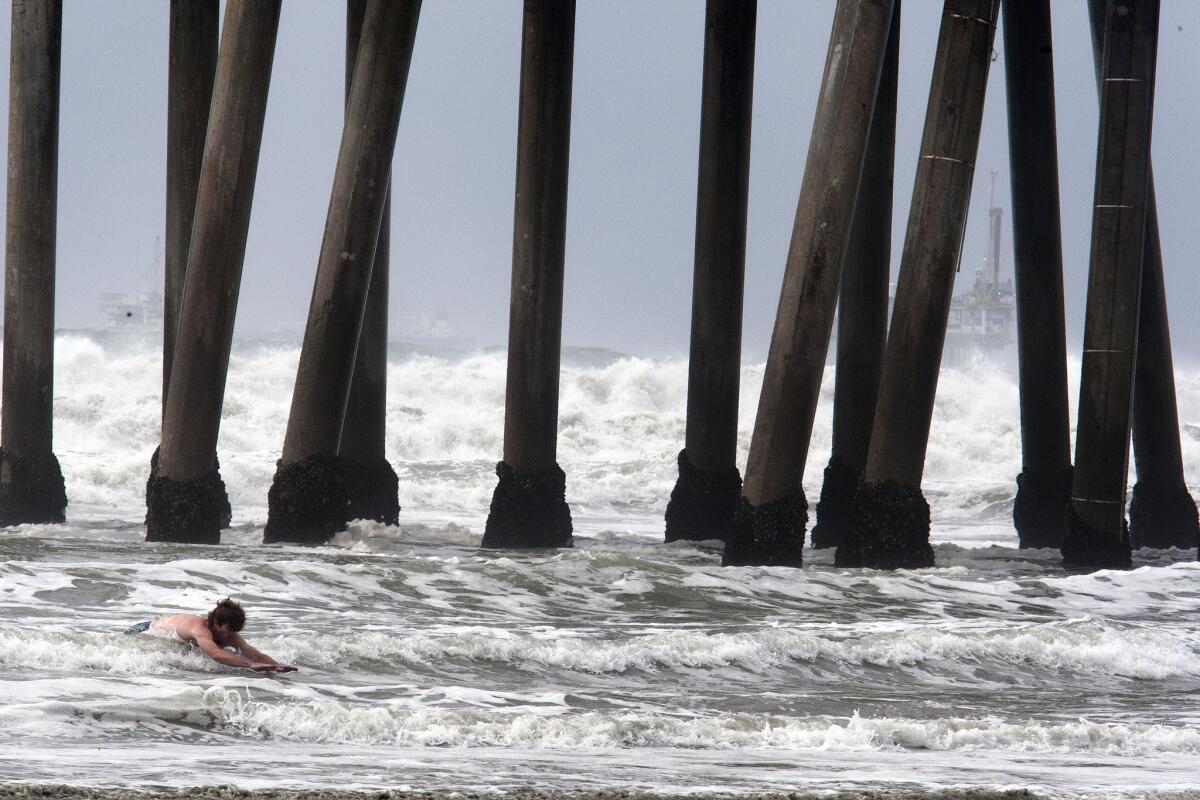 Wait three days after it rains before going into the ocean. It's a warning that public health officials issued to beachgoers this week, as they do after any significant storm in California.
But a study released Monday is raising questions about whether that three-day waiting period is enough to protect people who swim, surf and play in the ocean from pathogens in storm runoff that can make them ill.
"To err on the side of caution, stay out of the water for five days after rainfall," said Amanda Griesbach, a water quality scientist at Heal the Bay, an environmental group that provided data and other support for the research by undergraduate students at the UCLA Institute of the Environment and Sustainability.
The 30-page study analyzed seven years of water quality data from 32 popular beaches in Los Angeles and Orange counties, tracking levels of bacteria in the water for 10 days after storms.
At many beaches near storm drains and creek outlets that funnel polluted runoff to the shore, elevated levels of bacteria lingered in the water for up to five days after it rained, the analysis found. A high bacteria count indicates there are pathogens in the water that can sicken swimmers with gastrointestinal illness, respiratory problems, skin rashes and other infections.
For some enclosed beaches near harbors, where pollution is not easily swept away or diluted, the water does not meet health standards for 10 days after it rained, according to the analysis.
To prevent sickness, UCLA researchers called on state and county health officials to expand their rain advisories to at least five days for enclosed beaches and beaches near storm drains. However, a three-day rule is still appropriate for open beaches that lack storm drains, creeks or jetties to restrict circulation and wave action, the report notes.
Griesbach said the findings suggested that California should conduct a statewide study to determine whether three-day beach advisories were still adequate to protect swimmers, surfers and children.
"It's definitely time to re-look at the data and see if that recommendation is still accurate," she said.
A spokesman for the California Department of Public Health did not respond to questions Monday other than to say the agency did not respond to outside studies. The Los Angeles County Department of Public Health also did not respond to a request for comment on the study.
Los Angeles County health officials issued an advisory Monday urging people to stay out of ocean water near storm drains, creeks and rivers because of bacteria, chemicals and debris swept into the sea from recent storms. The warning is in effect through 1:30 p.m Wednesday.
Twitter: @tonybarboza