Death rate from cancer down 20% since 1980, but clusters of high mortality remain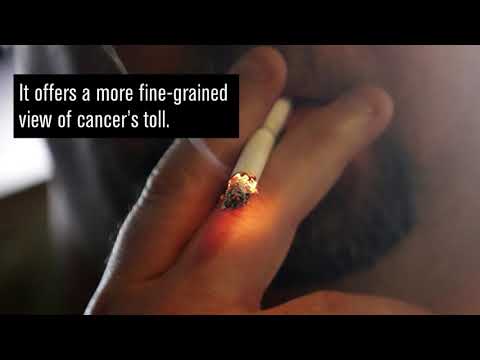 The report, published Jan. 24 in the Journal of the American Medical Assn., is the first-ever county-by-county analysis of cancer deaths across the United States. (Jan. 25, 2017)
The mortality rate due to cancer is falling nationwide, but worrisome pockets of deadly malignancy persist — and in some places have worsened — in regions throughout the country, according to the first-ever county-by-county analysis of cancer deaths across the United States.
The death rate attributed to various types of cancer declined 20% between 1980 and 2014, according to research published Tuesday in the Journal of the American Medical Assn. During that time, the number of cancer deaths per 100,000 Americans dropped from 240.2 in 1980 to 192 in 2014.
Cancer, the No. 2 cause of death in the United States, has long been tracked by health officials. But existing databases have largely measured such statistics on state or national levels.
That can mask cancer trends that cross state borders, or that bubble up in geographically limited "hot spots." It can also obscure associations with environmental exposures, ethnic settlement patterns or health behaviors like poor diet that may be unique to a single county or shared only with its near neighbors.
The new tally of close to 20 million cancer deaths over 35 years offers a more fine-grained view of cancer's toll. It gives local and county officials — who design and carry out most of the nation's public health campaigns — the data they need to detect or respond to trends within the populations for which they are responsible.
The steepest decreases in cancer mortality were seen in counties that hug the urban centers of both coasts and in pockets scattered throughout the Intermountain West.
In the heart of the Rockies just west of Denver, Colorado's Summit County led the country in beating back cancer. Home to ski resorts and a single hospital, Summit County had the lowest rate of cancer deaths in both 1980 (130.6 deaths per 100,000 people) and 2014 (70.7 deaths per 100,000). That drop of close to 50% was bigger than just about anyplace else in the country.
From Imperial County in the south to Humboldt County up north, virtually all of California's coastal counties saw steep and steady declines in deaths from cancer over the 35 years studied. Those improvements spread inland throughout the state, but were particularly impressive in many of the state's northern and central counties.
The study also casts new light on a nationwide rise in deadly liver cancers; a worrying increase in fatal kidney cancers in Texas, Oklahoma and Louisiana; and a mysterious spate of testicular cancer deaths among men in California's San Bernardino, Imperial and Stanislaus counties.
In Kentucky's northeast corner, where coal mining and other industries have collapsed, the picture was particularly grim. More than 20 counties there, and scattered throughout Appalachia in neighboring West Virginia, Tennessee and Ohio, saw rates of cancer mortality rise between 20% and 46%, largely driven by cancers of the lung, colon, pancreas and liver.
Owsley County in Kentucky, the nation's poorest, where roughly 42% live in poverty, saw the nation's largest increase in cancers of the trachea, bronchus and lungs — a near doubling between 1980 and 2014. The rate at which men died of prostate cancer in Owsley County also saw one of the nation's steepest increases — 25% — in the same period.
In counties scattered across the Northeast states, steep declines in smoking rates during that 35-year stretch drove down relatively high death rates from cancers of the respiratory system.
In 2014, lung, trachea and bronchus cancer deaths remained among the nation's highest in counties inhabited largely by Alaska's native population. But these same counties also saw some of the nation's steepest declines in such deaths between 1980 and 2014.
The study also revealed two striking pockets of cancer death: one along the Mississippi River and the other across the South and into the industrial Midwestern states.
Nationwide, deaths attributed to non-Hodgkin lymphoma remained steady at 8.3 per 100,000 people. But from 1980 to 2014, they increased by 28% to 74% in a cluster of counties in West Virginia, eastern Kentucky and southern Ohio, and by similar margins in a belt of counties stretching from Alabama through South Carolina.
High rates of fatal breast cancers in women and prostate cancers in men — as well as cancers of the pancreas, colon and rectum in patients of both genders — clustered tightly in counties lying alongside the lower Mississippi River in Arkansas, Mississippi and Louisiana. That region ranks among the nation's highest in obesity, poverty and lack of healthcare access.
Indeed, the authors of the JAMA study suggested that obesity and poor diets have contributed to surging cancer deaths in many of the nation's cancer hot spots.
Where cancer deaths have declined, they cited the power of better treatment and, in several cancers, of earlier detection.
One cancer trend, however, was evident virtually across the country. The new report finds that death rates from liver cancer have risen almost 88% between 1980 and 2014, from 3.6 to 6.8 per 100,000. Some 3,069 counties — out of a total of 3,142 — saw significant increases in liver cancer death rates, and many of the counties on the West Coast and in New Mexico and west Texas had much larger increases.
Follow me on Twitter @LATMelissaHealy and "like" Los Angeles Times Science & Health on Facebook.
MORE IN SCIENCE
Addicted to Facebook? Your genes may be to blame
Psychologists ask: What makes some smart people so skeptical of science?
Did jet lag cost the Dodgers the 2016 National League pennant?