A plan to prevent more than 1 in 5 cancer deaths, without having to invent any new treatments
The nation's cancer experts say it is possible to eliminate more than one in five cancer deaths in the U.S. even if researchers never invent another test or treatment.
For this plan to work, every single American would have to take full advantage of the best medical care the country has to offer. If they were to do so, the country's cancer mortality rate would fall by 22%, according to researchers from the American Cancer Society.

For the record:
7:35 a.m. July 11, 2018An earlier version of this story said that some states expanded access to their Medicare programs under the Patient Protection and Affordable Care Act. It was their Medicare programs that were expanded.
That would translate into at least 134,000 lives saved in 2018 alone, the group's epidemiologists calculated for a report published Tuesday in CA: A Cancer Journal for Clinicians.
The cancer society researchers believe this is true because they can already see it happening for the most fortunate Americans — those with college degrees. All we have to do, the study authors say, is make sure the rest of the country has the same access to high-quality preventive care, screening and treatments as people at the top of the socioeconomic heap.
It may sound like a pipe dream, but there's evidence that it's already happening thanks to the Patient Protection and Affordable Care Act.
The law, better known as the ACA or Obamacare, has improved Americans' access to healthcare in the states that opted to expand their Medicaid programs.
As a result, cases of breast, lung, colorectal and pancreatic cancer, as well as melanomas, have been diagnosed earlier in these states, according to a previous study in the Journal of Clinical Oncology. Earlier diagnosis typically leads to earlier treatment and better outcomes, including a reduced risk of death.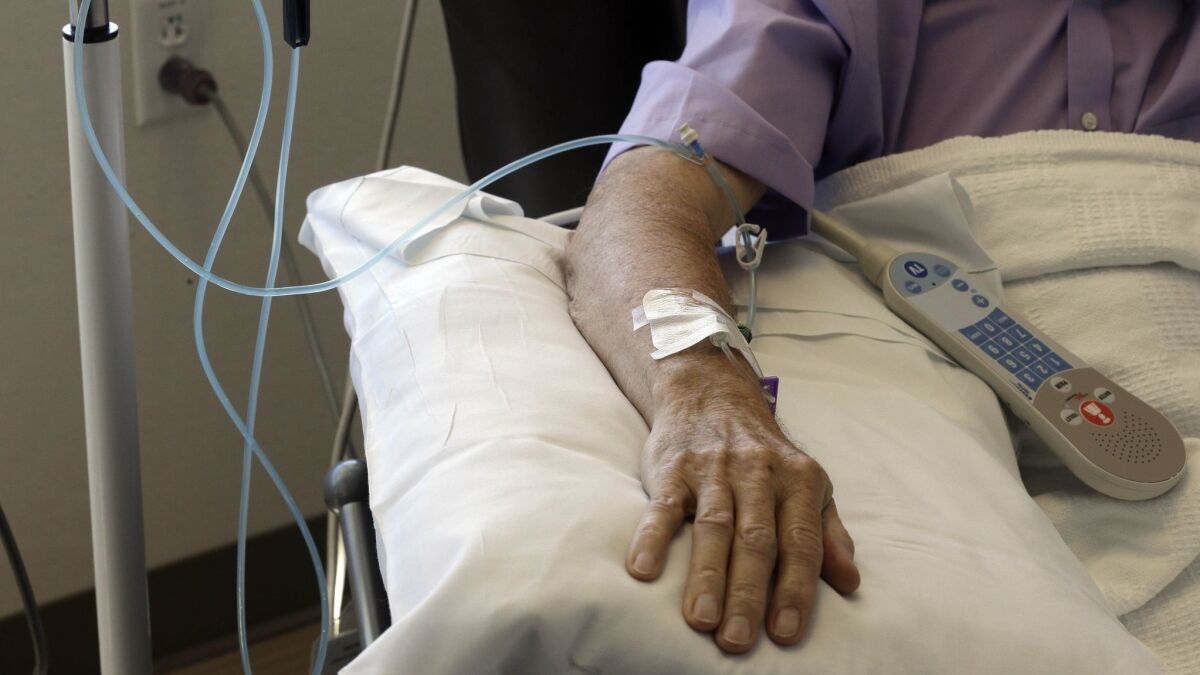 In the U.S., good healthcare often starts with good health insurance, and the ACA has provided a boost there too.
In states that expanded Medicaid, the proportion of adults who lacked health insurance when they were first diagnosed with cancer fell from 9.6% in 2011 to 3.6% in 2014. Meanwhile, in states that did not expand Medicaid, the proportion fell only slightly, from 14.7% in 2011 to 13.3% in 2014.
That ACA also allowed children to stay on their parents' health insurance up to age 26, a provision that boosted insurance coverage among 19-to-25-year-olds by 7%. Along with that came a shift in cancer diagnoses, with more cancers being found while still at an early stage, researchers have reported in the Journal of the National Cancer Institute.
If all Americans got the same healthcare as college-educated Americans, the benefits would be far-reaching. That's because people who have less education are at greater risk of dying of cancer — an association that holds up from coast to coast and among people of all racial and ethnic groups.
This is especially true for cancers that can be foiled through prevention efforts (such as not smoking, exercising regularly and maintaining a healthy weight), high-quality screening and effective treatments.
For instance, the American Cancer Society epidemiologists determined that 59% of lung and bronchus cancers could be averted nationwide if everyone got the same care as people who went to college. That alone would prevent 54,090 deaths a year.
Providing the highest quality care to all Americans would also eliminate 32% of deaths due to colorectal cancer, saving 8,952 lives per year, and 50% of cancers of the liver and bile duct, saving 8,433 lives per year.
(The exceptions to this trend are brain tumors and other nervous system cancers, which have a poor prognosis under pretty much any circumstances.)
"There are vast opportunities to reduce the cancer burden today, in the absence of new technologies or treatment, by expanding delivery of currently established evidence-based care to all Americans," the authors concluded.
"We can do better."
Follow me on Twitter @LATkarenkaplan and "like" Los Angeles Times Science & Health on Facebook.
MORE IN SCIENCE
To reduce your risk of obesity, it helps to have a mom who follows five healthy habits
North America's first dogs were domesticated in Siberia, but their descendants are all gone
---
Get our free Coronavirus Today newsletter
Sign up for the latest news, best stories and what they mean for you, plus answers to your questions.
You may occasionally receive promotional content from the Los Angeles Times.