New surgical robot can suture with the best of them, without human help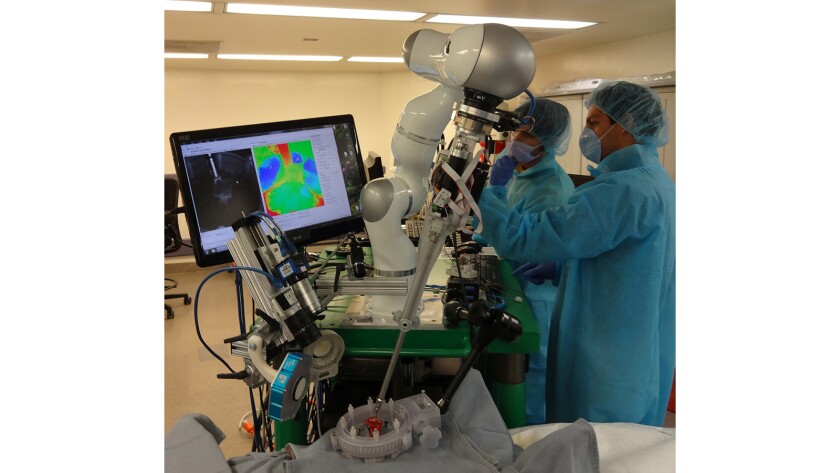 Surgery — a profession filled with great hands, quick minds and big egos — may have a new star in its midst.
The Smart Tissue Autonomous Robot, or STAR, combines off-the-shelf robotic hardware, time-tested sensor technology and improvised software — and none of the attributes that make surgeons the hard-charging stars of their profession.
But a new study suggests it could become an operating room workhorse anyway, nudging aside some doctors well before the patient's incision is closed.
In a series of trial runs, STAR sutured incisions with deft, even strokes that surpassed those of experienced surgeons and an existing robotic system. Without any human oversight, STAR manipulated tissue that can stretch, twist and retract unpredictably, and sewed it up well enough to withstand a surge of hydraulic pressure from within.
And by all accounts, it never complained about its hours or pay.
The STAR system has the potential to speed some of surgery's most time-consuming work, doing it with fewer mistakes and potentially reducing costly and dangerous surgical complications, according to the authors of a new study that put the robot through its paces.
To be sure, such claims have been made for earlier robotic surgical systems, which can cost more than $1 million to purchase and $100,000 a year to maintain. Some have lived up to such promises better than others, but none have been designed to work so independently of surgeons before.
Peter Kim and Axel Krieger at Children's National Health System discuss their new supervised autonomous robot, Smart Tissue Autonomous Robot (STAR), which can perform soft-tissue surgery, shown here using pig intestinal tissue.
When it comes to the laborious procedure of suturing together the sliced ends of the small intestine — a task akin to stitching together two slippery ends of a garden hose submerged in muddy water — "it does it consistently, it does it perfectly all the time, regardless of where you are," said Dr. Peter Kim, associate surgeon in chief at Children's National Health System in Washington.
In a report published this week in the journal Science Translational Medicine, Kim and his colleagues acknowledged that STAR performed its task more slowly in early trials with pig intestines than an experienced surgeon typically would. But that will change, they said.
"We can run the robot really, really fast," said study coauthor Ryan Decker, a senior engineer in the Sheikh Zayed Institute for Pediatric Surgical Innovation at Children's National. "But in this study, we really focused on … the outcomes, so we didn't run it as fast as we could."
STAR's developers said the system could be ready for use in operating rooms in two to three years, if a commercial partner can be found to shepherd the technology through the Food and Drug Administration's approval process. That path should be eased by the fact that some version of virtually all of STAR's component technologies is already in broad medical use, they said.
Robots have been assisting surgeons since 1985, when a device called the Puma 560 was used to sink a needle into a brain to perform a biopsy.
Use of robotic surgical aides has exploded since then, despite concerns about their high cost and uneven record of improving patients' outcomes. Da Vinci and other robotic systems are now widely used to perform colorectal, abdominal and gynecological surgeries and to remove cancerous prostate glands.
In a key respect, though, STAR represents a significant step beyond its predecessors.
"In current robotic surgery, it's basically still a surgeon doing an operation; he's just using what we call a robot," said Dr. Jason D. Wright, chief of gynecologic oncology at Columbia University's College of Physicians and Surgeons. "It's like a surgical assistant."
By contrast, when STAR is in the operating room, "this is actually an autonomously functioning robotic surgery," said Wright, who was not involved in the study. "That's quite a different system."
The research team, which included a robotics engineer from Johns Hopkins University in Baltimore, explained that a computer program helps STAR devise a plan for the "complex surgical tasks" it performs "on deformable soft tissue." That plan is "inspired by the best human surgical practices," they wrote in the study.
Then, with a surgeon's go-ahead, STAR carries out its plan using an autonomous suturing algorithm and sensors that employ night-vision and infrared sensing technology.
"The mode we're operating under is supervised autonomy," said team member Axel Krieger of Children's National. "The surgeon is overseeing and has the opportunity at any time to stop the robot and take over." At a moment when tissue is being pierced or a delicate transition is imminent, he said, "I'm sure they wouldn't be comfortable going off and taking a coffee break."
For painstaking and error-prone tasks such as suturing long stretches or hard-to-reach recesses, the limits of human patience and dexterity have probably already been reached, Krieger said. "You can imagine that machines will do better," he said.
Columbia's Wright called STAR "probably the evolution of surgery" and predicted that many surgeons would embrace it.
"This is a very new technology, but a relatively straightforward application," he said. "It's certainly very exciting and warrants pursuing."
But is he really ready to hear, "Dr. STAR, please close" in the OR?
"It'll take some getting used to," Wright laughed. "But if it's better for the patient, I'll try."
Follow me on Twitter @LATMelissaHealy and "like" Los Angeles Times Science & Health on Facebook.
MORE SCIENCE NEWS
For little children with ADHD, more than a pill is best
To feel better, eat less (yes, even if you're not overweight)
Video: Boiling water could make sand on Mars jump 'like popcorn'
---
Get our free Coronavirus Today newsletter
Sign up for the latest news, best stories and what they mean for you, plus answers to your questions.
You may occasionally receive promotional content from the Los Angeles Times.