Blood transfusions from Ebola survivors don't help patients after all, study finds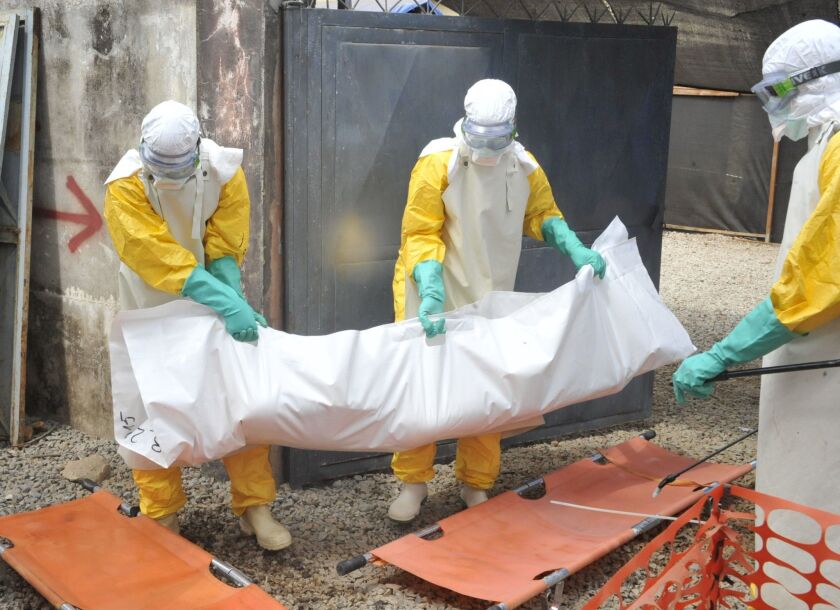 At the height of the Ebola epidemic, one of the most promising — if unproven — therapies was blood transfusions from people who had survived the deadly virus. Their blood plasma was presumed to have Ebola antibodies that could go to work right away. And there was evidence that survivor blood helped patients recover from other infectious diseases like influenza and SARS.
With patients dying daily, some doctors went ahead and began administering so-called convalescent plasma when donors were available. At an Ebola treatment center run by Doctors Without Borders in Conakry, Guinea, researchers devised a way to assess whether the treatment actually worked.
Unfortunately, it did not. A study in Thursday's edition of the New England Journal of Medicine found that patients who were treated with convalescent plasma were 12% less likely to die than were patients who didn't get the transfusions. However, that difference was small enough that the researchers said it could well have been due to chance.
The Ebola-Tx trial was not a typical clinical trial, with some patients randomly assigned to receive plasma transfusions in addition to standard supportive care, and other patients serving as untreated controls. The researchers determined that with the outbreak raging, it would be "locally unacceptable" to deny the treatment to those who wanted to try it. Instead, they planned to treat about 130 patients and compare them with a control group of patients who were treated in the same clinic before the donor plasma became available.
As it happened, doctors were able to procure plasma so quickly that there was no time to recruit this control group. So the researchers improvised a new control group consisting of 418 patients who were treated in the same clinic several months earlier.
Join the conversation on Facebook >>
In another surprise, the Ebola crisis waned before the researchers were able to give transfusions to 130 patients. So the trial ended early, with 84 patients included in the main analysis.
These patients received two transfusions of up to 200 to 250 milliliters of plasma from a donor with a compatible blood type. Each transfusion lasted about 20 minutes, with a 15-minute gap in between.
The researchers reported that 26 of the 84 patients died in the 16 days after getting a definitive diagnosis of Ebola infection. That amounted to a mortality rate of 31%.
For comparison, 158 of the 418 patients in the control group died in the 16 days after they were diagnosed. That was a mortality rate of 38%, but the 7 percentage-point difference wasn't large enough to be statistically significant.
Next the researchers adjusted their findings to take into account a rough measure of each patient's viral load when they were diagnosed with Ebola, as well as their age. The treated patients still did better, but the gap shrank to 3 percentage points.
NEWSLETTER: Get the day's top headlines from Times Editor Davan Maharaj >>
The patients in the treatment group were more likely to have trouble swallowing, while the patients in the control group were more likely to have a longer duration of symptoms. Both of these things were associated with a heightened risk of death. So the researchers controlled for these factors as well and still found the plasma transfusions had no significant effect.
Although the study didn't confirm that this treatment worked as hoped, it did contain some good news. For instance, the researchers were able to get enough blood from enough donors with the needed blood types to make the treatment feasible. The plasma transfusions were well tolerated by patients, with no cases of serious side effects. And there were no safety issues for either donors or healthcare workers.
In addition, the study results do not rule out the possibility that convalescent plasma can be a valuable treatment for Ebola patients. Some groups of patients, such as pregnant women and children under 5, did much better than expected after getting the transfusions. Much bigger trials are needed to see if those trends are real or merely a fluke, the researchers wrote.
Another open question is whether the transfusions would work better if doctors were sure that the plasma contained high amounts of Ebola antibodies. In this study, there was no way for the researchers to check the antibody levels in the donor blood, since that would have required a level 4 biosafety lab — something that Guinea didn't have.
In the future, it might be possible to prepare stockpiles of convalescent plasma known to be enriched with Ebola antibodies, the researchers wrote.
Follow me on Twitter @LATkarenkaplan and "like" Los Angeles Times Science & Health on Facebook.
MORE FROM SCIENCE
'Stripped' black hole could be a rarely seen phenomenon, study says
Single moms are the most sleep-deprived people in America, report says
Unlucky Tasmanian devils suffer not one, but two kinds of transmissible cancer
---
Get our free Coronavirus Today newsletter
Sign up for the latest news, best stories and what they mean for you, plus answers to your questions.
You may occasionally receive promotional content from the Los Angeles Times.