Nine places to watch the Great American Eclipse around Los Angeles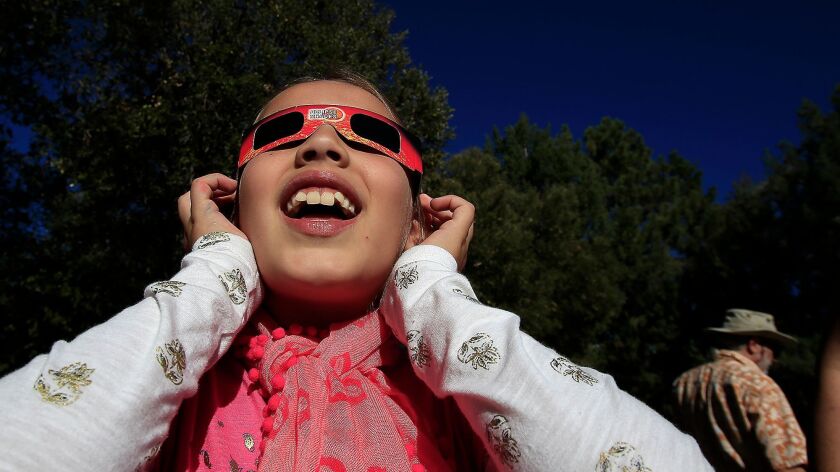 Los Angeles has a lot going for it: the sunshine, the mountains, the ocean, the food.
But on the day of the Great American Eclipse, it won't exactly be the place to be.
On Aug. 21, cities from Salem, Ore., to St. Louis to Charleston, S.C., will witness a total solar eclipse. The moon will completely block the sun, causing the daytime sky to grow dark enough for the stars to come out.
Here in L.A., we'll experience a partial eclipse. Even at the point of greatest eclipse, just 62% of the sun will be obscured by the moon. No darkness. No stars. No animals acting funny.
Still, there's no reason to sulk. With a pair of eclipse glasses at the ready, you can still get a glimpse of the cosmic alignment of our sun, moon and Earth. (Remember, never, ever look at the sun without protection).
In Los Angeles, the show begins at 9:05 a.m. local time, when the moon first starts to pass across the face of the sun. The point of greatest eclipse, when the largest percentage of the sun is covered by the moon, will occur at 10:20 a.m. The event ends at 11:43 a.m
Technically, all you have to do to see the eclipse is step outside, put on your eclipse glasses and look at the sun. But if you want some company — or some experts to talk to — there are plenty of eclipse-viewing events scheduled across the area.
Between the Jet Propulsion Laboratory, Caltech, UCLA and USC, we've got a lot of professional astronomers in this town.
Come to think of it, maybe it's not such a bad place to watch the eclipse after all.
Caltech, Pasadena
The Caltech Astronomy Department will host a solar eclipse viewing party for kids and adults at the Beckman Institute and lawn beginning at 9:30 a.m. Astronomers and volunteers will have solar telescopes and eclipse glasses available for visitors. Astrophysicists will be on hand to answer questions.
South Wilson Avenue between East Del Mar Bloulevard and San Pasqual Street, Pasadena
Griffith Observatory, Los Angeles
The Griffith Observatory in Griffith Park will have a free eclipse party from 9 a.m. to noon. Telescopes will be set up on the the lawn and sidewalks. Visitors are also invited to check out the solar telescope in the Hall of the Sky. Eclipse glasses can be purchased at the gift shop.
2800 E. Observatory Road, Los Angeles
California Science Center, Los Angeles
The California Science Center is celebrating with a free Eclipse Festival on Saturday and Sunday from 11 a.m. to 3:30 p.m. Attendees can explore shadows and make their own eclipse with models of the sun, moon and Earth.
On the day of the eclipse, Science Center experts and representatives from NASA's Jet Propulsion Laboratory in La Cañada Flintridge will be available to answer questions.
700 Exposition Park Drive, Los Angeles
Glendale Community College Planetarium, Glendale
Head over to the Glendale Community College Planetarium from 9 a.m. to noon for eclipse-viewing glasses, a broadcast of NASA's live coverage of the total eclipse and eclipse-related activities. Staff from NASA and the college will be on hand as well.
1500 N. Verdugo Road, Glendale
Kidspace Children's Museum, Pasadena
Representatives from the Jet Propulsion Laboratory will also be at Kidspace from 9:30 a.m. until noon on the day of the eclipse. Activities at the children's museum also include decorating your own solar glasses and making a pinhole viewer to project the eclipse on the ground.
480 N. Arroyo Blvd. Pasadena
Mt. Wilson Observatory
Although most of the observatory's staff and volunteers will be away on Monday to see the total eclipse in person, the facility will open at 8 a.m. for partial eclipse viewing. The 150-foot solar tower will be open to project an enlarged image of the sun onto a viewing surface.
Access to Mt. Wilson is via the Angeles Crest Highway (California Highway 2) from the 210 Freeway at La Cañada Flintridge
UCLA, Los Angeles
UCLA scientists will host an eclipse-watching event at the Court of Sciences on the Westwood campus. Telescopes equipped with solar filters will reveal details of the solar surface and an image of the sun will be projected on a white screen, allowing visitors to take pictures. A limited number of eclipse glasses will also be provided.
617 Charles E. Young Drive East, Los Angeles
L.A. State Historic Park, Chinatown
The U.S. National Park Service is hosting three viewing events in the Los Angeles area, including one at the L.A. State Historic Park near Chinatown.
Eclipse viewers can go directly to the park, but early birds are invited to meet rangers at 8:30 a.m. at the Gateway to Nature Center at the El Pueblo Historical Monument, near Olvera Street, and walk to the park from there.
Rangers will have a limited supply of eclipse glasses, and Junior Ranger eclipse books.
L.A. State Historic Park: 1245 N. Spring St., Los Angeles. Gateway to Nature: 130 Paseo de La Plaza, Los Angeles.
Satwiwa Native American Indian Culture Center, Newbury Park
Visitors are invited to gather at 9:30 a.m. at the Satwiwa Native American Indian Culture Center at Rancho Sierra Vista/Satwiwa in the Santa Monica Mountains. Watch the eclipse while listening to Native American sky stories. Other children's activities will also be available.
Via Goleta near Lynn Road, Newbury Park
King Gillette Ranch, Calabasas
National Park Service rangers will present a program about the eclipse beginning at 9:30 a.m. Attendees should meet at at the Santa Monica Mountains Interagency Visitor Center.
26876 Mulholland Highway, Calabasas
Los Angeles County Public Libraries, countywide
Several libraries across the county are hosting eclipse events on Monday and will have a limited number of free eclipse glasses to give out. Viewing events will take place at the Claremont Library, Diamond Bar Library, Hacienda Heights Library and Temple City Library among others. Contact your local branch to see what they have going on.
Please consider subscribing today to support stories like this one. Already a subscriber? Your support makes our work possible. Thank you. Get full access to our signature journalism for just 99 cents for the first four weeks.
Do you love science? I do! Follow me @DeborahNetburn and "like" Los Angeles Times Science & Health on Facebook.
MORE ON THE GREAT AMERICAN ECLIPSE
Your solar eclipse checklist: What to look for on the big day
Tips for taking the best pictures of the Great American Eclipse
These eclipse addicts go to great lengths, again and again, to stand in awe of the heavens
---
Get our free Coronavirus Today newsletter
Sign up for the latest news, best stories and what they mean for you, plus answers to your questions.
You may occasionally receive promotional content from the Los Angeles Times.