El Niño triggered unprecedented erosion across California's coast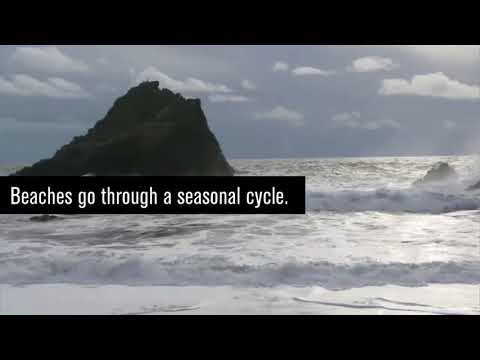 A new study suggests the weather pattern accelerates coastal erosion
El Niño may not have brought much rain to Southern California, but it did take its toll on the Golden State's beaches.
A new study of the waves, water levels and coastal changes at 29 beaches across California, Oregon and Washington has found that the 2015-16 El Niño triggered unprecedented erosion across much of the West Coast.
The results, published this week in the journal Nature Communications, document a level of degradation from which these natural systems may not be able to recover. That could have far-reaching environmental and economic impacts, experts said.
The analysis also opens a window into how the coast is likely to hold up as climate change and its associated sea-level rise worsen.
"This is likely the kind of El Niño we may experience more in the future," said lead author Patrick Barnard, a coastal geologist with the U.S. Geological Survey in Santa Cruz.
El Niño is a multiyear weather pattern that typically brings big storms to the West Coast. Drought-parched Southern California had awaited the expected rains last winter with bated breath, hoping it would help revive California's wilting landscape. Northern California did get a good soaking — but down south, the deluge never materialized, leaving many Angelenos wondering whether El Niño really came to the region at all.
But the phenomenon did hit Southern California — along with the rest of the West Coast — hard. That's because the weather pattern isn't just about rain. Its strength also can be measured by the power of the waves pounding the coastline.
Barnard knew he wasn't the only one watching the coastlines; colleagues at half a dozen other institutions had been monitoring activity along the West Coast. They quickly realized that, wet or not, they could have a monster El Niño on their hands — and that it could take a major toll on beaches.
Beaches go through a seasonal cycle: Powerful winter waves drag sand out to sea, while more gentle waves in the summer deposit much of that sand back onshore. During El Niño winters, the waves are extra-strong, removing even more sand — and causing more erosion — than usual.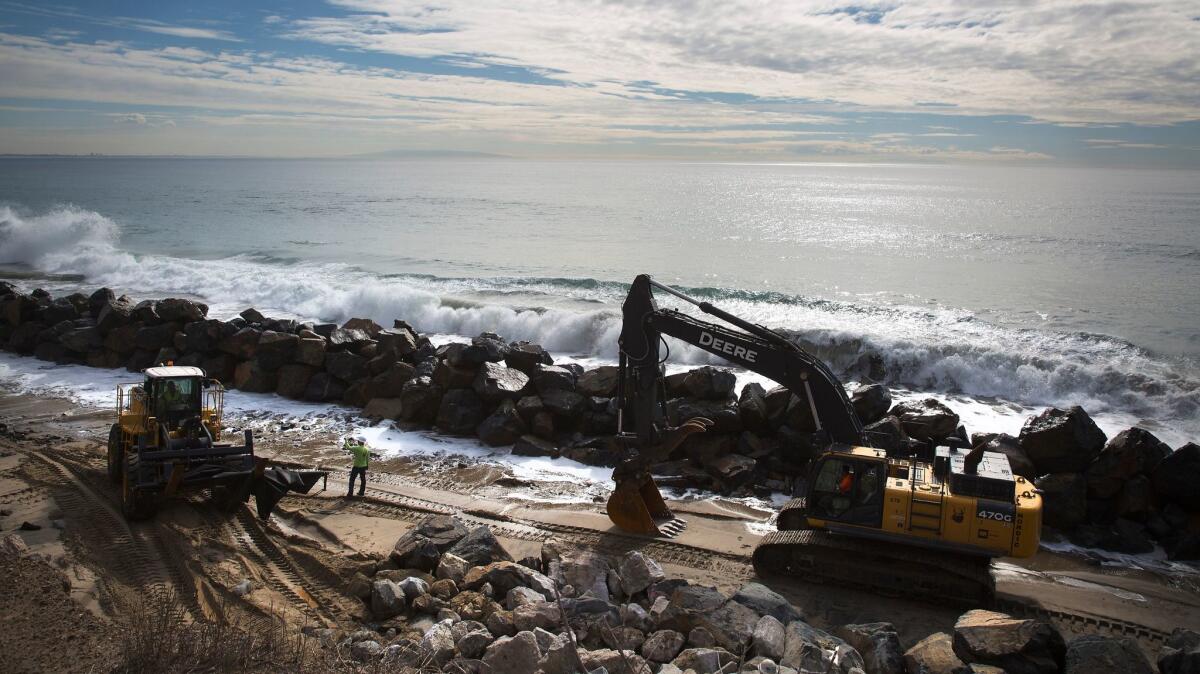 Teaming up, the scientists made surface maps using a remote-sensing laser technology called light detection and ranging, or LIDAR. They also drove all-terrain vehicles across beaches to perform GPS-based topographic surveys. (Barnard, not the biggest fan of dune buggies, said he took it slow.) That kind of analysis wasn't possible during the last really big El Niño season in 1997-98, when GPS technology was just coming online, Barnard said.
"There was a little bit of data collection back then," he added, "but now it's basically cheaper, it's faster — it's easier to collect these kinds of data."
The researchers found that the most extreme waves were about 50% larger than usual during the 2015-16 El Niño season. Consequently, the level of beach erosion was a whopping 76% higher than normal — and 27% higher than any other recorded winter.
Barnard and his colleagues had expected this El Niño would be big. They just hadn't thought it would be quite this big.
"We saw the conditions in the Pacific, but I think we were definitely surprised at the scale of the event — especially in relation to the other two monster El Niños that have always been considered to be the big ones," he said, referring to the 1982-83 and 1997-98 winter seasons.
The problem with such extreme erosion is that there's very little chance the summertime waves can deposit enough sand to make up the loss. That makes an El Niño like last year's a potentially unrecoverable event for the natural system.
Beaches can also be replenished with new sediment washing down rain-swollen rivers. But in Southern California, the combination of powerful waves and little rain created a worst-case scenario, Barnard said.
This situation is one that's been long in the making, said Robert Guza, a physical oceanographer at UC San Diego's Scripps Institution of Oceanography who was not involved in the study.
"Southern California, we love to build in river floodplains and then say, 'Holy crap, it flooded,'" Guza said. "Then we dam the rivers for flood control and say, 'Holy crap, the sand's not getting to the beaches anymore.'"
The damming of Southern California's rivers has trapped roughly half of the sediment that would otherwise replenish the region's beaches, he added — sediment that later costs money to remove.
"Our beaches are sand-starved, partially because we're starving them," he added.
The loss of such beach area has serious consequences for the plants and animals that rely on that habitat, said Lesley Ewing, a senior coastal engineer with the California Coastal Commission in San Francisco who was not involved in the research paper.
"There are birds that nest on sandy beach areas; there are fish that lay their eggs on the beach, like grunion," Ewing said. "So they're really important for a number of parts of the food web."
There are also economic ramifications for property owners and cities near such coveted shorelines. Beaches bring in money from both locals and tourists — which is why millions of dollars are often spent to bring in sand to artificially replenish them, Guza said.
"The beaches are really an incredibly valuable public resource," Ewing said, pointing out that those cooling sea breezes may become increasingly valuable to state residents as inland areas heat up over the next several decades.
Ewing said the study affirmed what she'd seen at beaches in Northern California, including severe erosion at Half Moon Bay and Pacifica State Beach. For Guza, the findings helped explain the significant erosion he'd seen at San Diego beaches.
This El Niño may have been a big one, but it may become "the new normal," Guza and Ewing said.
During El Niño, the sea level temporarily rises by several inches along the coast. That's a good proxy for the sea level rise that's expected in the coming decades as rising temperatures melt polar ice reserves, Guza said.
"The only real prediction I have is, it will get worse — a lot worse," Guza said. "I just don't know how fast."
Communities, he said, will have to decide whether to protect vulnerable beaches — perhaps by bringing in more sand, or building sea walls.
In the meantime, researchers say they plan to continue tracking the health of West Coast beaches.
"Because these kinds of events are forecast to be more common in the future, it's really important for us to capture these in great detail so we can get a better sense for what kinds of winters we may expect more often in the future," Barnard said.
Follow @aminawrite on Twitter for more science news and "like" Los Angeles Times Science & Health on Facebook.
MORE IN SCIENCE
Concerned about Trump, scientists are leaning into politics
As bee populations dwindle, robot bees may pick up some of their pollination slack
Using science to see which countries are following through on Paris climate change goals
---
UPDATES:
6:35 p.m.: The story was updated with additional comments from Patrick Barnard of the USGS, as well as comments from Robert Guza of the Scripps Institution of Oceanography and Lesley Ewing of the California Coastal Commission.
The story was originally published at 8 a.m.