More than 1 in 3 Americans eat fast food on a typical day, and we eat it all day long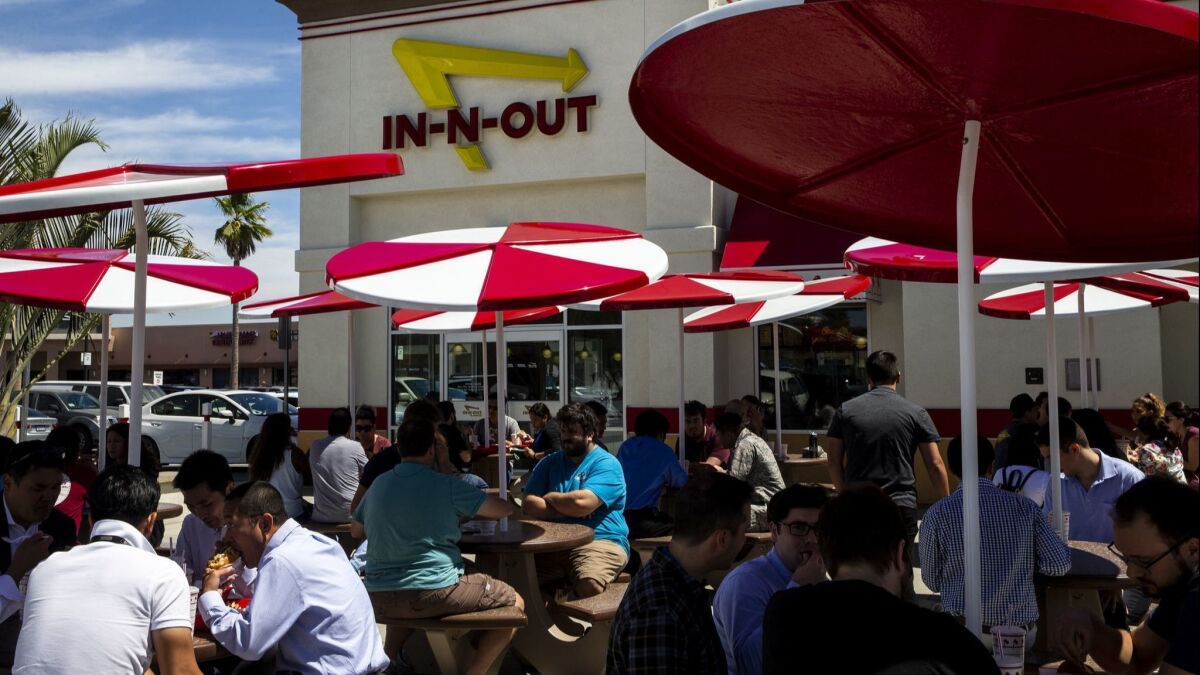 If you're an adult in America, there's a better than 1 in 3 chance that you'll eat fast food today — if you haven't already.
New survey data from the Centers for Disease Control and Prevention show that 36.6% of us eat some kind of fast food on any given day. That includes 37.9% of men and 35.4% of women, according to a report published Wednesday by the CDC's National Center for Health Statistics.
Fast food is on the menu all day long. On a typical day, 22.7% of Americans get their breakfast from a fast-food outlet. At lunchtime, 43.7% of Americans pick up a quick meal, and 42% do the same for dinner. Another 22.8% get a snack from a fast-food joint. (Clearly, many Americans are eating fast food more than once per day.)
Nearly half of American men — 48.3% — eat fast food for lunch on any given day. That's significantly more than the 39.1% of women who do the same.
On the other hand, about 1 in 4 women (25.7%) treat themselves to a fast-food snack on a typical day, compared with 1 in 5 men (19.5%).
The conventional wisdom about fast food is that people eat it when they can't afford something better, due to a lack of money or a lack of time. But the report reveals that this isn't necessarily the case.
In fact, the more money someone has, the more likely he or she is to partake of fast food on any given day.
Among those whose family income was less than or equal to 130% of the federal poverty line (which was set at $11,770 for a single person or $24,250 for a family of four in 2016), 31.7% ate fast food on a typical day. Among middle-income families (whose income was between 130% and 350% of the poverty line), 36.4% ate fast food on a typical day. And among high-income families (those with incomes above 350% of the poverty line), 42% dined on fast food on a typical day.
This might make you wonder whether "fast food" included take-out sushi, Starbucks frappuccinos and organic berries from the farmers market. The definition used in the survey was vague: "restaurant fast food/pizza." It's certainly possible that some people interpreted this to mean something other than burgers, fried chicken and sub sandwiches.
The data show that the popularity of fast food varies by racial and ethnic group. Its biggest fans are African Americans, 42.4% of whom ate it on a typical day. It was the least enticing to Asian Americans, though 30.6% of them ate it on a typical day as well. In between were whites (37.8%) and Latinos (36.5%).
By now, you might be wondering what it would take for Americans to dial back their addiction to fast food. The survey results suggest an answer: time.
Our taste for fast food seems to diminish with age. Peak fast-food consumption occurs in our 20s and 30s — 44.9% of survey-takers in this age group ate fast food on a typical day. In middle age, that figure drops to 37.7%. And after we turn 60, only 24.1% of us rely on fast food for at least one of our daily meals or snacks.
The data in the study came from the CDC's National Health and Nutrition Examination Survey in the years 2013 through 2016.
Follow me on Twitter @LATkarenkaplan and "like" Los Angeles Times Science & Health on Facebook.
MORE IN SCIENCE
Get our free Coronavirus Today newsletter
Sign up for the latest news, best stories and what they mean for you, plus answers to your questions.
You may occasionally receive promotional content from the Los Angeles Times.