FDA cracks down on clinics selling unproven stem cell 'therapies'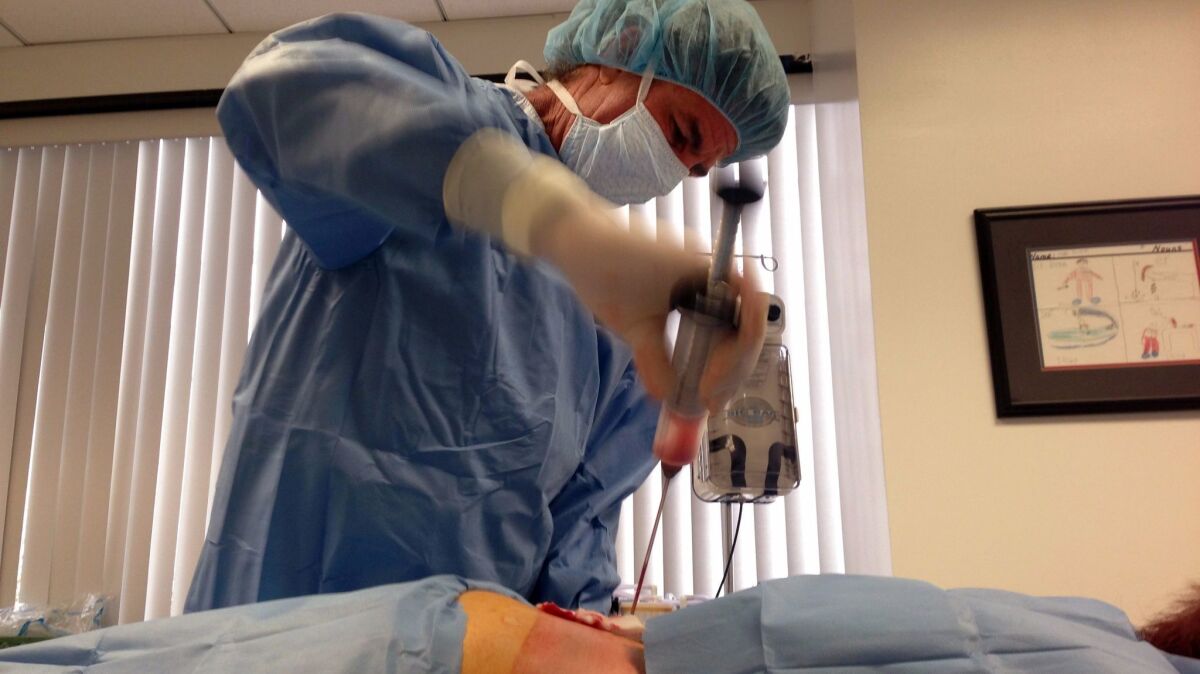 The Food and Drug Administration has launched an opening salvo at a booming national market for suspect medical treatments, announcing actions that could rein in clinics offering questionable stem-cell treatments for cancer and other diseases.
The FDA's initial targets were a pair of California Stem Cell Treatment Centers in Beverly Hills and Rancho Mirage; StemImmune Inc. of San Diego; and the US Stem Cell Clinic of Sunrise, Fla.
Taking what it called "decisive action" to protect patients, the FDA on Friday dispatched U.S. marshals to the California clinics and seized close to 500 doses of smallpox vaccine supplied by StemImmune. The vaccine was to be mixed with stem cells derived from patients' body fat, then injected directly into patients' malignant tumors.
The FDA described this as "an unapproved and potentially dangerous treatment for cancer," according to a statement issued Monday.
One of the five vials of vaccine had been opened and was "partially used," the FDA said.
The seizure of the smallpox vaccine was necessary "to prevent the use of a potentially dangerous and unproven treatment," according to the agency. For cancer patients — as well as for pregnant or immune-compromised people those cancer patients might encounter — exposure to smallpox vaccine could set off a potentially deadly reaction: inflammation or swelling of the heart and surrounding tissues.
The FDA said it would investigate how the StemImmune Inc. obtained five vials of smallpox vaccine, which is not commercially available and is normally reserved for people who are at risk of exposure to smallpox, such as military personnel and healthcare workers.
Calls to StemImmune were not returned. But Dr. Mark Berman, co-founder of the California Stem Cell Treatment Centers, was defiant in a prepared statement.
Berman called the comments of the FDA and its commissioner, Dr. Scott Gottleib, "disparaging and misrepresentative," and said they showed "a lack of understanding" of surgical procedures in which patients' own stem cells are used to promote regeneration. Berman, who is also director of stem cell implantation at StemImmune, called the clinics' offerings "cutting edge cancer therapy" for stage-4 cancer patients.
Also on Monday, the FDA issued a warning letter to US Stem Cell Clinic's chief scientific officer, Kristin Comella, for marketing stem-cell products without the agency's approval. The letter gave the clinic 15 days to explain how it would address "significant deviations" in its manufacturing practices, which the FDA said put its products at risk of contamination and its patients at risk of infection.
The clinic's products were being administered either intravenously or directly into the spinal cords of patients to treat a variety of serious conditions, including Parkinson's disease, amyotrophic lateral sclerosis (ALS, or Lou Gehrig's Disease), emphysema, heart disease and scarring of the lungs.
The FDA charged that US Stem Cell Clinic "tried to impede the FDA's investigation" by refusing to allow investigators entry except by appointment and by denying them access to employees. Both actions violate federal law.
It is not the Florida facility's first brush with controversy: In March, an article in the New England Journal of Medicine detailed the cases of three patients with macular degeneration who became legally blind soon after receiving stem-cell treatments for the condition at the Florida clinic.
In announcing the two actions, Gottlieb signaled that the agency will step up investigations of the country's nearly 600 stem-cell clinics, many of which offer treatments that have not been shown safe or effective for a wide range of illnesses and injuries.
In aggressive marketing campaigns, these clinics offer treatments for orthopedic ills, as well as for cancer, spinal cord injury and neurological conditions such as Alzheimer's, dementia, Parkinson's disease and ALS. They routinely charge $5,000 to $10,000 for treatments, and often coax patients back for additional rounds of therapy.
Gottlieb said he has directed his agency to "vigorously investigate these kinds of unscrupulous clinics." The FDA's actions "should also be a warning to others who may be doing similar harm, we will take action to ensure Americans are not put at unnecessary risk."
The Trump administration has declared its intention to speed the approval of experimental medications, and Gottlieb has been a vocal advocate of streamlining the agency's review process.
But he said Monday that "the FDA can't allow a small number of bad actors to leverage that promise to mislead patients and put them at risk."
Stem cells are cells that have not yet taken on a specialized function, such as becoming blood or muscle. They are a staple of a growing slate of regenerative medicine treatments. Clinical trials have shown a few stem-cell therapies to be safe and effective, but most are still experimental.
The excitement surrounding stem cells' potential healing powers has spawned an explosion of clinics offering treatments that have not been subject to rigorous scrutiny.
If the FDA puts clinics offering stem-cell therapies in its regulatory crosshairs, the agency will have its hands full, said University of Minnesota bioethicist Leigh Turner.
Last year, Turner and UC Davis cell biologist Paul Knoepfler reported that 351 U.S. businesses were marketing stem-cell treatments at some 571 clinics across the country.
Southern California represented one of the densest "hot spots" for such business, with 131 clinics. But they are burgeoning in southern Florida, Texas, Colorado, Arizona and New York as well.
Those clinics typically market their services directly to consumers, bypassing established medical practices and academic centers that have raised doubts about the safety and effectiveness of these regimens. The treatments are rarely covered by insurance.
These clinics have flown almost entirely under the FDA's radar, Turner said. The agency's charter has loopholes that put some stem-cell treatments beyond the agency's reach. But as these companies grow bolder in their marketing claims and more ambitious in their manipulation of stem cells, he said it's high time the FDA exercises its right to demand evidence that treatments are safe and effective.
"If this forceful statement signals that FDA means to step up enforcement activity — going after bad actors in the marketplace — that's a good development," Turner said. "Hopefully, it'll be more than just good words."
In putting stem-cell clinics on notice, Gottlieb, himself a survivor of Hodgkin's lymphoma, made it personal.
"I know all too well the fear and anxiety the diagnosis of cancer can have on a patient and their loved ones and how tempting it can be to believe the audacious but ultimately hollow claims made by these kinds of unscrupulous clinics or others selling so-called cures," he said. "The FDA will not allow deceitful actors to take advantage of vulnerable patients by purporting to have treatments or cures for serious diseases without any proof that they actually work."
He singled out the treatments offered by the California Stem Cell Treatment Centers: "I especially won't allow cases such as this one to go unchallenged, where we have good medical reasons to believe these purported treatments can actually harm patients and make their conditions worse."
Knoepfler called Monday's actions "a big deal."
"I was really not sure, under the Trump administration especially, whether this would happen," he said. "But I am pleasantly surprised: These were words and actions, and the words were pretty blunt."
Twitter: @LATMelissaHealy
MORE IN SCIENCE
Should NASA keep flying flagship missions? A new report weighs in
Will eye damage follow the Great American Eclipse?
Get our free Coronavirus Today newsletter
Sign up for the latest news, best stories and what they mean for you, plus answers to your questions.
You may occasionally receive promotional content from the Los Angeles Times.