Fentanyl overdose deaths in the U.S. have been doubling every year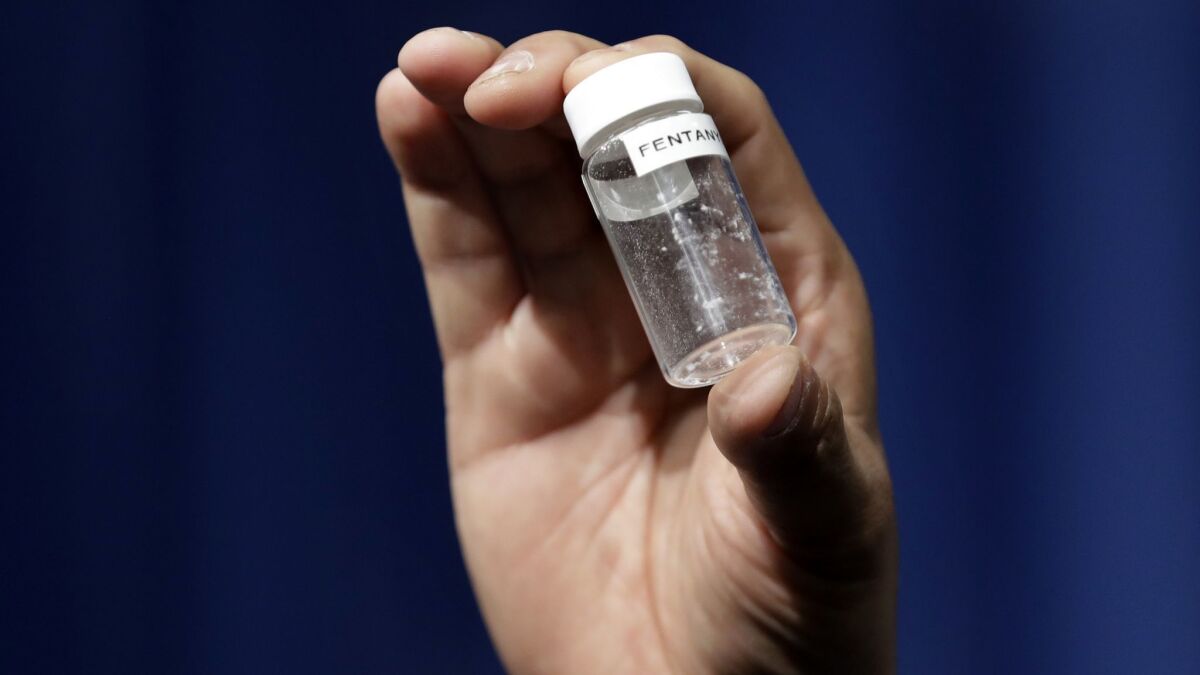 If you want to know what it means for something to grow exponentially, consider the death toll of fentanyl.
This powerful synthetic opioid seemingly came out of nowhere and is now killing tens of thousands of Americans each year.
A new report from the Centers for Disease Control and Prevention details the meteoric rise of a drug that was first approved by the Food and Drug Administration back in 1968. It shows that fentanyl's role as a driver of the opioid epidemic can be traced to late 2013.
Researchers from the CDC's National Center for Health Statistics tallied the lives claimed by fentanyl between 2011 and 2016.
The figures were drawn from death records produced by coroners and medical examiners throughout the country. And while some of these officials were slow to recognize the new threat, the CDC researchers accounted for the fact that as the scourge spread, coroners and medical examiners became more likely to notice when fentanyl played a role in a person's death.
Altogether, the records revealed that more than 36,000 Americans died with fentanyl in their systems during the study period. The majority of those deaths — 18,335 — occurred in 2016 alone.
The CDC experts used those figures to calculate annual death rates for overdoses involving fentanyl. After adjusting for age, they found that it is indeed growing exponentially — doubling every year.
In 2011 and 2012, there were 0.5 drug overdose deaths involving fentanyl for every 100,000 Americans. After that, the death rate began its precipitous climb.
Between 2013 and 2014, it jumped from 0.6 to 1.3 deaths per 100,000 Americans. In 2015, it climbed to 2.6 deaths per 100,000. And by 2016, there were 5.9 fentanyl-related deaths for every 100,000 Americans.
Fentanyl is anywhere from 50 to 100 times more powerful than morphine. When taken in uncontrolled concentrations by unsuspecting users, or by users whose opioid tolerance has not been heightened by long-term use, the drug is more likely even than prescription opioids to suppress respiration and cause death.
If you're worried about prescription opioids, you should be really scared of fentanyl »
China's 160,000 chemical and pharmaceutical manufacturers are among the major suppliers of illicit fentanyl, according to testimony presented last summer by Paul E. Knierim of the Drug Enforcement Administration to a House of Representatives subcommittee on global health.
To feed a growing population of Americans with addiction, these Chinese firms are shipping their product directly to the United States, and sometimes to cartels in Mexico, Canada and the Caribbean. Once in the Western Hemisphere, these chemicals are combined with heroin, cocaine and other drugs, and often pressed into counterfeit pills to be sold online or on the street as prescription opioids.
The result is as profitable as it is deadly.
Knierim, the deputy chief of operations for the DEA's Office of Global Enforcement, told lawmakers that because fentanyl is so powerful and can boost the potency of so many illicit drugs, a single kilogram purchased in China for $3,000 to $5,000 "can generate upwards of $1.5 million in revenue on the illicit market with the potential of being lethal for 500,000 people."
The new CDC report shows that fentanyl's claim on female lives has risen sharply, but the toll among men is far more pronounced.
The rate of fatal overdoses involving fentanyl also increased exponentially for Americans of nearly all ages. But by 2014, young adults between the ages of 25 and 34 had both the highest rate of fatal fentanyl overdoses and the steepest rise in those deaths.
The epidemic of fentanyl deaths has ravaged New England, roared down the Atlantic Coast to Virginia, turned inland to the coalfields and hollows of West Virginia, and spread across the Rust Belt and the Upper Midwest. Fentanyl deaths were also on the rise from Arkansas to Alaska and across the American West, though in those areas they increased much more slowly.
Some experts believe the death rate will soon begin to rise more slowly in places like Massachusetts, where fentanyl gained an early and especially deadly foothold. However, they say the West has not yet seen the peak of this spreading epidemic.
The new report also documents a shift that had become evident to emergency responders and public health authorities by 2016: While death rates from prescription opioids and illicit synthetic opioids have been highest among rural white Americans, the expansion of an illegal market is creating new communities of users in urban centers, and among minorities.
Indeed, between 2011 and 2016, the rate of fatal fentanyl overdoses grew fastest among African Americans and Latinos.
MORE IN SCIENCE
Get our free Coronavirus Today newsletter
Sign up for the latest news, best stories and what they mean for you, plus answers to your questions.
You may occasionally receive promotional content from the Los Angeles Times.