Babies born to moms who lived near fracking wells faced host of health risks, study suggests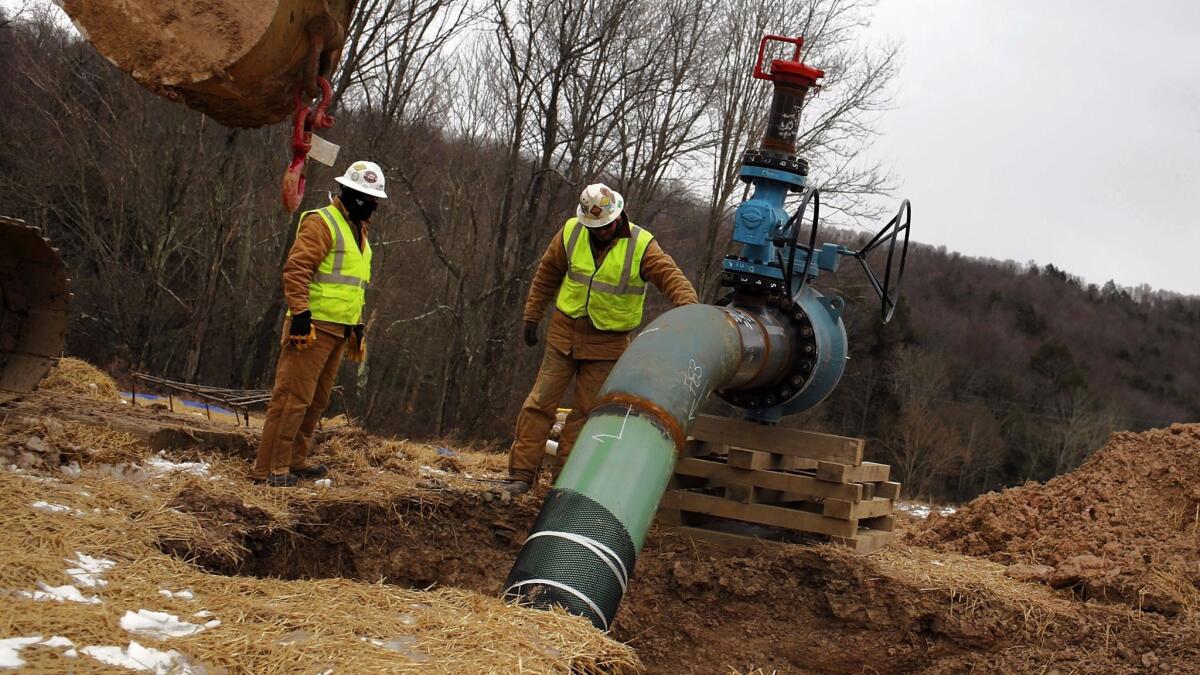 After combing through a decade's worth of Pennsylvania birth records, researchers have found that pregnant women living within two-thirds of a mile of a hydraulic fracturing well were 25% more likely to give birth to a worryingly small infant than were women who lived at least 10 miles outside that zone during pregnancy.
Over these babies' lifetimes, their low birth weights raise the likelihood they will suffer poorer health and lower achievement, including reduced earnings and educational attainment.
The authors of the new research estimated that, in 2012, about 29,000 of the close to 4 million annual births in the United States — roughly 0.7% of babies born each year — were to women who lived within about two-thirds of a mile of a hydraulic fracturing operation during their pregnancies.
The study was published Wednesday in the journal Science Advances.
Nationally, the advent and expansion of hydraulic fracturing operations have reduced gasoline prices, decreased some air pollution emissions and driven down U.S. dependence on foreign oil. But in areas surrounding the nation's roughly 1.2 million fracking wells, the extraction technique has increased pollution of air, soil, groundwater and surface water.
Many of the toxic chemicals used in the hydraulic fracturing process are known carcinogens. Toxic gases, including benzene, are released from the rock by fracking. And the high-pressure pumping of a slurry of chemicals into the ground is widely thought to release toxins and irritants into nearby air and water. The noise and pollution emitted by trucks and heavy machinery also may affect the health of people living nearby.
Research by some of the new study's authors — all economists — has detailed the powerful impact of fracking on local communities, where it boosted employment, household incomes and housing values. It also has made the extraction technique's local effects on human health a subject of heated debate and growing research.
Based on an analysis of more than 1.1 million births in Pennsylvania between 2004 and 2013, the new research found that babies born to mothers who lived within 1 kilometer (0.64 miles) of a fracking well weighed, on average, 1.38 ounces less than babies whose gestation occurred 3 kilometers or more from a fracking site.
The researchers compared the birth weights of babies born to mothers living within 1, 2 or 3 kilometers of fracking wells, both before and after the wells were active. In a bid to capture health influences specifically related to well proximity, the authors compared the birth weights of siblings born at different distances to wells — both close enough to be exposed to fracking in utero, and too far away.
The largest health impacts were found in infants born to mothers living the closest to active wells. Compared to those whose pregnant mothers lived about 10 miles or more away, these infants were 25% more likely to weigh less than 5 1/2 pounds and be classified as low birth weight, the authors found.
For babies whose mothers lived between 1 and 3 kilometers from a well, researchers found birth-weight effects, but they were greatly diminished — less than half those found among babies born to women living within 1 kilometer of a well.
The findings suggest that fracking's impacts on newborns' health "are highly local," the authors wrote.
"This study provides the strongest large-scale evidence of a link between the pollution that stems from hydraulic fracturing activities and our health, specifically the health of babies," said coauthor Michael Greenstone, an economist and director of the Energy Policy Institute at the University of Chicago.
A representative of the oil and gas industry criticized the study for failing to take account of a wide range of factors that can contribute to low birth weight, as well as for measuring women's proximity to fracking wells instead of their exposure to actual pollutants.
"It's just one of many examples of research that has similar limitations," said Nicole Jacobs, Pennsylvania director for Energy in Depth, a research, education and lobbying arm of the Independent Petroleum Assn. of America.
Jacobs also cited Pennsylvania Health Department statistics showing that in the most heavily drilled counties in Pennsylvania's Marcellus Shale region, infant mortality rates not only have declined, but actually have improved more than overall state levels. To the extent that low birth weight drives infant mortality, such data would appear to contradict the findings reported Wednesday, Jacobs said.
Notwithstanding such limitations, the results add to a growing body of evidence suggesting that fracking exacts a toll on the health of populations living in close proximity to wells.
A study of Pennsylvania published in August 2016 found higher rates of migraine headaches, fatigue, and nasal and sinus symptoms in people who were at greater proximity to fracking operations. Another study, conducted in southwest Pennsylvania, where fracking wells are heavily concentrated, found an increase in cases of bladder cancer, but not of thyroid cancer or leukemia, that was steeper in counties where well density was highest.
In research that examined a Colorado registry of cancer cases, another study found that people aged 5 to 24 who were diagnosed with acute lymphocytic leukemia were more likely to live in areas with a high concentration of oil and gas activity.
Other studies have focused on pregnancy outcomes and infant health. In one conducted in North Texas — where fracking wells abut diverse populations of urbanites — researchers found an increased risk of preterm birth, and a slight increase in fetal death, among pregnant women living close to greater concentrations of fracking wells. But it failed to find an association between a pregnant woman's proximity to fracking wells and her likelihood of giving birth to a child who was either small for its gestational age or who was born at term at less than 5½ pounds.
Many of these studies have been faulted for methodological weaknesses, and their findings have been assailed by oil and gas industry groups.
Weill Cornell public health researcher Madelon L. Finkel, who has conducted some of the early research, acknowledges that the findings are preliminary. Cancer and many other outcomes can take decades to become evident, while the widespread practice of hydraulic fracturing is not quite a decade old, Finkel said.
Firming up conclusions on fracking's health effects, she added, will take years of further research. "But we're beginning to see a pattern: that living near these sites does elevate risk compared to living further away," said Finkel, who was not involved in the Science Advances study.
University of Pennsylvania neonatologist Dr. Rebecca Simmons praised the new study's design and the researchers' focus on low birth weight as a factor potentially affected by proximity to fracking wells.
"Birth weight is a proxy: it gives us an insight into what's going on in gestation, and we worry a lot when we see changes like this," said Simmons, who is deputy director of the Penn's Center of Excellence in Environmental Toxicology. "We know that babies born at low birth weight have a much, much higher risk of diseases such as coronary artery disease, hypertension, diabetes and obesity."
Simmons, who was not involved in the Science Advances study, acknowledged that many factors contribute to low birth weight, including poverty and poor nutrition. Increasingly, however, environmental factors are gaining their share of attention and research.
Coauthor Katherine Meckel, an assistant professor at UCLA, acknowledged that the study could not pinpoint the source of the environmental hazards that affect human health and birth weight.
"Until we can determine the source of this pollution and contain it, local lawmakers will be forced to continue to make the difficult decision of whether to allow fracking in order to boost their local economies — despite the health implications — or ban it altogether, missing out on the jobs and revenue it would bring," she said.
MORE IN SCIENCE
Giant penguins, as tall as people, lived in New Zealand millions of years ago
Is 'man flu' real? Medical science delivers comfort to helpless male snufflers
Cassini may be dead, but a new era of Saturn science has just begun
---
UPDATES:
12:55 p.m.: This article was updated with comment from a representative of the oil and gas industry.
This article was originally published at 11 a.m.