Greenland ice sheet's sudden meltdown catches scientists by surprise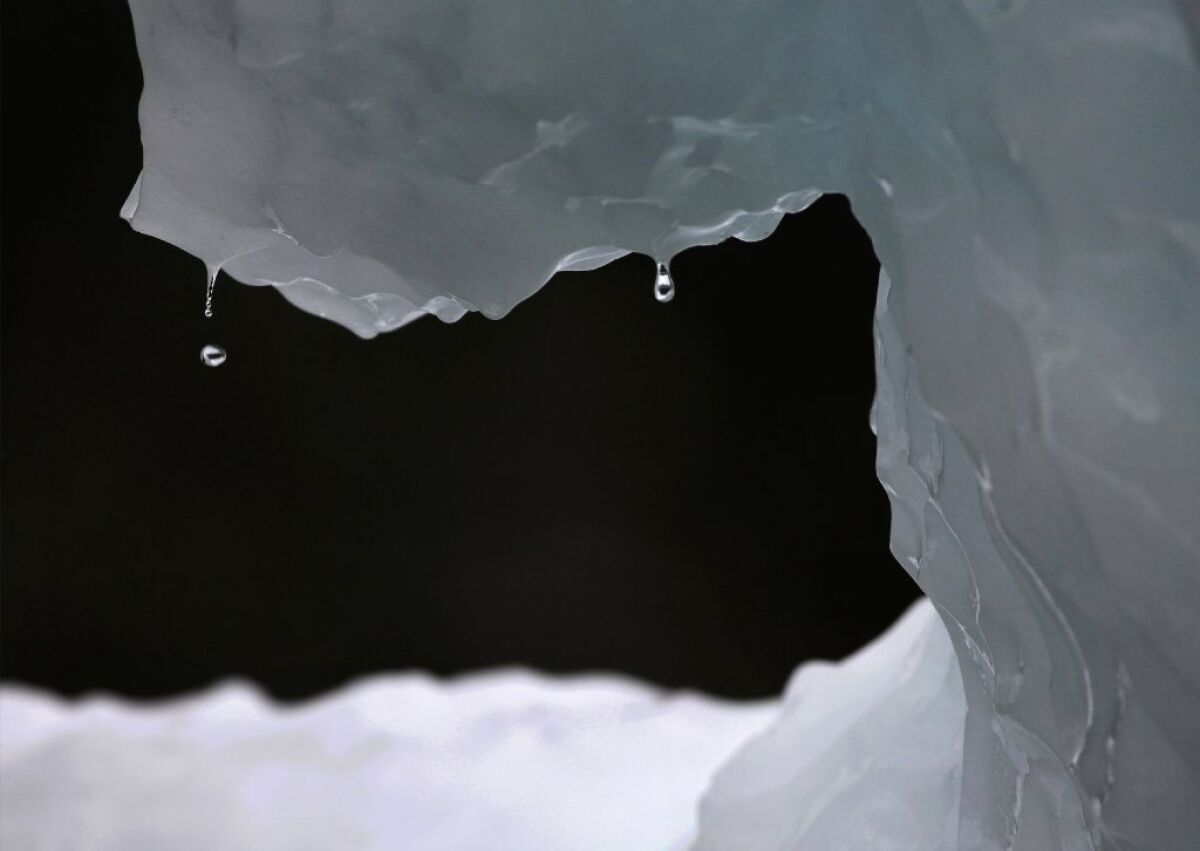 Monday saw the Greenland ice sheet covered in a record-breaking level of melt water for this time of year, according to scientists who monitor it.
Researchers at the Danish Meteorological Institute found that a whopping 12% of the ice sheet was covered in a layer of melt water that was at least 1 millimeter thick. Such double-digit figures typically don't emerge until May – and the day before had seen levels of only 4%.
The numbers had some researchers feeling "incredulous," according to an update posted on Polar Portal, a collaboration among several Danish research institutions.
See the most-read stories in Science this hour >>
"We had to check that our models were still working properly," Peter Langen, a climate scientist with the meteorological institute, said in the update.
But their models held up. The scientists think the early start might be a consequence of warm air becoming trapped over Greenland and shedding rain along the coast. It's a weather pattern that echoes the one in 2012 that also precipitated (pun intended) what the scientists called an "extreme melt event," in which almost the entire glacier – 95% of it – was covered in some amount of melted water.
These sorts of events are worrisome to scientists because it's hard to track exactly what happens to the water, according to an earlier Los Angeles Times story on the dramatic 2012 melt. In any case, even though water may eventually refreeze, that water brings some heat with it – which can have very problematic effects on the ice in the long run.
"Melt water refreezing releases heat into the snow at depth, reducing the amount of heating needed for melt to start and forming ice layers that can help melt water run off the ice sheet earlier with climate warming," Jason Box of the Geological Survey of Denmark and Greenland said in the update.
So these events might make the ice even more vulnerable to climate change. That's potentially troubling for the ice sheet, which according to a recent study in Nature lost more than 9 trillion metric tons of ice from 1900 to 2010.
Follow @aminawrite on Twitter for more science news and "like" Los Angeles Times Science & Health on Facebook.
ALSO
L.A. takes on San Francisco in the first City Nature Challenge
Take that, A.I.: Video-gamers solve quantum physics mystery using human intuition
Leaping over spinal cord injury, researchers teach a quadriplegic's hand to move again
Get our free Coronavirus Today newsletter
Sign up for the latest news, best stories and what they mean for you, plus answers to your questions.
You may occasionally receive promotional content from the Los Angeles Times.