In the U.S., nearly half of young victims of gun violence are shot during assaults, not accidents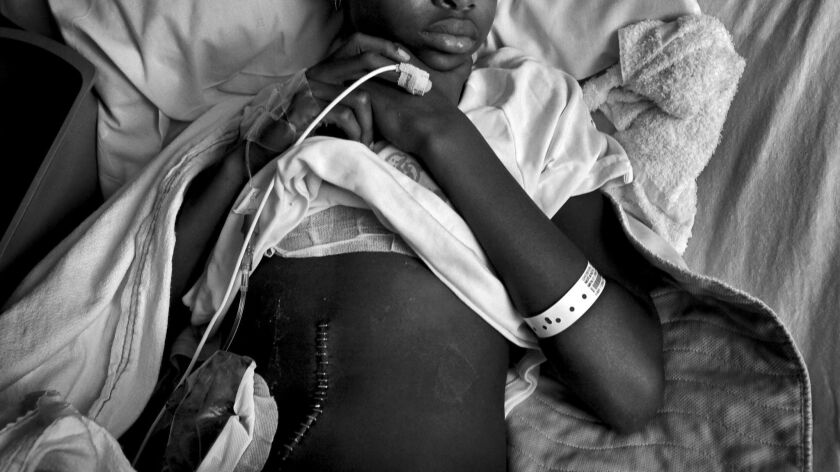 You can see the toll of gun violence on America's kids by studying hospital records from around the country. And when you do, you'll see that it's large — and it appears to be rising.
You don't have to do this for yourself, though, because researchers from the Johns Hopkins University School of Medicine beat you to it. They published their results Monday in the journal JAMA Pediatrics.
Faiz Gani and Joseph Canner of the school's Surgery Center for Outcomes Research scoured data from the Nationwide Emergency Department Sample, the largest database of hospital emergency-room visits across the country. They tallied more than 75,000 children who were sent to ERs seeking treatment for gun-related injuries between the beginning of 2006 and the end of 2014. Then they adjusted the data to make it representative of the nation as a whole.
Gani and Canner found that for every 100,000 Americans under the age of 18, 11.3 went to a hospital emergency room after being shot. This figure represents the average incidence of firearm-related ER visits over the nine years of the study.
The average age of these gunshot victims was 14.8 years, and the overwhelming majority — 86.2% — were male.
Overall, 6% of pediatric shooting victims who came to the ER died of their injuries, the researchers found.
Nearly half — 49% — of the young patients brought to hospital emergency departments with gun-related injuries were shot during intentional assaults. Another 39% of patients were victims of accidents involving firearms, and 2% attempted suicide with a gun.
American kids faced the highest risk of a serious firearm injury at the start of the study period, with 15.1 out of every 100,000 minors seeking ER treatment for a gunshot wound in 2006. That figure fell steadily until 2011, when 9.5 out of every 100,000 minors went to the ER after being shot.
After rising slightly in 2012, the incidence of gun-related trips to the emergency room bottomed out in 2013 at 7.5 cases per 100,000 kids. It then jumped back to 10.1 cases per 100,000 in 2014.
This trend was most pronounced for boys. Throughout the study period, boys were at least five times more likely than girls to require emergency-room treatment for a gun-inflicted wound.
The incidence of these injuries among boys was 26.1 per 100,000 in 2006, then fell to 12.3 per 100,000 in 2013 before rising back to 16.5 per 100,000 in 2014. The incidence for girls remained between 2.4 and 4 cases per 100,000 throughout the nine years of the study.
The group that experienced the greatest burden of gun-related injuries was young men between the ages of 15 and 17. For this unfortunate cohort, 85.9 out of every 100,000 were taken to an emergency room to be treated for a gunshot wound.
Among all minors seen in ERs with firearm-related injuries, 35% were hurt badly enough to be admitted to the hospital. About 1 out of 15 of these admitted patients — or 6.6% — died as a result of their injuries.
In addition, 3.6% of the kids who came to the ER after being shot died before they could be admitted, the researchers found.
The cost of treating all these children in the emergency department totaled $259 million over the nine years of the study. Those who required further treatment as inpatients racked up a whopping $2.2 billion in hospital bills.
In other words, the overall cost of caring for kids who had been shot was about $270 million per year, on average.
The true toll of firearms — measured in both dollars spent and lives lost — could well be higher, the researchers wrote. They just can't say with certainty because the database they relied on doesn't keep track of what happens to patients after they leave the hospital.
But what they could see was enough to make clear that the scope of the problem is "substantial," they wrote.
"The numbers are really humbling," Gani said.
Follow me on Twitter @LATkarenkaplan and "like" Los Angeles Times Science & Health on Facebook.
---
Get our free Coronavirus Today newsletter
Sign up for the latest news, best stories and what they mean for you, plus answers to your questions.
You may occasionally receive promotional content from the Los Angeles Times.