In Texas, odds of Hurricane Harvey rainfall could rise to nearly 1 in 5 per year by 2100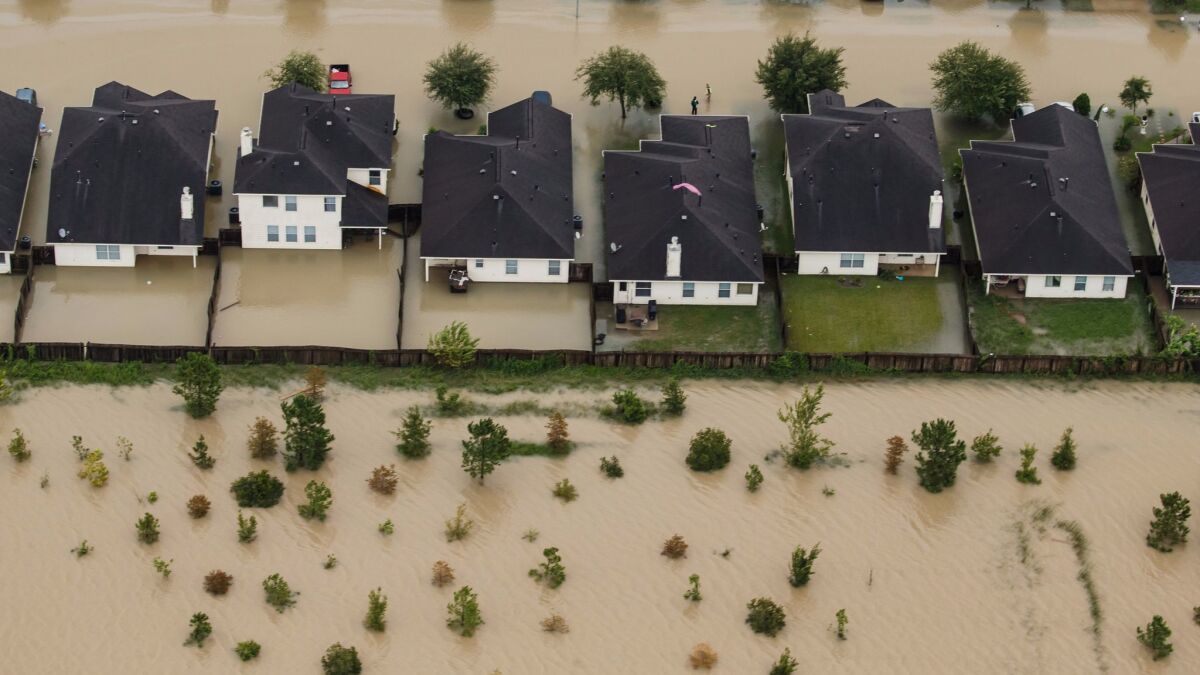 So much for the storm of the century.
A new study suggests that massive hurricanes like Harvey are expected to strike Houston and Texas with much greater frequency in the future than they do now.
Why?
Blame our changing climate.
According to a study published Monday in PNAS, the odds of Harvey-like rains drenching the city of Houston will grow from 1 in 2,000 at the beginning of the 21st century to 1 in 100 at the end of the century.
For Texas as a whole, the outlook is even worse.
The frequency of hurricanes with rains in excess of 20 inches occurring anywhere in the state will jump from a once in a 100-year event at the end of the 20th century to a once in 5.5 year occurrence at the end of the 21st century.
The new work was led by MIT atmospheric scientist Kerry Emanuel, who specializes in hurricanes.
To come to these conclusions, Emanuel relied on hurricane models that are used by the National Hurricane Center to forecast hurricanes in real time.
He also used an array of six global climate models that take into account a standard, business-as-usual greenhouse gas emission scenario.
"I wanted to be as open-minded as possible, so I didn't apply this technique to just one climate model, but rather to as many climate models as I could lay my hand on," he said.
Currently about 90 hurricanes a year occur somewhere on the globe, Emanuel said. That overall number is not expected to change as the planet heats up, and in fact it might even go down.
But modeling shows that even if the total number of hurricanes decrease, the number of really intense hurricanes — like Maria, Harvey and Irma — will increase in most places.
"We are confident about that," Emanuel said. "And what we are really confident about is that a given hurricane will produce much more rain in a warmer climate."
He added that there are three primary reasons why a warming climate would produce more severe hurricanes in Texas in particular.
For one, the data show a slight uptick in the number of strong hurricanes that will move into that region. More importantly, however, is that each given hurricane will produce more rain because warmer air can hold more water.
Finally, the models suggest that hurricanes will likely move more slowly, allowing them to dump more water over a small area of land.
"We'll see more cases of stalling, where hurricanes kind of meander around, which is what Harvey did," Emanuel said.
The techniques used in the paper are not new, but Emanuel said the significance of the paper is to alert city planners to the changing probabilities of large-scale hurricanes in Texas as soon as possible.
"It is important for those people who will rebuild Houston and rethink its infrastructure to understand the magnitude of the risk and how it will change over time," he said.
Do you love science? I do! Follow me @DeborahNetburn and "like" Los Angeles Times Science & Health on Facebook.
MORE IN SCIENCE
Fires, droughts and hurricanes: What's the link between climate change and natural disasters?
A wake, some prayers and a little retail therapy: How NASA engineers mourn the death of a spacecraft
Scientists prove that the public pays attention to journalism
---
Get our free Coronavirus Today newsletter
Sign up for the latest news, best stories and what they mean for you, plus answers to your questions.
You may occasionally receive promotional content from the Los Angeles Times.