Lasker Awards honor Planned Parenthood and research on preventing and fighting cancer
Planned Parenthood, the embattled nonprofit health provider that specializes in reproductive health, has won the 2017 Lasker Award for public service.
The Albert and Mary Lasker Foundation also honored Dr. Douglas Lowy and John Schiller of the National Cancer Institute with its clinical research award for work that led to the development of a vaccine against human papillomavirus, which causes cervical cancer. Molecular biologist Michael N. Hall received the foundation's basic medical research award for laying the scientific groundwork for advances in the treatment of cancer, diabetes, neurodegenerative disorders and diseases of aging.
The Lasker Awards, announced Wednesday, are given annually to recognize advancements in the prevention and treatment of disease. Each award carries an honorarium of $250,000. Dozens of past winners have gone on to win the Nobel Prize.
The Lasker-Bloomberg Public Service Award to Planned Parenthood comes at a time when the international organization's global mission has come under budgetary assault on Capitol Hill. The healthcare provider offers cancer screenings, testing for sexually transmitted diseases, birth control services and general care to millions of people each year. But the organization also provides abortion services, which makes it a frequent target of some lawmakers and others with antiabortion views.
"Approximately one in five women in the U.S. have received its assistance at some point during their lives," the Lasker Foundation said in its award citation. "Without Planned Parenthood, many individuals would not have access to high-quality and affordable health care."
Lowy and Schiller's research on infection-fighting antibodies led to the development of a vaccine against human papillomavirus. The virus, also known as HPV, causes the world's second-most common cause of malignancy in women, cervical cancer. In 2014, that work led President Obama to award Lowy and Schiller the National Medal of Technology and Innovation.
All of this year's honorees acknowledged the changed political environment in which they conduct their activities. All warned that their work and other work like it would be squelched if the Trump administration's proposed restrictions on women's healthcare and cuts to basic biomedical research funding are adopted by Congress.
Planned Parenthood President Cecile Richards noted that her organization's founders, Dr. Margaret Sanger and Dr. Bessie Moses, were the first women to be awarded the Lasker prize for medicine for their contributions to contraception at a time when it was illegal in the United States. She marveled that more than 65 years later, the U.S. government has reprised its hostility to the policies that the work of Sanger and Moses made possible.
"We're at a moment in the U.S. where there are major political efforts to get a rollback of reproductive care and reproductive rights," Richards said.
The scientists honored by the Lasker Awards offered more indirect criticism. They suggested that amid deep budget cuts in federal funding for biomedical research, scientists will not have the latitude to pursue research on subjects whose significance in not yet understood.
"Basic science is the engine that drives important breakthroughs in public health," said Schiller, whose work led to the development of the first vaccine to prevent a cancer.
"It's not clear which basic discoveries are going to lead to public health breakthroughs," he added. "It's an example where we can't be too top-down in our research enterprise. You can't dictate which discoveries will be made."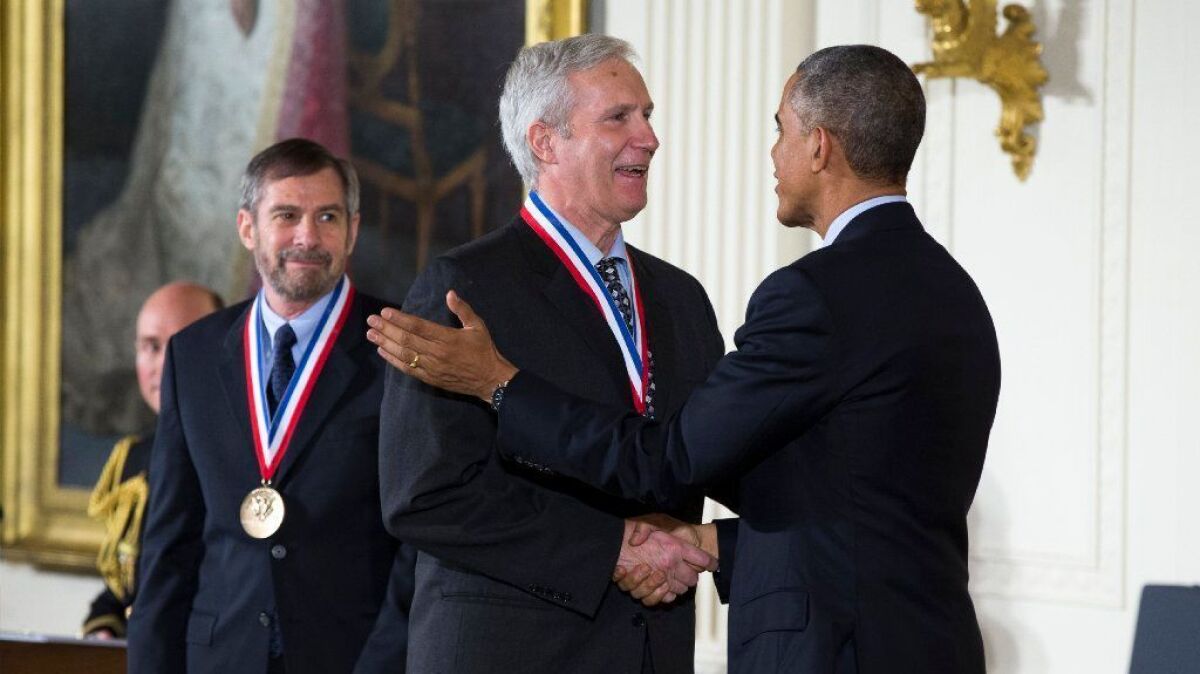 That was certainly the case for Hall, an American and Swiss scientist based at the University of Basel in Switzerland whose work has been translated into therapies for a variety of diseases.
He won his Lasker Award for his discovery of a protein called TOR (short for target of rapamycin) that tells cells when to grow, divide and survive. The gene that expresses TOR is found in organisms ranging in complexity from yeast to humans, and it often mutates in cancer cells. In mammals, who have a version called mTOR, it's also a key player in activation of the immune system.
Hall's elucidation of how TOR works has led to the use of a class of targeted cancer drugs called mTOR inhibitors, including rapamycin and mimics such as the drug everolimus (marketed as Afinitor), in the treatment of certain aggressive cancers of the kidney, breast or brain.
Faulty signaling in the mTOR network is implicated not only in cancer, but in a range of other diseases linked to aging, such as diabetes and brain diseases. That has led many to believe that understanding how TOR works will lead to insights that could extend the human lifespan.
Among the insights already gleaned: that in mice, at least, calorie restriction lengthens lifespan by inhibiting the activity of mTOR.
The basic research honored by this year's Lasker Award was part of an international race among scientists to unravel a mystery: why (and how) did the drug rapamycin, an antifungal medication that emerged from soil harvested on Easter Island, also have the ability to suppress the proliferation of both cancer cells and immune cells in mammals?
Hall and his colleagues identified and sequenced the TOR1 and TOR2 genes in yeast, and published the result in the journal Cell in 1993.
MORE IN SCIENCE
After California got rid of personal exemptions for vaccines, medical exemptions went way up
PSA screening for prostate cancer saves lives after all, study says
Hailing a breakthrough in fighting cancer, FDA approves gene therapy that functions as a 'living drug'
---
UPDATES:
9:35 a.m.: This post was updated to add comments from the president of Planned Parenthood and from John Schiller.
This post was originally published at 12 a.m.
---
Get our free Coronavirus Today newsletter
Sign up for the latest news, best stories and what they mean for you, plus answers to your questions.
You may occasionally receive promotional content from the Los Angeles Times.