There is something rarer than being killed by lightning, CDC says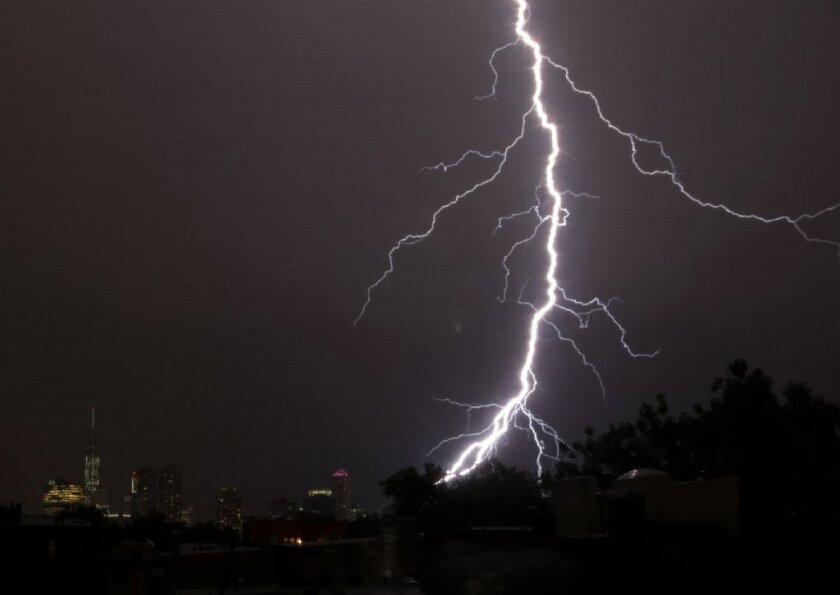 The lightning strikes that killed one person and injured at least seven others at Southern California's Venice Beach this week were freak events. But when it comes to extreme weather, there's something even more unusual than being killed by lightning -- dying in a flood.
New data from the Centers for Disease Control and Prevention reveal that 182 Americans were killed by lightning between 2006 and 2010, and it contributed to the deaths of five others during that period.
Floods, however, were even less deadly, causing 93 American deaths (and contributing to one more) over five years, the CDC data show.
Altogether, lightning, floods and cataclysmic storms -- a category that includes hurricanes, tornadoes, blizzards and torrential rains –- caused only four deaths per 10 million people in the U.S. per year. The death rate was lowest among kids under the age of 15 (less than two deaths per 10 million people in that age group) and highest for those ages 85 and older (10 deaths per 10 million of these oldest U.S. residents).
Researchers from the CDC's National Center for Health Statistics and National Center for Environmental Health compiled the data based on information reported on death certificates. The figures were published in a report released Wednesday.
Overall, 10,649 people in the U.S. died as a result of weather events between 2006 and 2010, according to the report.
Deaths due to cold weather were the most common. "Exposure to excessive natural cold," "hypothermia" or both caused 6,660 deaths, or 63% of the total extreme weather deaths during the five-year period.
Hypothermia can set in when a person's temperature drops from the normal 98.6 degrees Fahrenheit to 95 degrees or lower. At those temperatures, "your heart, nervous system and other organs can't work normally," according to this primer from the Mayo Clinic. Very cold weather can also make chronic conditions like cardiovascular disease and respiratory diseases worse, the CDC report noted.
The annual death rate for cold-weather events was 42 per 10 million people, according to the report. But that rate varied significantly depending on age. It was as low as two per 10 million for kids between the ages of 5 and 15, and rose steadily with age. Among senior citizens between 75 and 84, there were 155 cold-related deaths per 10 million people each year; for those who were even older, the death rate was 396 per 10 million people.
Heat was half as deadly as cold, killing 3,340 U.S. residents between 2006 and 2010, according to the report. Nearly all of these people died from a combination of "exposure to excessive natural heat" and "heat stroke or sun stroke."
Heat stroke happens the body is unable to cool itself off by sweating. (Sunstroke is heat stroke caused by the sun.) If it gets bad enough, it can "cause organ dysfunction, brain damage, and death," according to the Physician's Desk Reference.
The death rate for heat-related weather events was 21 per 10 million U.S. residents per year, the CDC report said. But these events were much more dangerous for young children than cold-weather events. For instance, the heat-related death rate for infants was 42 per 10 million, compared with a cold-related death rate of 10 per 10 million for the same age group.
However, as with cold weather, hot weather became more dangerous with age. For those who had reached their 85thbirthday, the death rate due to heat was 128 per 10 million people.
For more news about the latest medical research, follow me on Twitter @LATkarenkaplan and "like" Los Angeles Times Science & Health on Facebook.
---
Get our free Coronavirus Today newsletter
Sign up for the latest news, best stories and what they mean for you, plus answers to your questions.
You may occasionally receive promotional content from the Los Angeles Times.