How L.A.'s March for Science came to be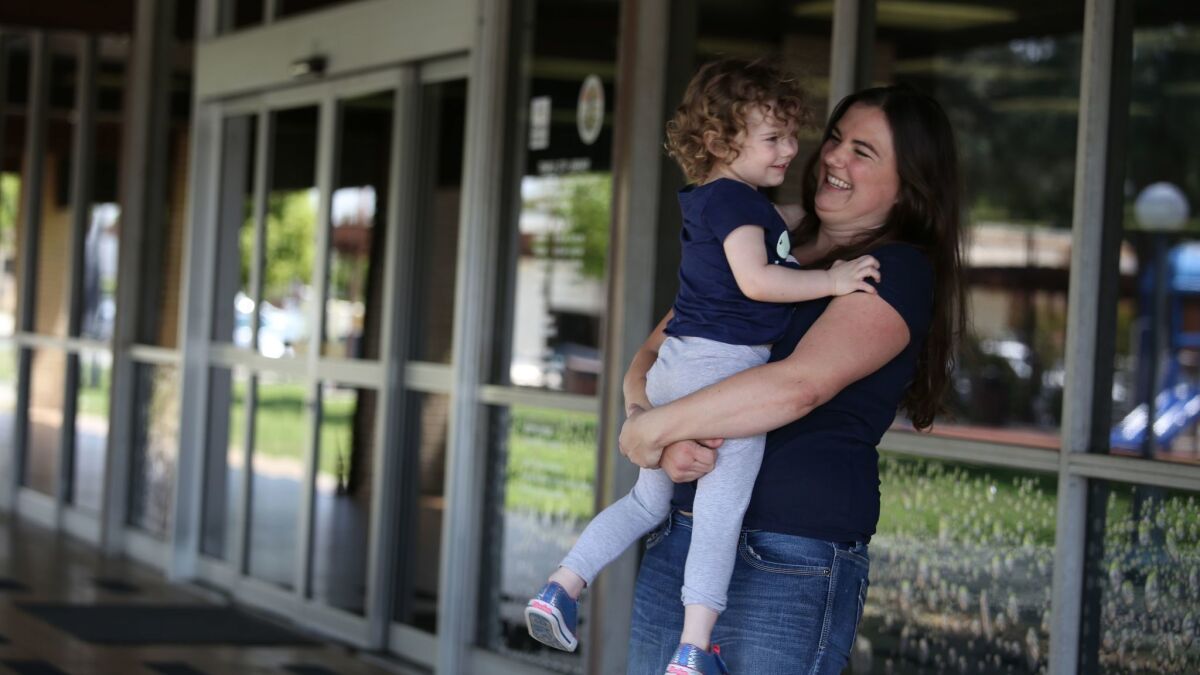 Enthusiasm for science runs so deep in Los Angeles that a March for Science was organized here not once but twice.
One of those times was a week after the presidential inauguration. Jennifer Wheeler was scrolling through her Facebook feed at the Temple City Library while her 2-year-old played in the toy area and her 6-month-old napped in the stroller. The more she read about the newly implemented gag orders at the Environmental Protection Agency and the National Park Service, the more alarmed she became.

For the record:
1:37 p.m. Oct. 6, 2022A previous version of this story incorrectly described NextGen Climate America as super PAC. It is a nonprofit group. A related group, NextGen Cimate Action, is a super PAC.
Then an alert flashed on her screen. A friend from Colorado had joined a March for Science group on the social media site.
Intrigued, Wheeler looked to see whether there was a March for Science group in Los Angeles. There wasn't.
And so, right there in the library, she started one.
"I invited my husband to join the group, and I said, 'Let's do this. Let's make this happen,'" said Wheeler, a former health policy analyst who now describes herself as a stay-at-home mom.
Meanwhile, across the city, Alex Bradley, a PhD candidate in molecular biology at UCLA, was having lunch with a friend and venting his frustrations about politicians who ignore scientific research. Again.
"I think I was putting him to sleep," he said.
In the midst of his rant, Bradley's friend glanced at his phone and saw that he had just been invited to attend a March for Science in San Diego.
Bradley was inspired. He had a newborn to tend to at home, and research on fruit fly oocytes to work on in his lab. But as soon as the lunch was over, he set up a private Facebook page for March for Science LA. By the end of the day the group had 2,000 members.
"I was just so fed up with not doing anything," he said. "And it seemed to me that if I was going to do something, this is one of the best opportunities I would have to make a change."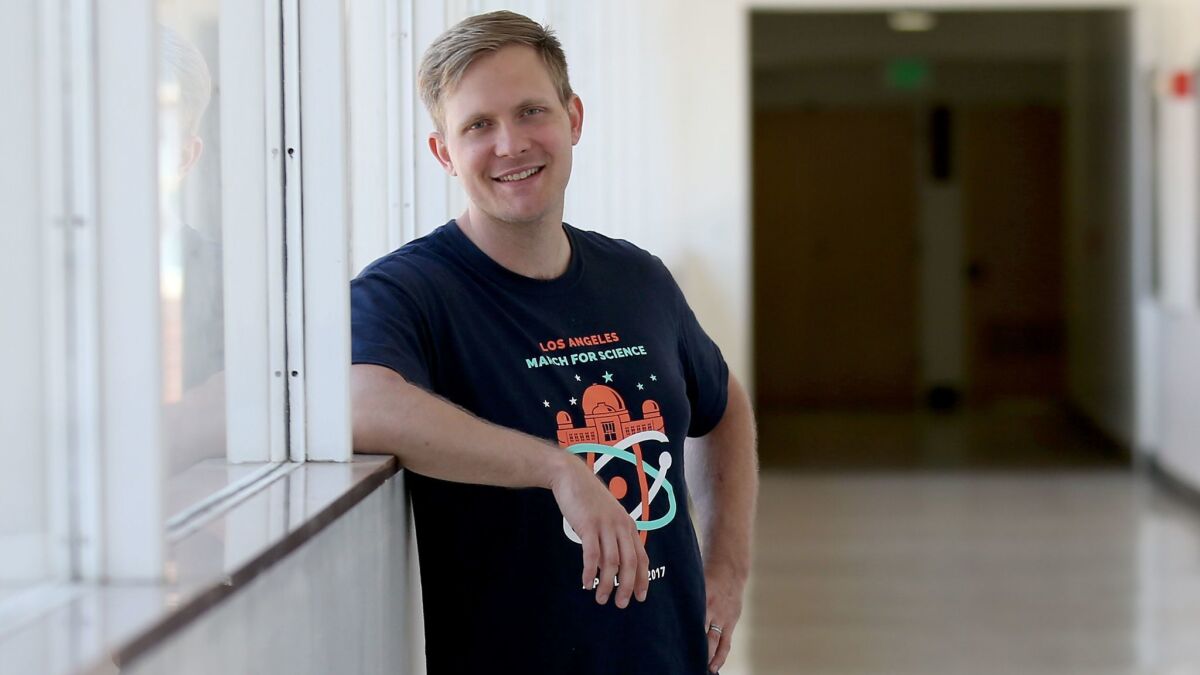 It didn't take Wheeler and Bradley long to discover their separate efforts and decide to join forces.
Since then, they've been joined by an array of volunteers, including lawyers, community organizers, graphic designers and social media managers.
They expect thousands to join them Saturday to march from Pershing Square to City Hall and back. The lineup of speakers includes celebrity seismologist Lucy Jones, billionaire climate change activist Tom Steyer and Oscar-nominated "Hidden Figures" screenwriter Allison Schroeder. (Steyer's nonprofit group, NextGen Climate America, is one of the primary funders of the march.)
"To me, scientists are unsung heroes," Schroeder said. "They do extraordinary work, but it may not seem as exciting as being an athlete or actor or singer. This is one way to say we support you and we believe in what you do and keep doing it."
More than 500 cities around the world will host a March for Science on Saturday. The main event will take place on the National Mall in Washington, headlined by science-enthusiast-in-chief Bill Nye and an array of scientific researchers. In California, marches will occur in 41 places, including the Coachella Valley Music & Arts Festival.
The organizers of the Los Angeles march have been working together online, mainly nights and weekends. A few of them have done something like this before. Most of them have not.
"They are just happy to put their energy into something positive," Wheeler said.
Though the marches will make a political point — calling on elected officials and policymakers to fund science that enhances the common good and to rely on scientific evidence when making decisions on behalf of the country — they are intended to be nonpartisan.
Still, it's no coincidence that the event falls within the first 100 days of an administration that seeks drastic cuts to the National Institutes of Health and the Environmental Protection Agency. Top officials are openly skeptical of the scientific consensus that climate change is caused by human activity.
We want to make it known that there are Republicans and Democrats doing science and we all recognize its value.
— Alex Bradley, co-organizer of the March for Science in Los Angeles
Wheeler and Bradley know that a one-day march for science may not change anything on its own, but they are OK with that. They see their event as the beginning of a conversation.
"We want people to enjoy a moment of communal energy that says, value science, dammit!" Bradley said. "But we also want to funnel all this energy into productive action."
To that end, Wheeler and her husband, Philip, a business development manager in the pharmaceutical industry, have also organized a science expo at Pershing Square that will run from 9 a.m. to 4 p.m. It will include science demonstrations for kids, teach-ins by local universities and media training for scientists.
"We really wanted learning to be a component of this," Jennifer Wheeler said.
There will also be booths run by the American Lung Assn., the Center for Biological Diversity and the Los Angeles chapter of Physicians for Social Responsibility.
In some ways, Bradley said, the March for Science movement has already achieved his main goal of amassing bipartisan support for scientific research. He noted that Georgia's Republican governor, Nathan Deal, endorsed the March for Science in Atlanta.
"Science is not just for us in ivory towers, or for the liberal elite, and it's not opinion," he said. "We want to make it known that there are Republicans and Democrats doing science and we all recognize its value."
Do you love science? I do! Follow me @DeborahNetburn and "like" Los Angeles Times Science & Health on Facebook.
MORE IN SCIENCE
A rocky 'super-Earth' with the potential for liquid water is found 39 light-years away
Why the next flu medicine could come from frog mucus
Exercise can be contagious, new social network analysis finds
---
Get our free Coronavirus Today newsletter
Sign up for the latest news, best stories and what they mean for you, plus answers to your questions.
You may occasionally receive promotional content from the Los Angeles Times.