Scientists survey an Orange County neighborhood's nonnative lizard populations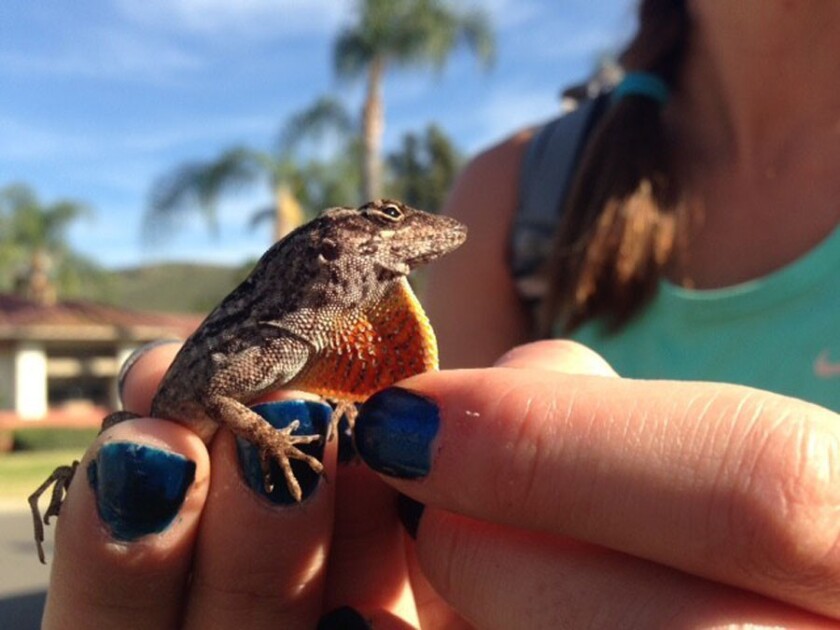 Some of the highest densities of lizards in Southern California are found in portions of Orange County, where nonnative anoles and geckos have established thriving populations among the palm trees and rose gardens of ranch-style homes.
On Monday, three biologists ventured into a tidy neighborhood in the City of Orange to better understand the distribution and breeding behavior of these fast and agile invaders, as well as their effects on native species.
During the eight-hour expedition, the team led by Greg Pauley, herpetological curator at the Natural History Museum of Los Angeles County, nabbed 22 brown anoles and eight Indo-Pacific geckos.
See the most-read stories in Science this hour >>
"The anoles, which are native to Cuba, arrived here about a decade ago as stowaways in nursery plants," Pauley said as the team strode down a leafy street, methodically scanning sidewalks, brick walls and tree trunks for the stick-like shapes of lizards basking in the sun. "Today, there's at least 10 to 20 per residential lot in this neighborhood alone."
"There's a nice one over there," he said, nodding toward an anole – about five inches long, adorned with light brown speckles and a bright line running from head to tail – clinging to the side of a front-yard planter box.
Stevie Kennedy-Gold, an assistant collections manager at the museum, carefully maneuvered a noose over the lizard's head, then yanked upward. Moments later, she held the specimen in her hand.
A few yards away, Tony Huntley, a professor of biology at nearby Saddleback College who lives in the area, snagged another near a mailbox.
The geckos – nocturnal lizards with large eyes and vertical pupils – emerged after sundown, using their sticky toe pads to clamber up walls, where they feasted on insects attracted to outside lights.
"The geckos are an asexual species – all female," Pauley said. "They lay two eggs at a time – and all it takes is one to start a whole new population."
It wasn't all bad news for the neighborhood's native reptiles. Just as the team members were preparing to call it quits for the night, they noticed a California king snake slithering across Huntley's backyard.
"We figured it was hunting for prey including nonnative geckos," Pauley said.
Pauley encourages people to report observations of native and nonnative species in all types of habitats – from backyards to city parks – to Reptiles and Amphibians of Southern California, or RASCals, a citizen science project managed by the Natural History Museum of Los Angeles County and the San Diego Natural History Museum.
"The animal and plant species that call Southern California home are changing all the time," he said. "That's because new nonnative species are introduced daily with the huge numbers of people and goods moving through the area. We are trying to document the impacts of these species on our native critters."
Follow me @LouisSahagun for more fascinating stories
MORE SCIENCE NEWS
Thirsty continents are slowing down expected sea level rise, scientists say
In pregnancy, eating too much fish can raise a child's obesity risk, study says
Even in sunny L.A., warming weather may be the next big public health problem
---
Get our free Coronavirus Today newsletter
Sign up for the latest news, best stories and what they mean for you, plus answers to your questions.
You may occasionally receive promotional content from the Los Angeles Times.