'Pokemon Go' players are finding real animals while searching for digital ones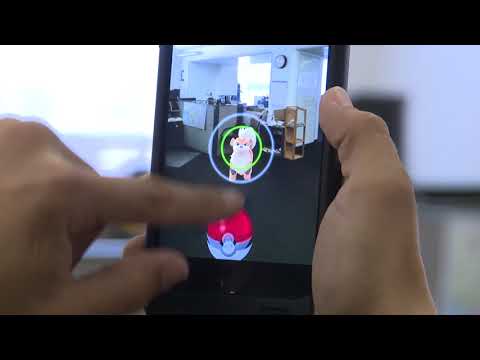 With the success of "Pokemon Go," we set out to discover if any of the little monsters were hiding within the walls of our own L.A. Times newsroom.
The "Pokemon Go" game now sweeping the nation urges its players to venture out into the real world in search of virtual creatures.
But for many users, these quests for digital monsters are yielding some unexpected results: actual animals.
So scientists and natural history buffs are embracing the chance to connect the ridiculously popular mobile game with their efforts to talk about biodiversity.
For the uninitiated, "Pokemon Go" players must physically walk around their neighborhoods and cities to find and collect new monsters and battle other players. Deep-sea ecologist and science communicator Andrew Thaler, who tweets as @SFriedScientist, wrote about the game and its potential educational and environmental benefits on Facebook.
"Pokémon Go is active, creative, exploratory play that encourages players to interact with their environment," Thaler writes. "Sure, it's not a cure for Nature Deficit Disorder, but it's definitely a potential treatment."
See the most-read stories in Science this hour »
Morgan Jackson, an entomologist and doctoral student at the University of Guelph in Canada, launched the hashtag #PokeBlitz to help Pokemon trainers identify their real-world discoveries. (And the game isn't even available yet in Canada.)
"I always thought [Pokemon] was a really, really great opportunity to get the natural history and biology community to engage with people who we don't always get to engage with."
Not long after he sent the first tweet, other scientists on Twitter volunteered to lend their expertise to the cause.
Jackson, whose research is focused on flies, said playing the Pokemon games as a kid helped spark his interest in biology.
Now "I basically do Pokemon in real life," he said. "Catching [flies], ID'ing them and figuring out how they're all related."
Many of the scientists who have joined in on the #PokeBlitz have long used Twitter to help the public identify wildlife they encounter. The difference now, Jackson says, is the culturally relevant hashtag.
The term "PokeBlitz" is a play on "BioBlitz," an activity in which participants search for and document all the living species in a given area in a limited amount of time. BioBlitzes are usually associated with the iNaturalist or Project Noah apps.
"For a lot of people, ["Pokemon Go"] is going to be their entry into biodiversity and natural history," Jackson said.
The crossover between Pokemon and biology isn't limited to the resemblance some characters bear to real creatures.
Pokemon creator Satoshi Tajiri has said his childhood interest in bug collecting inspired the game and resulting universe. As the city of Tokyo grew in the late 1970s, insect habitats disappeared and Tajiri turned his attention to making video games instead.
"Places to catch insects are rare because of urbanization," Tajiri told Time magazine in 1999. "Kids play in their homes now, and a lot had forgotten about catching insects. So had I."