State wildlife authorities are investigating a fish kill in the eastern Sierra's Lower Owens River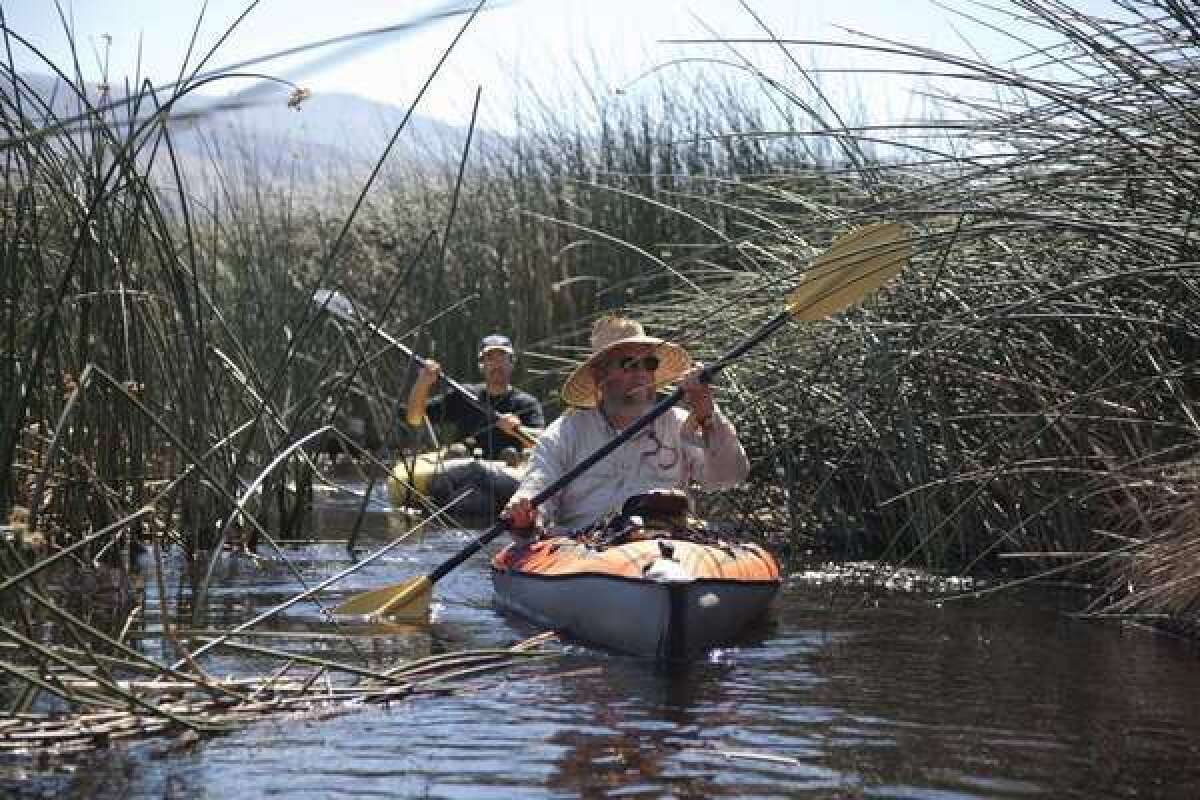 The state Department of Fish and Wildlife on Friday that said it is investigating why hundreds of smallmouth bass have been found floating belly up in a stretch of the Lower Owens River just south of the eastern Sierra community of Lone Pine.
"We are working with our own biologists and multiple agencies to determnine what happened and why," Fish and Wildlife Lt. William Bailey said. "We're also looking at permits and agreements governing uses of that river."
The Los Angeles Department of Water and Power, which manages the Lower Owens River, believes the fish suffocated from a lack of dissolved oxygen caused by mud and debris flows triggered by unusually heavy rains and flash-flooding in the Owens Valley region during the week of July 22.
However, local environmentalists and fishing enthusiasts point out that the inclement weather coincided with scheduled maintenance and repair work that required draining a five-mile-long section of the nearby Los Angeles Aqueduct.
They suggest that combination of bad weather and water surges from the aqueduct may have triggered turbidity that clogged the southern end of the 62-mile-long river with sediment.
"It was caused by a combination of factors having to do with the weather and the DWP spilling contents of the aqueduct into the Lower Owens River," said Bob Harrington, director of the Inyo County Water Department. "We're still trying to determine the magnitude of the
problem."
Francis Pedneau, a resident of Lone Pine and lifelong bass fisherman, recently counted hundreds of dead bass in the area, about 190 miles north of Los Angeles. Many of the bass were more than 12 inches in length.
A year ago, he said he caught nearly 100 bass there within two hours.
"For the DWP to blame it all on storms is business as usual," Pedneau said. "This isn't the first time we've seen a fish kill like this. It takes about five to six years for the fishery to rebound, and a lot longer than that for fishing to reach the quality it was prior to the incident."
The Lower Owens River was revived in one of the largest river restorations ever attempted in the West -- intended to support wildlife and outdoor activities including fishing.
Then-L.A. Mayor Antonio Villaraigosa turned a knob in 2006 that opened a diversion dam gate, putting water back into the river essentially left dry after its flows of Sierra snow melt were diverted to the Los Angeles Aqueduct in 1913.
Get our free Coronavirus Today newsletter
Sign up for the latest news, best stories and what they mean for you, plus answers to your questions.
You may occasionally receive promotional content from the Los Angeles Times.