More than half of U.S. gun owners store at least one firearm without any locks, survey reveals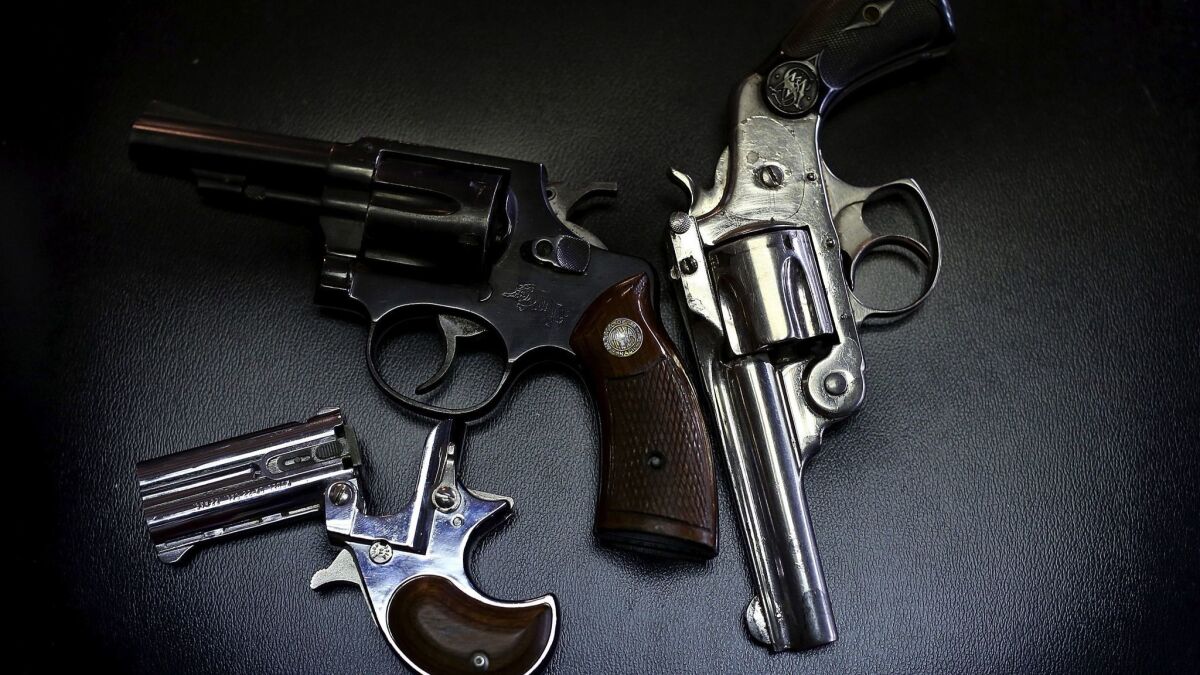 More than half of U.S. gun owners store at least one firearm without any locks or other measures to prevent its theft or use by an unauthorized person, according to the first study in more than two decades to ask owners about weapons storage.
The remaining 46% of gun owners who responded to the survey said they kept all their weapons locked in a gun safe, case or cabinet, or inactivated their weapon with a trigger lock.
Among gun owners with children younger than 18 living at home, rates of safe storage were a bit higher. But 45% of these gun owners said they keep at least one firearm in an unsecured state, and 10% said they store all their guns in unlocked locations without trigger locks.
The study, published Thursday in the American Journal of Public Health, revealed that 7% of survey takers keep all their guns and their ammunition together in an unlocked location.
In a country estimated to have 55 million gun owners, the findings suggest that at least 5.5 million households have at least one firearm that could be stolen by a thief, borrowed by a despondent or homicidal family member, or played with by a curious child.
A welter of previous research has found that such scenarios take a very real toll on the lives and health of Americans, contributing to criminal violence, suicide and accidents.
About 500,000 firearms are estimated to be stolen each year, and they quickly become part of the vast ocean of illegally owned firearms in the U.S. An analysis of gun-related crimes committed in Pittsburgh in 2008 found that 79% were carried out with a firearm not legally owned by the perpetrator.
If that figure were nationally representative, it would suggest that gun theft played a role in close to 9,000 gun-related killings committed in 2015, as well as untold assaults, rapes and robberies.
The survey comes on the heels of other research revealing that gun-owning families whose children have psychiatric illnesses are no more likely than other families to store their firearms safely.
That study, published Monday in the journal Pediatrics, found that gun ownership rates among parents — about 42% — were similar in homes with and without a child or children who suffered from depression, attention deficit hyperactivity disorder or other mental health conditions.
The American Academy of Pediatrics considers such children at greater risk of self-harm. Yet just 35% of gun-owning parents who live with children with mental health conditions reported that they keep their weapons unloaded and locked away.
When children without cognitive or emotional issues were present in the home, 32% of gun-owning parents or caregivers unloaded their guns and locked them up. The difference between the two groups of families was too small to be statistically significant, according to the study.
For a depressed or impulsive adolescent, access to an unsecured gun is a potent risk factor for suicide.
In 2014, suicide was the second-leading cause of death among youths ages 13 to 17 years, with 1,297 suicides reported, according to the Centers for Disease Control and Prevention. A firearm was used in 42% of those fatalities.
A 2005 study that examined two years of firearm suicides among youths found that 82% used a firearm belonging to a family member, usually a parent.
Meanwhile, a study published last summer estimated that about 78 children and adolescents die each year by unintentional injury involving a firearm. These accidents involving loaded, unsecured guns occurred mostly at home.
The new research comes amid a clamorous debate over guns, children's safety and mental health that was sparked by a Feb. 14 shooting rampage in Parkland, Fla. That mass shooting claimed the lives of 14 students and three school officials at Marjory Stoneman Douglas High School.
The updates on gun storage practices suggest that safety advocates are making mixed progress persuading Americans to secure their firearms.
In a 1994 survey of gun owners, researchers found that just 30% stored all their firearms unloaded and locked up. An additional 21.5% kept at least one gun loaded and unlocked in the home, and 48.5% kept their firearms in various states in between.
The new poll was taken by 1,444 gun owners who were members of a large, nationally representative community willing to take online surveys. It asked respondents which sources they would trust for advice on securing their guns.
More than three-quarters said law enforcement professionals would be good or excellent messengers for teaching safe firearms storage. Close behind were hunting and outdoor groups, military personnel and veterans, and the National Rifle Assn.
At the bottom of the list were physicians and celebrities. Only 19% and 11%, respectively, said they would be a good or excellent source of advice on safe gun storage.
Study leader Cassandra K. Crifasi, a professor of public health and researcher at Johns Hopkins University's Center for Gun Policy and Research, touted these as some of the survey's most actionable findings.
"We often hear about physicians being a point of contact" on the subject of guns in the home, Crifasi said. But as dispensers of safe storage advice, "they didn't do well, unfortunately."
That police groups were widely respected on the issue aligns neatly with their incentives, Crifasi said: Every day, law enforcers face and respond to the fallout from unsecured guns.
"It's a public safety issue," Crifasi said. "So there's a nice synergy" to enlisting them for the task.
The new findings reflect a continuing shift in the reasons for gun ownership in America. For decades, hunting and sport were the primary motivations for owning a firearm. But a recent study found that almost two-thirds of U.S. gun owners — and three-quarters of those who own handguns — cite protection against people as a primary reason for owning a gun.
Gun owners intent on self-defense are generally less willing than hunters, sport shooters or gun collectors to keep firearms locked away. On the contrary, these people tend to want their firearms at the ready.
"Gun owners care about protecting their family, and many keep guns at home unlocked for ready access," said Cathy Barber, who directs the Harvard School of Public Health's Means Matter campaign, a suicide prevention effort.
"What many don't realize is that, unless they're a drug dealer or criminally involved, the odds that they're going to be killed in a homicide — especially by a stranger — are tiny."
Suicides far outnumber homicides in the United States, and firearms are the leading method. That's what gun owners should think about when making storage decisions, said Barber, who was not involved with either study published this week.
"Locking household guns protects against youth suicide," she said. Storing guns away from home when the gun owner or another family member is struggling with a mental health issue or a painful life crisis also reduces the risk that a suicidal crisis will prove deadly, she added.
Barber praised Crifasi's group for asking which messengers work best in spreading the word on matters of gun safety. She pointed to the rise of a new movement in which public health experts and respected members of the gun community, including firearm instructors and gun shop owners, have joined forces to reduce gun suicides.
"This study underscores the importance of that work," Barber said.
MORE IN SCIENCE
Case closed: Oldest known cave art proves Neanderthals were just as sophisticated as humans
An amateur astronomer testing a new camera happens to catch a supernova as it's being born
Instead of nagging your spouse to lose weight, try going on a diet yourself
---
Get our free Coronavirus Today newsletter
Sign up for the latest news, best stories and what they mean for you, plus answers to your questions.
You may occasionally receive promotional content from the Los Angeles Times.