Astronaut Scott Kelly retires from NASA, but is he done with space for good?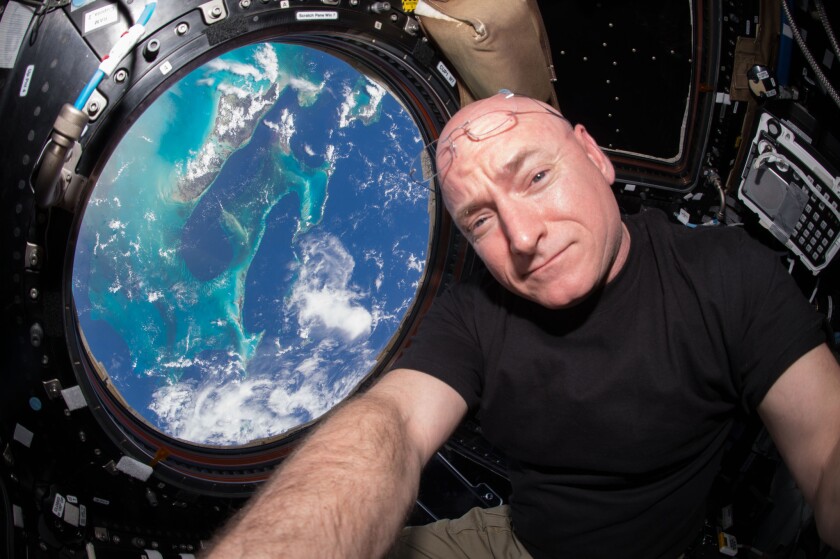 Little more than a week after he arrived in Houston, fresh from his 340-day stay on the International Space Station, NASA astronaut Scott Kelly says he is retiring from the agency, effective April 1.
The astronaut landed in Kazakhstan on March 1 after participating, together with Russian cosmonaut Mikhail Kornienko, in a nearly yearlong mission aboard the orbiting station. The mission results may help scientists learn more about what happens to the human body during long-term spaceflight.
Kelly now holds the record for longest continuous stay aboard the space station of any NASA astronaut, as well as the most cumulative time in space by any American (520 days).
"This year-in-space mission was a profound challenge for all involved, and it gave me a unique perspective and a lot of time to reflect on what my next step should be on our continued journey to help further our capabilities in space and on Earth," Kelly said in a statement.
Kelly visited space on four occasions, first aboard the space shuttle Discovery on its third servicing mission to NASA's Hubble Space Telescope in 1999. His next trip in 2007 marked his first visit to the International Space Station, and the third was his first extended mission, a six-month stay that began in late 2010.
His announcement doesn't come entirely out of the blue: Kelly indicated soon after his return that he'd be unlikely to fly with NASA again.
"I doubt I would fly again with NASA, having had the most time in space by any American," he said at a news briefing last week. "We have so many talented people in our office, there's no reason to fly me again. They can fly somebody else that hasn't had as much opportunity to do that."
That doesn't mean he's giving up on space travel, he explained.
"I think there's a lot of exciting possibilities out there, maybe in the commercial aspect, certainly," he said. "They might need a guy like me some day."
Kelly follows in the footsteps of his identical twin and fellow astronaut, Mark Kelly, who retired from the agency in 2011. But both will still help NASA's research efforts: The brothers are part of NASA's Twins Study, a unique experiment to delve deep into the biochemical impacts of long-duration space travel.
"I'll never be done with space," Scott Kelly said. "I will always be involved."
Follow @aminawrite on Twitter for more science news and "like" Los Angeles Times Science & Health on Facebook.
---
Get our free Coronavirus Today newsletter
Sign up for the latest news, best stories and what they mean for you, plus answers to your questions.
You may occasionally receive promotional content from the Los Angeles Times.