Cancer research, public health and worker safety would all see steep cuts under Trump budget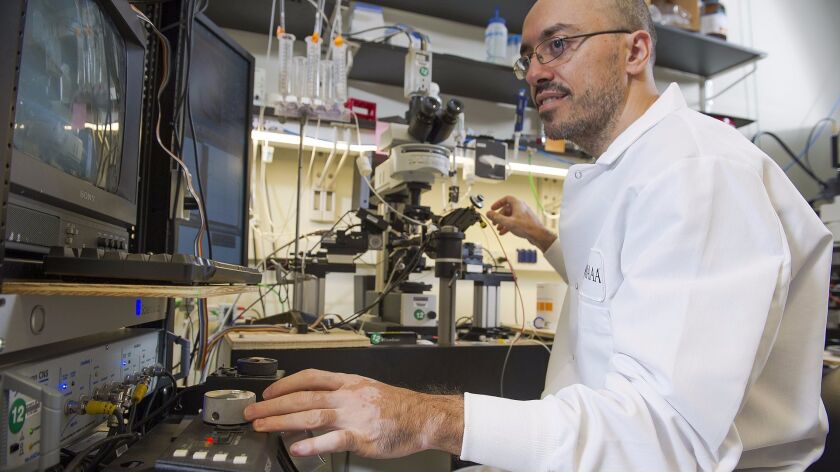 Under the heading "Putting America's Health First," the Trump administration's 2018 budget blueprint includes a $5.8-billion cut for the National Institutes of Health, a move that would slash the medical research agency's funding by just over 18%.
It would reduce public health spending by the U.S. Centers for Disease Control and Prevention by $1.32 billion, a 17% decline from 2017 spending levels.
And it would cut the Food and Drug Administration's spending by $854 million, a 31% decrease cut from current funding levels.
In shifting federal spending toward the military, immigration enforcement and other "America first" priorities, the Trump budget would result in deep cuts to areas in which the U.S. has long led the world, including biomedical research, public health and drug safety.
The detailed 2018 budget proposal for the Department of Health and Human Services includes substantial reductions in funds for cancer research, HIV/AIDS prevention, efforts to secure the food supply, and programs to improve environmental and occupational health and safety.
In response to a nationwide epidemic of addiction to opioid drugs, the proposed budget sets aside $75.4 million to improve the way narcotic painkillers are prescribed and help healthcare providers offer safer, more effective treatments for pain.
The budget blueprint details plans to charge pharmaceutical companies and device makers significantly more to have their products evaluated by the FDA. It would also change the way the agency evaluates the safety and effectiveness of those products.
And with the creation of a $500-million block-grant program, it would give states more control over the planning and execution of programs to counter childhood obesity and other initiatives aimed at driving down chronic diseases.
Medical research and public health organizations slammed the budget proposal.
Dr. William Powderly, president of the Infectious Diseases Society of America, said the proposed cuts were "shortsighted and destructive." Dr. Darrell G. Kirch, president and chief executive of the Assn. of American Medical Colleges, said the administration's plan "would put national health security at risk." And Harold Wimmer, president and chief executive of the American Lung Assn., said the budget would put Americans' health and safety "in jeopardy."
In Congress, Rep. Doris Matsui (D-Sacramento) said the proposed cuts to scientific and medical research would "take our country backwards."
"Families battling devastating diseases every day deserve hope, not a budget that senselessly takes that hope away," Matsui said in a statement.
Here's how the Trump budget would affect specific agencies and programs related to public health and biomedical research:
National Cancer Institute
The institute's budget would be cut by $1 billion, to just under $4.5 billion. It was $5.5 billion in 2017.
National Institute of Allergy and Infectious Diseases
NIAID oversees research on vaccines, diagnostic tests and antiviral medications for scourges like HIV/AIDS and emerging threats like Zika and Ebola. Its budget would be cut by about $840 million, to just under $3.8 billion.
National Heart, Lung, and Blood Institute
This institute would get $2.54 billion in 2018, $575 million less than in the 2017 budget.
Obama administration initiatives
President Trump's first budget proposal includes $496 million to be spread across for four key initiatives launched under the Obama administration — the Precision Medicine Initiative, the Brain Research through Advancing Innovative Neurotechnologies (BRAIN) Initiative, the "Beau Biden Cancer Moonshot," and regenerative medicine. In passing the 21st Century Cures Act last year, Congress authorized a 10-year commitment of $4.8 billion for all four.
Centers for Disease Control and Prevention
The 2018 budget proposal includes $952 million for health promotion activities and preventing chronic diseases, $222 million less than for 2017. Cancer prevention and control would decline by $18 million, to $337 million.
Worker health and safety
Funding for the CDC's National Institute for Occupational Safety and Health would be slashed 40%, to $200 million. The budget will discontinue all funding of state and academic partners for conducting, translating or evaluating research, the administration says.
The budget plan includes $366 million in "mandatory funding" for the CDC's World Trade Center Health Program, which tracks and treats the first-responders who worked at sites attacked on Sept.11, 2001.
Evaluating prescription drugs
The Trump administration intends to have pharmaceutical companies and medical device-makers cover the entire cost of the FDA's review process for evaluating the safety and effectiveness of prescription drugs and devices.
In addition, the budget lays out changes to the drug approval process intended to speed patients' access to new medications.
NIH-funded research at universities
The Trump administration proposes to set a uniform cap on the piece of an NIH research grant that universities and research institutions can claim for "indirect costs."
The current funding process requires each grant recipient to provide hundreds of pages of documentation to negotiate their indirect rate. The result: Over the last two decades, university administrators have skimmed off some 30 cents of every dollar NIH handed out for research, the administration said.
Private foundations spend a much higher portion of their grants on direct science. A uniform limit for NIH grants would bring federally funded science closer in line with privately funded research, the administration asserted.
MORE IN SCIENCE
What stays, and what goes, in Trump's $19.1-billion budget proposal for NASA
Scientific research would take a big hit under Trump's budget — and that's bad for the economy, experts say
When states have strong guns laws, they also have fewer fatal police shootings
---
Get our free Coronavirus Today newsletter
Sign up for the latest news, best stories and what they mean for you, plus answers to your questions.
You may occasionally receive promotional content from the Los Angeles Times.